Leonardo DiCaprio Was Surprised by How Much Attention Zac Efron Got During His 'High School Musical' Days
Leonardo DiCaprio and Zac Efron are both very famous movie stars. But they've experienced fame differently. Efron explains a conversation they once had.
Fame is a strange thing. Celebrities like Zac Efron spent their late teens and early 20s in the limelight, as did stars of a different era, like Leonardo DiCaprio. But their experiences weren't identical. Here's what Efron recently said about DiCaprio's reaction to how he was treated back around the time High School Musical was released.
Zac Efron became famous for the 'High School Musical' franchise
Aside from a few roles in TV shows like Firefly and Summerland, Efron's career didn't really take off until the mid-00s. This is when he portrayed Troy Bolton in the Disney Channel Original Movie High School Musical. This catapulted Efron to a level of stardom reserved for the icons of teenage girls, and the social media age increased the spread of his fame substantially.
He reprised the role in the sequels, and then set his sights on the silver screen. In nearly 15 years since, Efron has starred in comedies such as Neighbors, Baywatch, and The Disaster Artist. He has also taken on more dramatic roles with Extremely Wicked, Shockingly Evil and Vile and returned to his musical roots with The Greatest Showman.
Leonardo DiCaprio faced a different level of fame in the '90s
Like Efron, DiCaprio started off in TV, appearing in Roseanne and earning a recurring role in Growing Pains. From there, his film career took off, and he earned his first Oscar nomination of for What's Eating Gilbert Grape. Everyone knows what happened after that: He became Hollywood's favorite young leading man, starring in Titanic.
At the time, his level of fame was unfounded. He became the subject of a New York Magazine profile which deemed him and his group of friends (including actors Kevin Connolly, Tobey Maguire, and many more) the "Pussy Posse." And while he was frequently followed by the paparazzi, it was typically while out in public at events or clubs.
The two met at a basketball game in 2008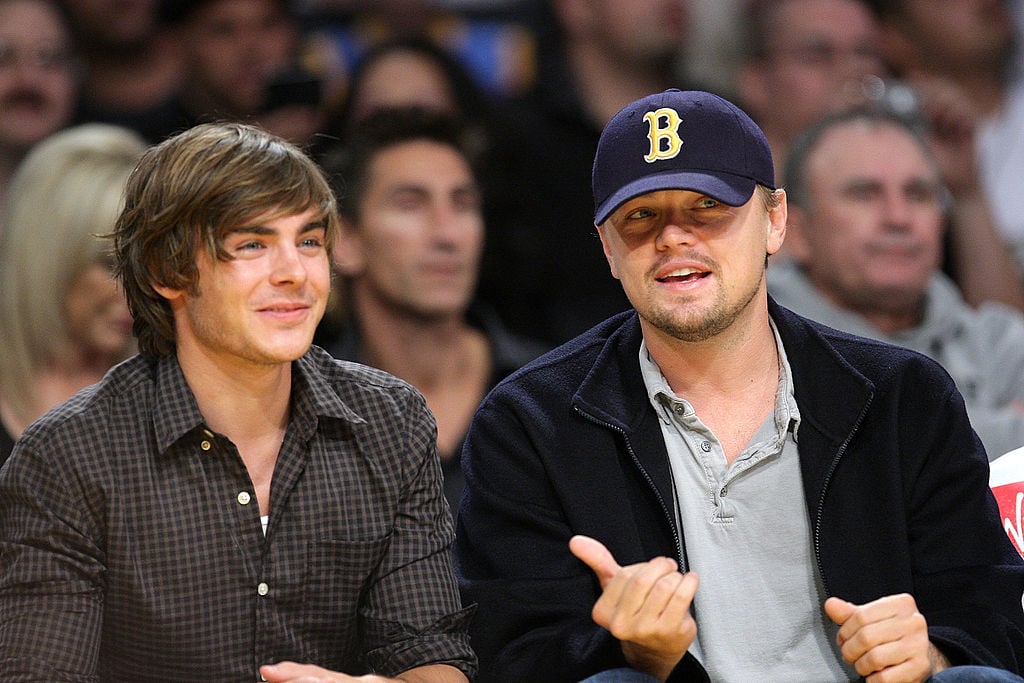 In 2020, things are a bit different for both stars. While doing press for his new Quibi show, Killing Zac Efron, he spoke with Sean Evans host of web series Hot Ones. And Evans brought up this photo of him interacting with DiCaprio back in 2008 at a Lakers game.
One thing you should know about celebrities at basketball games: They aren't all necessarily friends. On the other side of DiCaprio this night was his old pal Connolly, while Maroon 5 frontman Adam Levine is next to Efron. So while they didn't chat the whole game, DiCaprio did clearly speak to Efron at one point — and he invited him over for breakfast.
Efron on DiCaprio's perception of his fame
The meal (which included pancakes, after DiCaprio first burned waffles) was "awesome." Efron said he had "a billion questions" for the movie star, especially when it came to "dealing with too much paparazzi presence." Apparently, DiCaprio said it was "a little bit different" than what he's ever dealt with, and that he was surprised by the number of cars that followed Efron to his house.
"He was like, 'That's insane, dude.' And I saw in his eyes a little bit of the feeling that I consistently was having all the time which was just like stress and anxiety. And he was like, 'Don't worry about it man, you're good. And I really appreciate that he took that time," Efron said, adding, "That's the biggest hand you can extend in Hollywood is looking out for someone younger."