Leslie Mann's Best Advice for Her Daughters is Painfully True
Actress Leslie Mann has one piece of advice for her daughters.
Leslie Mann is an actress who has appeared in many popular films and TV shows, such as The Cable Guy (1996), Big Daddy (1999), The 40-Year-Old Virgin (2005), Knocked Up (2007), and This Is 40 (2012).
Mann has also been married to producer Judd Apatow since 1997 and is a mom to two children. Like other moms out there, Mann often uses her life experience to give her kids guidance on how to survive in the world.
In fact, she actually has the best advice for her daughters that could end up saving their image in the future. Read on below to find out what words of wisdom Mann has to impart on her children.
Leslie Mann and Judd Apatow have two daughters together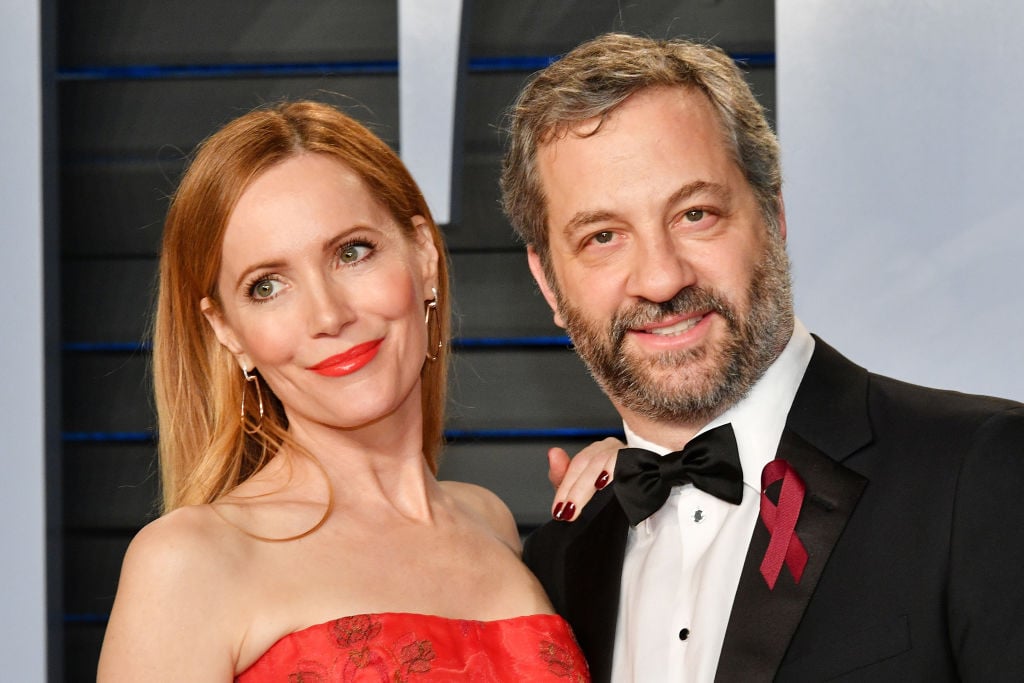 Mann and Apatow met while Mann was auditioning for The Cable Guy, in which Apatow was one of the producers. The couple went on to tie the knot in 1997, and they have two daughters together: Maude (b. 1997) and Iris (b. 2002).
Both Maude and Iris seem to have Hollywood ambitions, much like their parents. As children, they both appeared in Knocked Up, Funny People, and This Is 40, playing Mann's children in all three films.
Twenty-two-year-old Maude, especially, has had an impressive career so far. She has taken on more adult roles in recent years with an appearance in Girls for three episodes.
These days, she is also known for playing Lexi Howard in Euphoria alongside co-star Zendaya. Maude will also appear in the upcoming film King of Staten Island, which is directed and produced by Apatow and starring Pete Davidson.
Meanwhile, Iris is still in high school, but she had a recurring role in the Netflix series Love a couple of years ago.
Leslie Mann has the best beauty advice for her daughters
It is no secret that looks are important in Hollywood, and Mann seems to understand this well. In an interview with Glamour, Mann shared that she has given her daughters a lot of beauty advice.
Maude also revealed that her mother's best advice is to moisturize and "not to overpluck my eyebrows."
"I've been taught my whole life: Don't touch them," Maude said.
Mann added: "I've told all her friends that too. Thin eyebrows aren't cute anymore, and once you overdo them, they won't grow back."
Leslie Mann has also given her daughters tips about working in Hollywood
Since Mann has been in show business for a long time now, there's no doubt that she has learned a lot about what it takes to succeed in Hollywood. In an interview with Popsugar, Mann shared that one big tip she gives to both Maude and Iris is to create their own content instead of constantly relying on other people to give them acting gigs.
"Write your own stuff, make your own stuff, direct your own stuff, which you can totally do nowadays even if you have no money," Mann said. "You can make a little movie for almost nothing. And anyone can sit down and try to write."
Maude also added that getting one's work out there is very easy nowadays, saying: "You have social media and the internet to put out what you do."
Judd Apatow has advice for his daughters as well
Apatow definitely knows a thing or two about creating his own content. He has been the brain behind some of the most iconic comedy films of the 2000s. However, Apatow has shared that he also believes a big part of making it in Hollywood is simply believing in your own talent.
Speaking to Dax Shepard, Apatow said that he wants his daughters "to be deluded" about how good they are. Apatow elaborated: "You want to be in this business? Well, you have to be this insane person who thinks that you can win, who thinks that you're gonna get the parts, who can show up on set with 100 people and do your scene without being nervous and just kick a**. It does take this bizarre level of confidence."