One of the Lesser-Known Reasons Dolly Parton Wears Flashy Clothes
Dolly Parton has an iconic look that's hardly changed throughout the course of her career. When a Dolly Parton fan thinks of their Queen of Country, they think rhinestones, big hair, and flashy makeup. It's why there are so many Dolly lookalike contests—she's fun to dress up as. Through the years, the "9 to 5" singer has spoken about why she dresses the way she does quite a bit. A few different paths led her to find her signature look.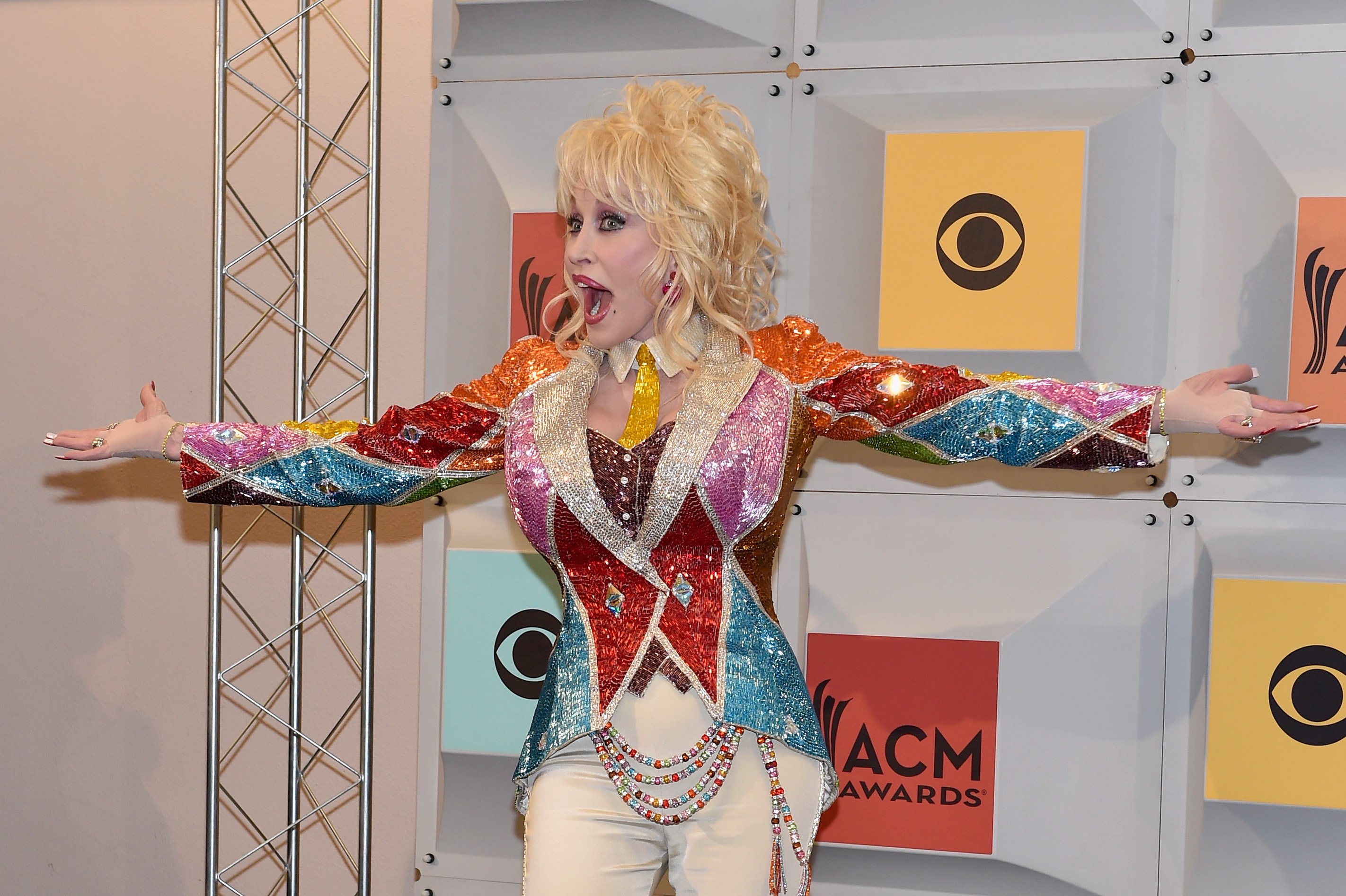 It's a gimmick
One way Parton has thought about her image is that it's simply a gimmick. It's a tool to draw people in. Once they're hooked by Dolly the character, the idea is that they'd stay for the beautiful music.
"I look one way and am another," she told Cliff Jahr in Ladies' Home Journal, as recorded in the book Dolly on Dolly. "It makes for a good combination. I always think of 'her,' the Dolly image, like a ventriloquist does his dummy. I have fun with it. I think, what will I do with her this year to surprise people? What'll she wear? What'll she say?"
Of course, at this point, it's hard to distinguish Dolly the person from Dolly the character.
"A character never grows old," she told biographer Alanna Nash. "A character lives forever, just like Mae West, like Zsa Zsa Gabor. Liberace. I guess I am a character only because I'm just totally what I am. I'm not afraid to be that and say what I want to, and just do what I want to do."
Young Dolly Parton was inspired by the town tramp
The "Jolene" singer also found her look in the town tramp. When she was a young girl growing up in the mountains of East Tennessee, there was one woman, in particular, who stood out to her as a symbol of beauty.
"My own overexaggerated look came from a serious place I've often spoken about: the town tramp in our little country hometown," she told The Wall Street Journal. "They called her trash, but to me she was absolutely beautiful. She wore colorful patchwork skirts and pretty blouses and showed a little cleavage and had red nails and piled-up blond hair and red lipstick and high heels. She was the prettiest thing I'd ever seen. When everybody would say, 'Oh, she's just trash,' I'd say, 'Well, trash is what I'm going to grow up to be.' And I guess my look is glamorous trash!"
Dolly Parton wanted to wear flashy clothes, jewelry, and makeup when she grew up because she was poor as a child
Parton grew up incredibly poor. She and her family lived in a one-bedroom shack in the mountains without electricity or running water. As a girl, Parton used to fantasize about growing up to wear fancy clothes, jewelry, and makeup. When she started making some money as a musician, she did just that.
"The reason I like my hair and pretty clothes is it's something I never had as a kid," she told The Tennessean in 1974. "I had to look and live like the hippies are looking and living now. As children, we had to wear britches with the hind end out of them and patches all over. The faded denim and stringy hair and scrubbed faces. It was fine, but we had no choice. So then, I automatically thought when I get grown up, I'm going to have pretty clothes and pretty jewelry and pretty make-up and pretty hair-dos. I wanted to know what it feels like."
Many people know that Parton grew up poor. But designing her look around her childhood dress-up fantasies is something she's spoken about less than the town tramp story.
"I'm real inside," she said. "What I wear on the outside, well, that's got nothing to do with the way I am. I'm a totally different person from the way I look. I really am. If I was as real on the outside as I am on the inside, I would look like a blank wall."