Lewis Hamilton's Dating History Is a Long Line of Supermodels and Pop Stars
Lewis Hamilton is one of the most successful drivers in Formula 1 history. His accomplishments on the track are well-known, with nearly 100 wins on the F1 circuit. But Hamilton's dating relationships aren't as famous because F1 drivers don't receive as much mainstream publicity as stars in other sports, like Tom Brady or Alex Rodriguez.
But that doesn't mean the driver's love life is completely unknown. Hamilton does talk about it occasionally. He even referred to his love life as "nonexistent" despite his past relationships involving supermodels and pop stars.
Lewis Hamilton's love life is 'nonexistent'
RELATED: Lewis Hamilton's Adorable Bulldog Has Nearly 300,000 Followers on Instagram
Related post url: 
Express reports on Hamilton's dating relationships. The racing star says his love life is "nonexistent," but not necessarily because he doesn't want to have one. But the 36-year-old says he's just too busy for it, calling himself a "workaholic." Hamilton continued by saying "I don't have time for it" and explained that traveling as much as he does makes it "hard to keep up a relationship."
The athlete has essentially given up on trying to do that while he is racing. He'll put more work into securing a relationship when he stops traveling so much and no longer needs to focus entirely on his career.
Who has Hamilton dated … or not?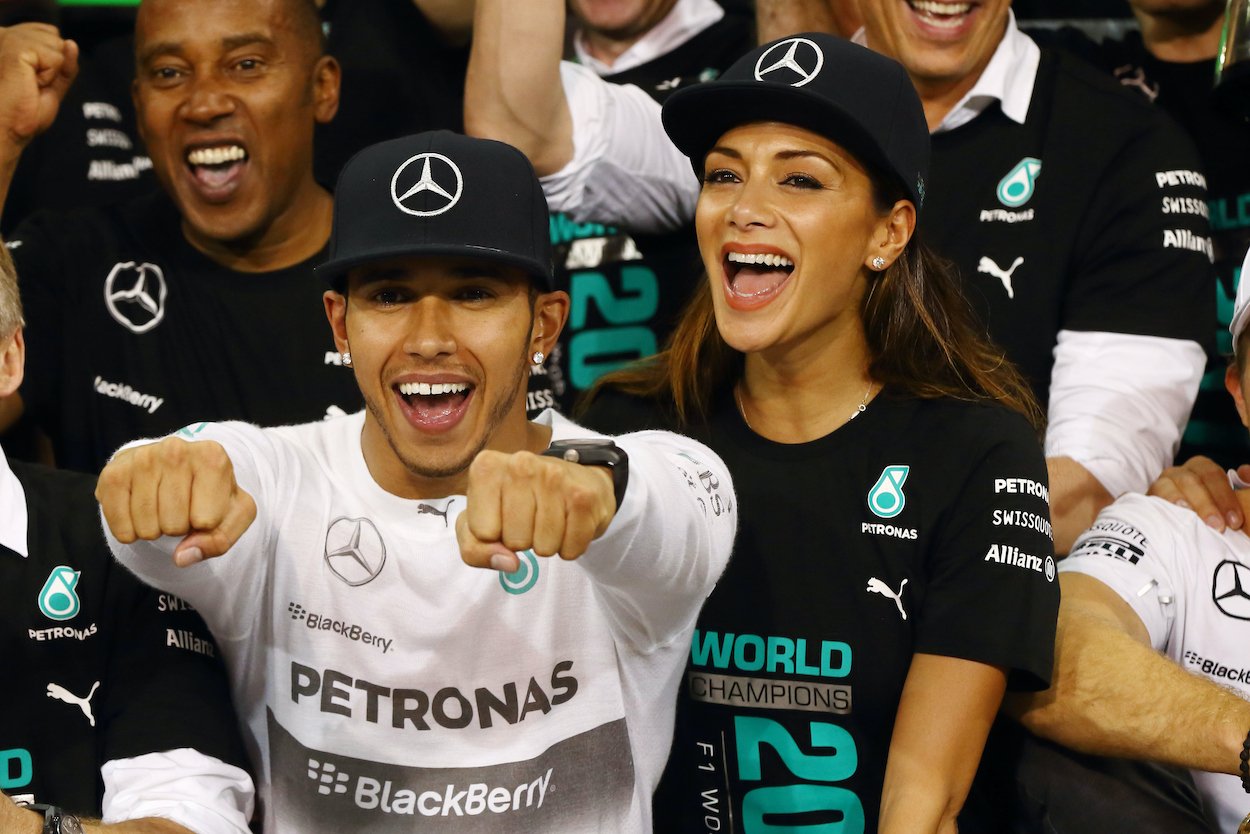 The Daily Star reported some of the women Hamilton has dated as well as rumored flings that may not have happened in reality. His most famous courtship involved singer Nicole Scherzinger, who he reportedly dated from 2007-15.
As a young driver, in 2002, Hamilton was romantically linked to model Danielle Lloyd. She said they swapped numbers upon discovering "there was a bit of a spark" when they were out with friends. But the press reports believed they were together for just six months.
The driver is longtime friends with singer Rihanna, and they have been photographed together many times over the years, but romance rumors have never been confirmed. Hamilton says he's known her for a long time and they "get to hang out every now and again. It seems to be just a platonic friendship.
The press spread rumors that Hamilton and Nicki Minaj dated after they attended New York Fashion Week together. Minaj told Ellen DeGeneres, "Well, there was a new boy but he and I kind of fell back a little bit," which fans interpreted to be about Hamilton.
Does Lewis Hamilton currently have a girlfriend?
There is no evidence that Hamilton is currently dating anyone. But this could change soon. F1 fans speculate that 2021 could be the final season of Hamilton's racing career. As Yahoo Sports reports, he only signed a one-year contract extension with his Mercedes team before the season, putting his racing future for 2022 and beyond in doubt.
Hamilton is 36 years old and has been racing in F1 since 2007, having accomplished virtually everything that he can on the circuit. With that in mind, at some point in the near future, Hamilton is likely going to decide that it's time to call it a career and move on to the next chapter of his life.
He wants to have kids, but only when he's able to be there to help raise them properly. "I want to have kids, but I want to be there for them — to be a good and present dad — but I'd be open to it if I happened to come across somebody special." If he retires soon, he can get started on accomplishing that goal.