'Life Is Strange: True Colors' Soundtrack Includes Phoebe Bridgers, Girl in Red, Hayley Kiyoko, and More
Music is an important story-telling tool in Life is Strange: True Colors, which means the game needs a great soundtrack. Publisher Square Enix has pulled songs from several indie artists and even invited a few musicians to compose original pieces to fit major moments in main character Alex Chen's story. The studio debuted the full soundtrack a few days ahead of Life is Strange: True Colors' release, so eager players can already get in the mood for the franchise's newest journey.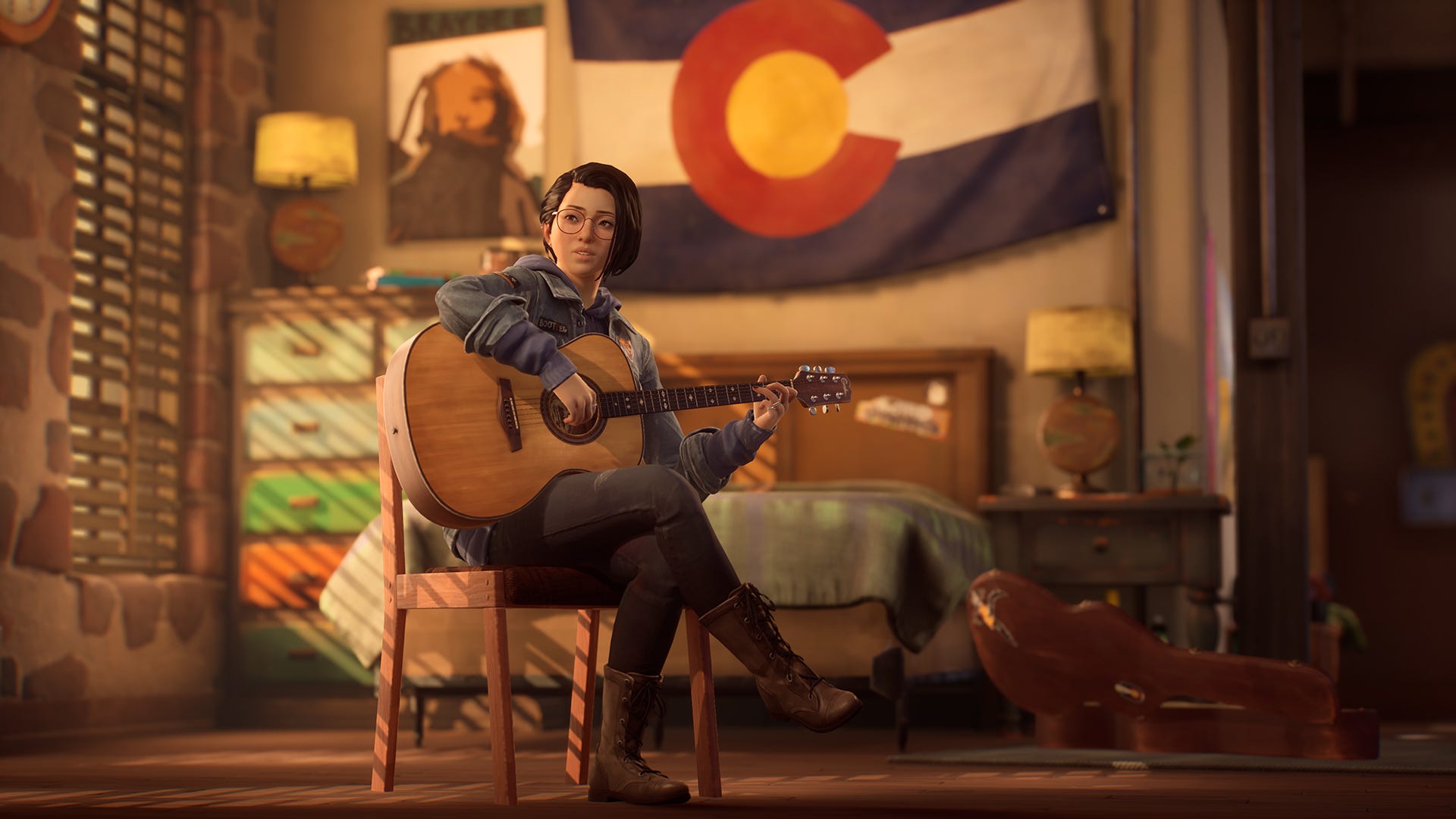 Music plays a big role in 'Life Is Strange: True Colors'
Life is Strange: True Colors follows a 21-year-old Alex, who has lived in foster care for several years and has silently experienced a supernatural empathic power. She moves to a new town, Haven Springs, Colorado, to live with her estranged brother, Gabe. She hopes to avoid using her powers in her new life. However, when Gabe dies in a mysterious accident, Alex must channel them once again to discover the truth.
Players will experience music in the game in a few different ways beyond the soundtrack in the background. Alex is a musician; she'll play a guitar and sing. Meanwhile, True Colors also features a radio station with a music-loving DJ, Steph. A DLC called Wavelengths explores Steph's job at the station.
According to Jonathan Zimmerman, developer Deck Nine Games' narrative director, music is a "core" component to all Life is Strange games, especially True Colors.
"The emotions and feelings that music can elicit are such an incredible tool in a game that is all about exploring empathy," he revealed in a statement, as NME reported. "For Life is Strange: True Colors, we wanted players to experience the peaks and valleys of Alex's journey visually, emotionally, and auditorily. We are delighted to be able to feature such a diverse roster of truly inspiring musical talent."
Square Enix unveiled the 'Life Is Strange: True Colors' soundtrack
The full Life is Strange: True Colors soundtrack is now available on Spotify. The 31-song list includes tracks like "Thank You" by Dido, "Scott Street" by Phoebe Bridgers, and "Don't Matter" by Kings of Leon. Meanwhile, according to NME, the Wavelengths soundtrack will include songs from Girl in Red, Hayley Kiyoko, and more.
The soundtrack also features original songs and covers created for True Colors. Players will hear Novo Amor's "Haven" in the game, as well as mxmtoon's cover of "Creep" by Radiohead. The indie-pop sibling duo Angus & Julia Stone composed 12 original songs for the game's big moments.
In an interview with TheGamer, Julia Stone said Alex's story felt like a "natural fit" for their music. She said:
I loved that she struggled with managing her emotions and that her superpower was empathy. I thought that was such a cool premise for a game, and figuring out what happened to her brother and then losing him, it was such a relatable experience in a lot of ways. The themes of the game, like grief and a sense of belonging, I think Angus and I felt they were a natural fit for our songwriting. We write a lot about belonging, family, home, and love. So it felt natural for us to say yes and jump on board, and that was three years ago.
mxmtoon is Alex Chen's singing voice
Fans of YouTuber and singer mxmtoon will likely recognize her voice in Life is Strange: True Colors. She has provided the singing voice for Alex. Showbiz Cheat Sheet previously spoke with mxmtoon about the importance of the game.
"I think storytelling is something that I feel very passionate about, and being able to help people understand different experiences through any sort of media and video games are one of those platforms that I think really do a wonderful job of expressing different ideas to people who are consuming something," she explained.
mxmtoon, whose real name is Maia, will release an EP featuring her Life is Strange: True Colors songs on Sept. 10.
Life is Strange: True Colors launches on Sept. 10 on PlayStation 5, PlayStation 4, Xbox Series X|S, Xbox One, PC, and Google Stadia. The Wavelengths DLC launches Sept. 30.
RELATED: Will 'Life Is Strange: True Colors' Be on Xbox Game Pass?