Lil Nas X Calls Miley Cyrus 'A Legend'; Says Doja Cat Made Him 'Want To Get In Shape'
Lil Nas X just had a very successful night at the VMAs. But the musician is still humble and focusing on uplifting women and praising the people who motivate him.
The artist, whose first full-length album drops today, Friday, Sept. 17, spoke with Apple Music's Zane Lowe about his latest work and the women who inspire him. Here's what he had to say.
Lil Nas X won big at the 2021 MTV VMAs
Lil Nas X's night at the VMAs on Sunday, Sept. 12, was eventful. The singer performed two of his songs live on stage, singing both "Industry Baby" and "Montero."
He took home three moon person trophies, tying him with Olivia Rodrigo for biggest winner of the night. Lil Nas X won the VMAs for Video of the Year, Best Direction, and Best Visual Effects for Montero (Call Me By Your Name)."
Not bad for a 22-year-old artist who, until after the awards show, hadn't released a full-length album yet.
Of the album that dropped today, Lil Nas X told Zane Lowe (per People) what listeners can expect from his latest work.
"You're getting a lot of stories about me," he said. "You're getting a lot of stories about my past and where I want to be in my love life. But they're also a bop. I feel like I finally found a great balance between being as real as possible within my music and making a hit song."
He says Miley Cyrus is 'the sweetest person ever'
Lil Nas X showed his humility and gratitude by hyping up other artists who inspire his work. He was particularly effusive when complimenting Miley Cyrus. Lil Nas X collaborated with Miley's father, Billy Ray Cyrus, on a remix of "Old Town Road," his first hit single which effectively launched his music career.
"Miley is just the sweetest person ever and I feel like she's one of those people that don't even realize how impactful and how much of a legend they already are," Nas told Lowe. "And what they have done and what they're doing right now, even to this day. And I really admire her and her ability to constantly change herself."
Lil Nas X said that he deeply respects 28-year-old Cyrus for figuring out who she really is despite being the daughter of a celebrity and a former child star on Disney. "It's so hard to do," he explained sympathetically. It's just another thing we can connect on, maybe never spoke about it, but yeah, I feel that."
Miley Cyrus is featured on the final track of his new album in a song titled "Am I Dreaming."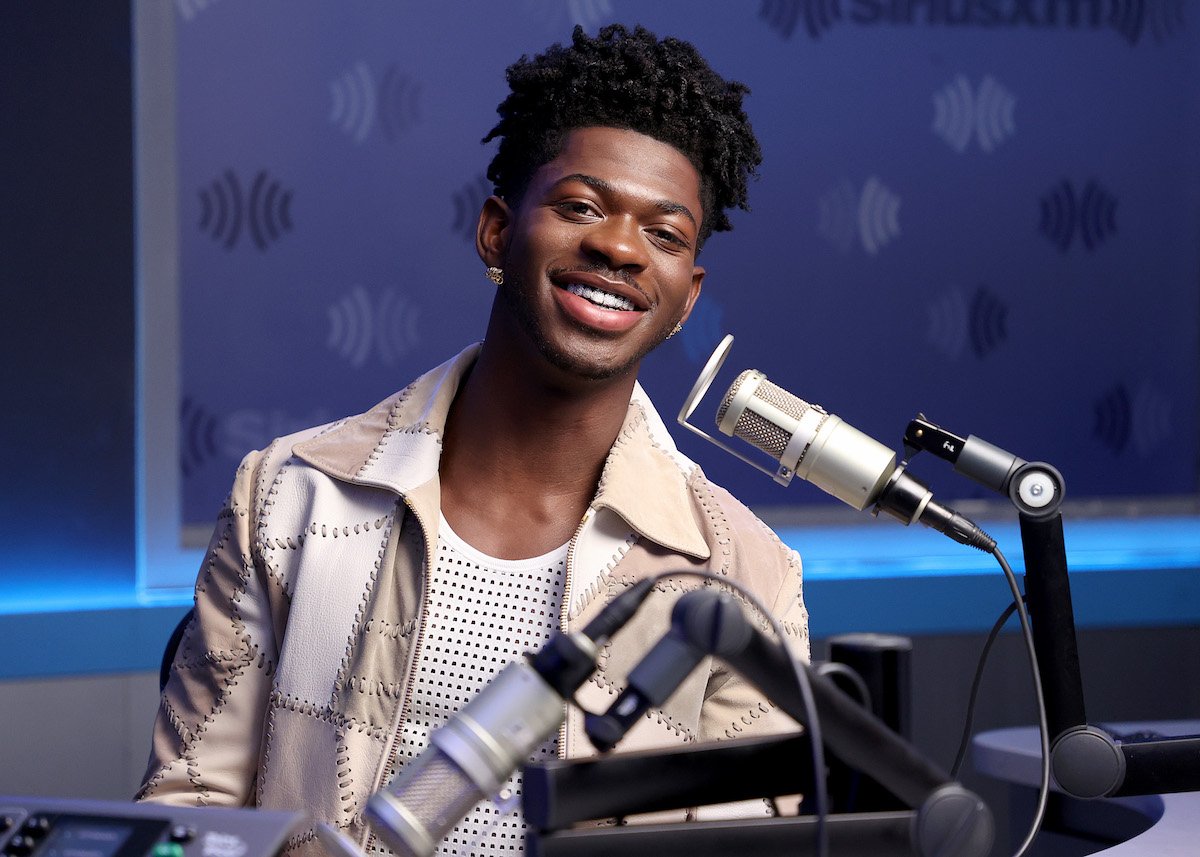 RELATED: Lil Nas X Says He'd Planned to Die With His Sexuality a Secret
Lil Nas X says Doja Cat 'made [him] start going to the gym'
25-year-old Doja Cat is another star featured on Nas's new album. She appears on "Scoop," the album's sixth track.
Lil Nas X gushed about the singer, saying, "She is one of my biggest inspirations right now. It first starts with just watching the VMAs last year, seeing her out there looking like a f—ing star."
"It literally made me start going to the gym," Nas said, referring to Doja Cat's performance of her song "Say So" at the 2020 VMAs, where she won the award for Best New Artist. "Because I was like, 'I want to get in shape because I want to start doing crazier, better performances.'
"And I just want to be in shape in general. And just her music, she's diverse, her videos, and her personality is really colorful and pop," he said. "She's funny. She's a fun person. She takes things seriously but doesn't take things seriously. You know what I mean? She takes what she does seriously.
"You can tell she puts a lot of effort into everything she does, but she's not going around like, 'I am the best. I am the queen of everything.' And rightfully so, she could say that."