Lil Nas X Had the Most Perfect Response to Homophobic Rapper Who Mocked His Grammys Look
Even naysayers can't bring Lil Nas X down from his Grammys high.
"The Old Town Road" rapper had an unforgettable night at this year's Grammy Awards. Not only did he win two of the night's highest honors for his chart-topping hit, but he also gave a star-studded performance that people are still talking about today.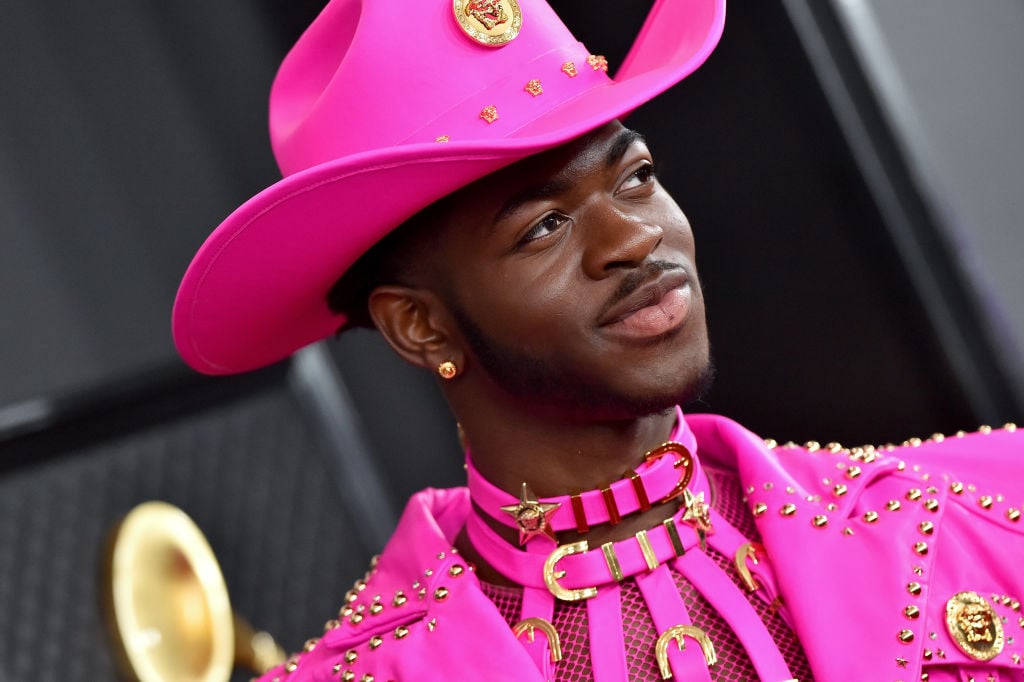 Oh, and let's not forget that hot pink Versace suit and cowboy hat he wore on the red carpet.
Though Lil Nas X was a shining star at this year's event, someone just couldn't seem to get past the rapper's unique getup and took to social media to spew offensive language toward the Grammy winner.
This person had a lot to say about the LGBTQ community as a whole
Lil Nas X may have millions of fans who love and support everything he does, but just like other celebrities, he too has a few haters.
On Jan. 29, the chart-topping rapper was faced with some intense hate over his showstopping Grammys red carpet look that apparently didn't sit well with one man in particular.
An Atlanta rapper named Pastor Troy took to Instagram to share a photo of Lil Nas X in his Grammys outfit, along with a caption claiming that members of the LGBTQ community "love to push this sh*t on our kids."
In his lengthy rant, Pastor Troy also slammed a recent Applebee's commercial that showed two men kissing and even went as far as to blame his lack of Grammy on not being gay.
"Welp, Guess I won't be winning a GRAMMY…If this what I gotta wear," he wrote. "He sees it…their agenda to take the masculinity from Men, Black Men Especially. Some may say, 'He Making Money!!' Rupaul do too, but I ain't bumping his CD!!! Integrity is Priceless."
The rapper continued, "Y'all Better open that 3rd Eye and let your Sons Know What Is Real…Or They A** Gone Be Headed Down That Old Town Road Foreal!!"
Soon after sharing the post, it became a trending topic on Twitter, catching the eyes of thousands of people, including Lil Nas X.
The "Panini" rapper didn't hesitate to respond back to Pastor Troy's comments by sharing a tweet that showed how unbothered he was by this person's narrow-minded post.
"Damn I look good in that pic on god," he wrote in his post which has since garnered more than 60,000 retweets and 650,000 likes.
Lil Nas X came out as gay back in June 2019
A few months after Lil Nas X skyrocketed to fame for breakout hit "Old Town Road," he took to Twitter to seemingly come as gay to fans.
In addition to sharing a rainbow emoji and the animated visual for his song "C7osure (You Like)," the rapper wrote, "some of y'all already know, some of y'all don't care, some of y'all not gone fwm no more. but before this month ends i want y'all to listen closely to c7osure."
Although he didn't specify his sexuality in this post, the chart-topper's follow-up tweet — which hones in on the rainbow that appears on his album cover — sparked speculation that he'd come out as gay. "Deada** thought I made it obvious," he wrote.
Both tweets amassed thousands of likes in a matter of minutes and received praise from many fans, celebrities, as well as fellow members of the LGBTQ community.
After coming out, sources over at TMZ reported that the rapper was inspired to share his truth after he performed with Billy Ray and Miley Cryus in Glastonbury, England.
Sources revealed that he intended to be vague with his tweets, but was simply "tired of being closeted."
"Everything's happening so fast his head is spinning," an insider told the outlet. "He may become a leader in gay rights, but not quite yet."
Lil Nas X has since been out and open to the world and continues to not be worried about people's negative views of his sexuality.