Lil Nas X May Have a Lot of Haters, but He Says 'Nothing Makes Me Happier'
Lil Nas X goes a step further than putting up with the haters -- he embraces them. The artist tweeted about the backlash his album received.
Lil Nas X's debut album, Montero, has finally arrived — and yes, the haters also arrived in full force. The project is the latest highlight in a thoroughly 21st-century rise to fame. Lil Nas X used his understanding of the internet to generate a massive hit out of nowhere, and continued to use his preternatural ability to troll to become a legitimate star and Grammy winner. He is representative of using social media in constructive and creative ways. 
Lil Nas X parlayed a meme into a career
Few artists have harnessed the power of the internet better than Lil Nas X. It's fitting that he was the person who cracked the code. He honed his Twitter skills running fan accounts for Nicki Minaj when he was just a restless creative named Montero Hill. He knew he needed an outlet, but wasn't sure where to focus his energy. His music career happened almost by accident. 
Lil Nas X bought the beat for his first hit, "Old Town Road" for $30. The song was treated mostly as a joke when it was first released. But it was catchy and endearing enough that fans centered a TikTok challenge around the song. The pure power of memes and dance videos pushed "Old Town Road" to the top of the Billboard charts. 
As goofy as the song inherently is, much of the discussion around it, and Lil Nas X himself, was not. Country music gatekeepers initially fought to keep the song off the country charts. Lil Nas X had the clarity and courage to see the racism in the backlash. What's more, he's an openly gay black man in a world that remains hostile towards the LGBTQ community. But Nas X hasn't let the discrimination impede his ascent in any way. If anything, he's used it to his benefit. 
He's smartly used the hate to further promote his album
The more vitriol thrown Lil Nas X's way, the bigger his profile gets. Much of the marketing for Montero was built around provoking the homophobes who can't help but give him constant attention.
The video for the single "Montero (Call Me By Your Name)" is subversive and fun to some, and actively confrontational to haters. The old-school religious panic over his devilish lapdance and the "Satan Shoes" kept his name circulating for weeks. Lil Nas X further stoked the flames with his video for "Industry Baby", which doubles down on sexuality while also referencing the furor over the previous video.
The disingenuous demanded some form of comeuppance for these acts. Meanwhile, "Call Me By Your Name" debuted at No. 1 on the Billboard chart, and "Industry Baby" hit No. 2. Lil Nas X continued to play with the concept of gender on social media with his pregnancy photoshoot. For him, all publicity really is good publicity. 
During all this, Lil Nas X took to Twitter to, as usual, use a popular format to make a statement. "nothing makes me happier than making people that hate me, hate me more," he tweeted.
He's part of a generation of artists that express their queerness in different ways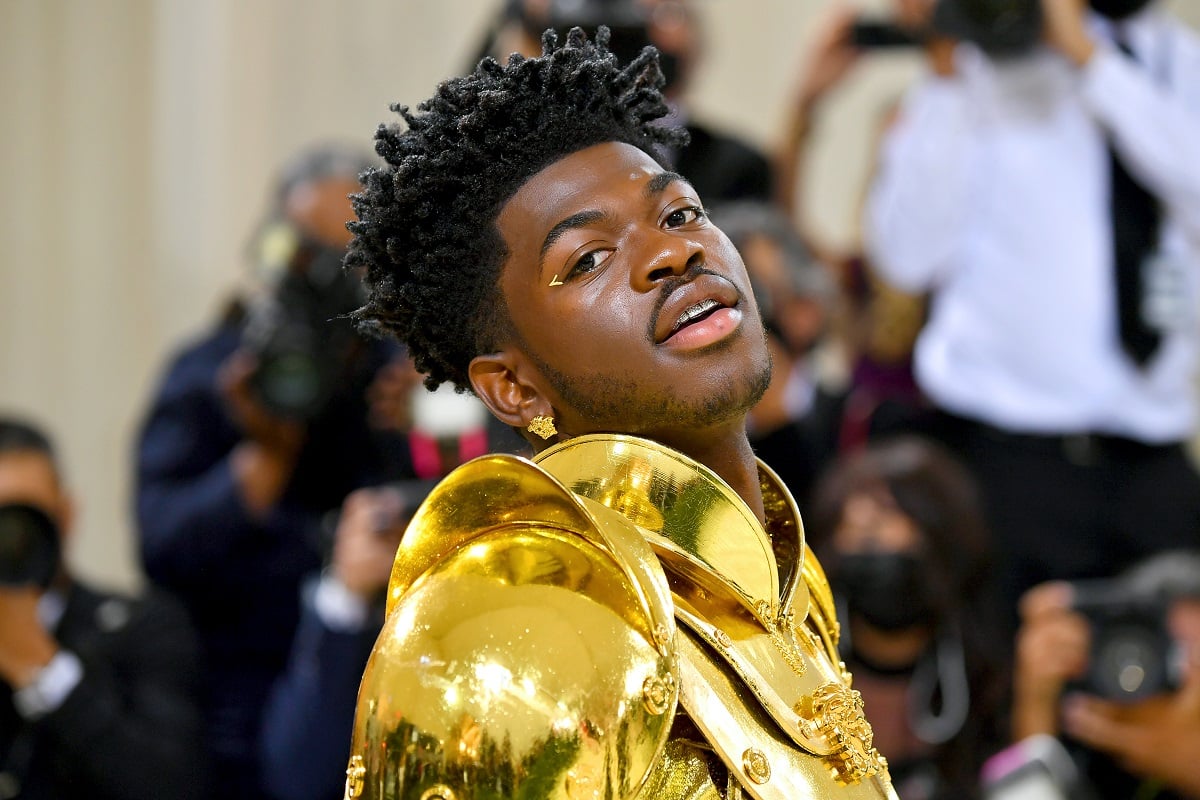 Lil Nas X is the next in a line of modern black artists who have no qualms about expressing their queerness through their work, despite the hate they receive. 
In 2012, Frank Ocean announced that his first love was a man days before his debut album cemented his stardom. Since then, he's become much more reclusive and selective about sharing his personal life, but references to homosexuality still ground his work on his second album Blonde and on one-off singles "Chanel" and "DHL". 
Tyler, The Creator took a much more circuitous route to this point. As he matured and became less driven by angst, he revealed more about his true self. "Next line will have 'em like 'Whoa'/ I've been kissing white boys since 2004" was one of several allusions to same-sex love Tyler's 2015 project Flower Boy. Like Ocean, Tyler doesn't speak about his life much outside of his music, but his subsequent albums Igor and Call Me If You Get Lost detail dalliances with men and women, normalizing sexual fluidity for men. 
A lot of progress has been made regarding gay rights around the world, but there is still a long way to go. As long as that is true, artists like Lil Nas X being themselves without shame will continue to be necessary.