Lin-Manuel Miranda Explains How 'Hamilton' Got a PG-13 Rating on Disney+
In just a few days, a filmed version of Hamilton will be available for Disney+ subscribers to view the award-winning musical in their homes. The movie version of Hamilton will be the same except for one minor change. In order to give the filmed musical a PG-13 rating, Lin-Manuel Miranda revealed two F-bombs were removed from the show.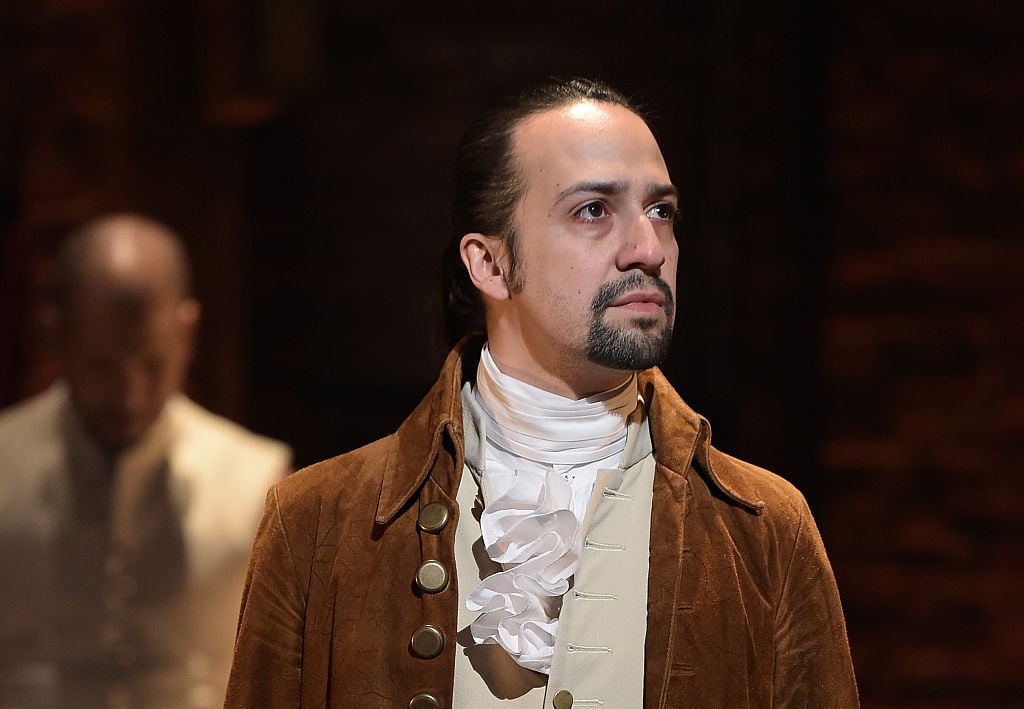 The performance was filmed in 2016
Hamilton opened in 2015 and won 11 Tony Awards including Best Musical, Best Actor in a Musical, Best Featured Actor in a Musical, and Best Featured Actress in a Musical. On July 3, fans will see a performance of Hamilton that was filmed in 2016 with the original Broadway cast.
While fans knew the show was filmed before the original cast moved on to other projects, no one knew what would happen to the recording of Hamilton.
"The show is preserved w this cast & on the way to Gringotts vault. Grateful to everyone who made a complex shoot painless. Rest easy, fam," Miranda tweeted.
In another tweet, he wrote, "2) What are we doing with that footage? No idea. Throwing it in a vault at Gringotts for a bit probly. But we're getting it."
'Hamilton' was originally supposed to premiere in theaters
On Feb. 3, 2020, Disney announced the filmed version of Hamilton would be released as a movie in theaters on Oct. 15, 2021.
"Lin-Manuel Miranda created an unforgettable theater experience and a true cultural phenomenon, and it was for good reason that 'Hamilton' was hailed as an astonishing work of art," said Disney CEO Bob Iger. "All who saw it with the original cast will never forget that singular experience. And we're thrilled to have the opportunity to share this same Broadway experience with millions of people around the world."
While Hamilton was originally supposed to premiere in theaters, Disney announced the movie will be available on Disney+ on July 3, 2020.
RELATED: Lin-Manuel Miranda's 'Hamilton' Will Stream on Disney+ Sooner Than You Expected
"I'm so proud of how beautifully Tommy Kail has brought 'Hamilton' to the screen," Miranda said in a statement. "He's given everyone who watches this film the best seat in the house. I'm so grateful to Disney and Disney+ for reimagining and moving up our release to July 4th weekend of this year, in light of the world turning upside down. I'm so grateful to all the fans who asked for this, and I'm so glad that we're able to make it happen. I'm so proud of this show. I can't wait for you to see it."
How 'Hamilton' got a PG-13 rating
On Twitter, a fan asked Miranda how Hamilton achieved a PG-13 rating on Disney+ given the language in some of the scenes. Miranda answered the fan and revealed that the show cut out two F-bombs to make a PG-13 rating possible.
"LANGUAGE! 1. On July 3, you're getting the whole show, every note & scene, & a 1-minute countdown clock during intermission (bathroom!) 2. But MPAA has a hard rule about language: more than 1 utterance of "F*ck" is an automatic R rating. We have 3 "F*cks" in our show. So…," Miranda tweeted.
He continued, "…I literally gave two f*cks so the kids could see it: 1. In Yorktown, there's a mute over 'I get the f___ back up again' 2. 'Southern *record scratch*kin' Democratic Republicans.' You can sing whatEVER you like at home (even sync up the album)! Love you. Enjoy."