What Was Lindsay Lohan's Age When She Was on 'The Late Show with David Letterman'?
Following the Hulu documentary Framing Britney Spears, a discussion has emerged surrounding how the media treats young, famous women — with regard to how those behaviors have changed in recent years. And a clip of Lindsay Lohan, who was also a tabloid fixture at one time, came to the forefront of that conversation. What was Lindsay Lohan's age in the clip?
Lindsay Lohan rose to fame as a child star
Lohan started acting in commercials as a child. After appearing in the soap opera Another World, she broke out as the star of the Disney remake The Parent Trap. From there, she starred in films like Life-Size, Freaky Friday, Confessions of a Teenager Drama Queen, and Mean Girls.
The actor took on more adult roles in the latter half of the '00s. Lohan starred in Just My Luck, A Prairie Home Companion, and Georgia Rule. However, it was around this time that she began to appear in tabloids frequently. Lohan was arrested twice for driving under the influence and went to rehab for the first time in 2007.
Her career struggled in the following years
Over the next few years, Lohan remained a tabloid fixture. Her early 20s were marred with scandal, from time in rehab to serving short jail sentences for violating her probation. "People root for me and say they want me to work, but then everyone's against me," she told Vanity Fair in 2010.
Regardless, Lohan continued to act. She portrayed Elizabeth Taylor in the made-for-TV movie Liz & Dick and guest-starring in episodes of Glee and Anger Management. But it wasn't the same. "I want my career back," she told the publication. "I want the respect that I had when I was doing great movies."
Lohan continued, "I know that I'm a d*mn good actress, and it's been my passion since I was a child, and I know that when I care about something I put 100 percent and more into it. And I know that in my past I was young and irresponsible—but that's what growing up is. You learn from your mistakes."
Lindsay Lohan's age on David Letterman in 2013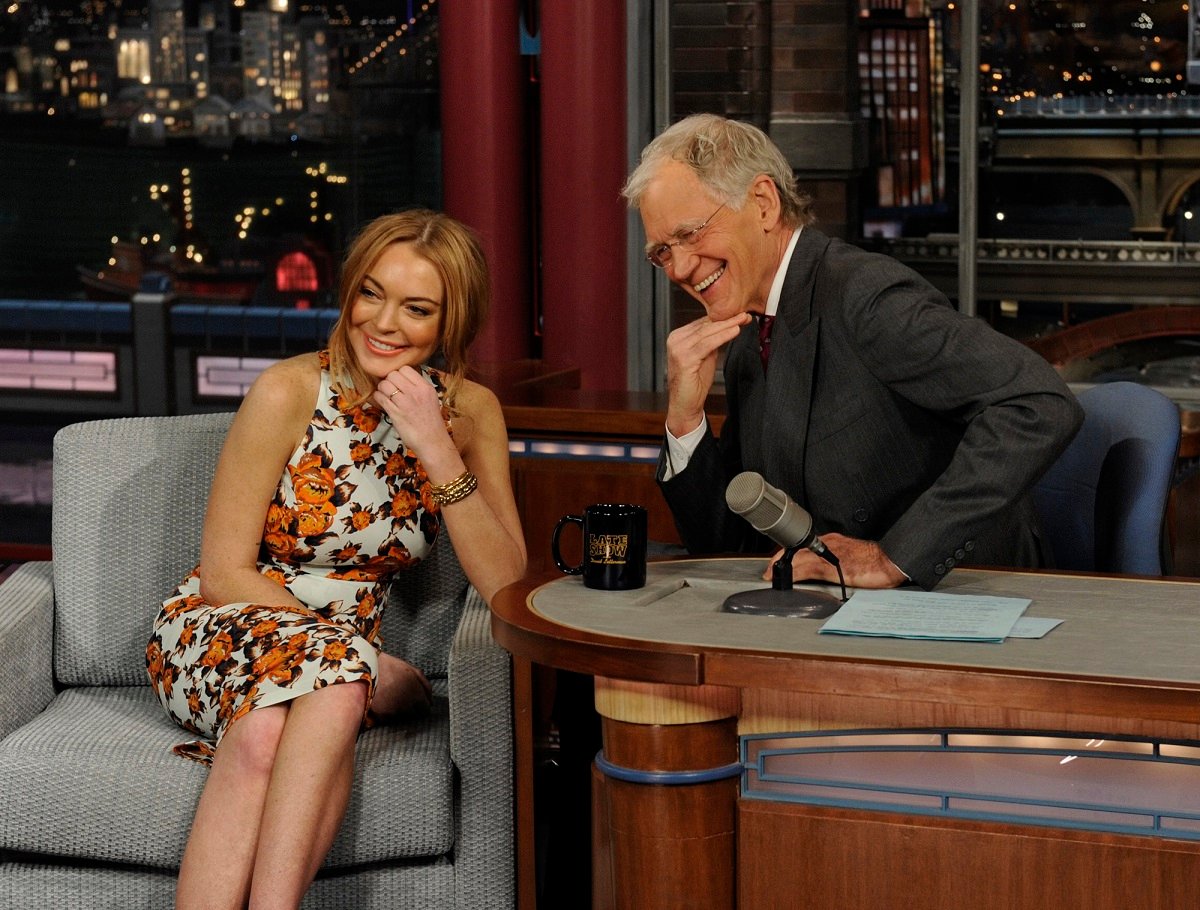 In 2013, when she was 26 years old, Lohan appeared on The Late Show with David Letterman. She was there to promote her cameo appearance in the spoof comedy horror film Scary Movie 5. However, Letterman quickly began to ask her prodding questions about her then-upcoming stint in rehab and refuses to back down.
The nearly 15-minute interview grows increasingly awkward. Lohan plays off Letterman's jokes but repeatedly asks him not to make them about the serious matter. In one clip, he asks her, "How will this time be different?" and "What are they rehabbing?" Lohan responds, "We didn't discuss this in the pre-interview."
In February 2021, clips from the interview circulated on Twitter. "This Lindsay Lohan interview on David Letterman in 2013 is horrifying to watch now," wrote one user. In one of the moments shown, Lohan looks through Letterman's planned jokes of "things [she's] endured." "I thought you were gonna be nice!" she exclaims.
However, others were quick to point out that the clip is edited. The end of it shows Lohan starting to cry. Though it's unclear exactly why she tears up, in the full interview, this happens after Letterman compliments her. Regardless, the entire thing is uncomfortable, and Lohan could be crying for any number of reasons.