Lindsey Buckingham Says Stevie Nicks Was Like Trump During His Firing
Fans will no longer remember Fleetwood Mac just for their music. They'll remember them for how well they were able to feud with one another. Since Fleetwood Mac's early days, there's been drama between literally every band member at some point or another. Like ABBA, Fleetwood Mac's biggest problem was its two couples split. However, the band has pushed past it all, sometimes without original band members, and continues to tour and release music.
But there will always be beef between Lindsey Buckingham and Stevie Nicks, it seems. Buckingham recently opened up about his 2018 firing and related Nicks to Trump. Here's what he revealed and what Nicks had to say in her rebuttal.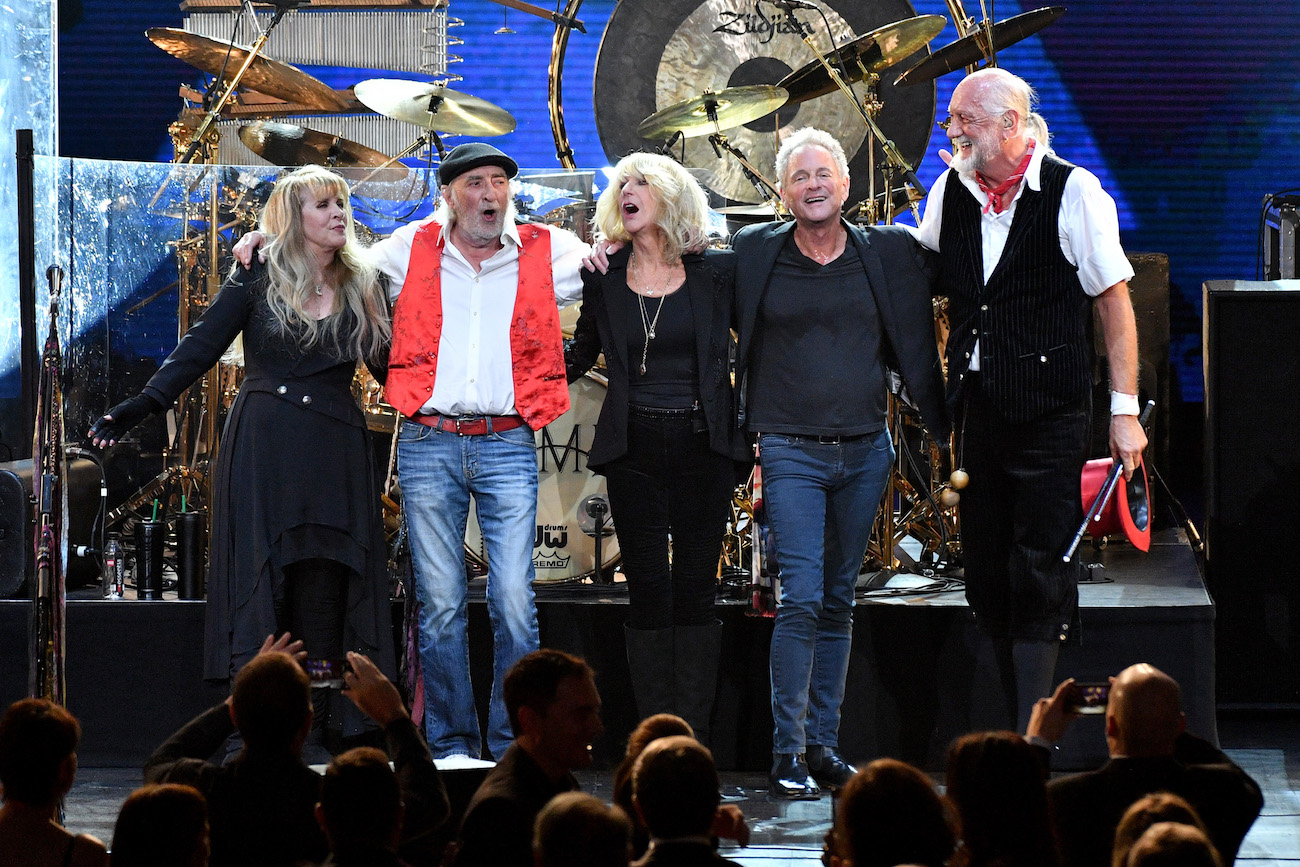 Fleetwood Mac history of drama
Fleetwood Mac has a long history of feuds and drama, starting as far back as 1970 when founder Peter Green walked out and Jeremy Spencer parted ways when he joined the religious cult Children of God. The band is also notorious for going through band members. Guitarist Bob Weston even had an affair with Mick Fleetwood's wife, Jenny Boyd.
However, the Rumours-era proved to have the worst drama the band's ever seen. Nicks and Buckingham, who were lovers coming in, messily broke up. In May, Buckingham told Nile Rodgers (per NME) on his Apple Music 1 show Deep Hidden Meaning Radio With Nile Rodgers that he never got closure with Nicks concerning their messy breakup. As a result of working together for years after, Buckingham says that he had to construct walls around himself.
Buckingham first walked away from the group after the release of 1987's Tango in the Night. Then Nicks left in 1990 after Mask flopped. However, Nicks and Buckingham returned in 1996 for The Dance and a reunion tour. Nicks has remained in the band ever since, but Buckingham can't say the same, unfortunately.
Fleetwood Mac fired Lindsey Buckingham in 2018
Fleetwood Mac fired Buckingham in 2018. Irving Azoff, the band's manager, told him, "Stevie never wants to be on a stage with you again." The reason for the firing came down to the fact that he was unwilling to tour when they'd all agreed. But Buckingham says he'd agreed to the schedule.
At the time, he said he thought his firing became an idea after the band's appearance at the MusiCares tribute show. Nicks allegedly thought he was smirking and snickering during her acceptance speech. Shortly after his abrupt dismissal, he filed suit in L.A. Superior Court, asking for $12-14 million from his bandmates for participating in the 2018-19 North American tour.
When they made a settlement, Buckingham told CBS This Morning co-host Anthony Mason (per Variety), "I'm happy enough with it. I'm not out there trying to twist the knife at all. I'm trying to look at this with some level of compassion, some level of wisdom." He wasn't exactly disappointed about leaving. He was annoyed "that we built this beautiful legacy that was about rising above all this kind of stuff. I feel that that legacy, in what the band is doing now, is being somewhat dishonored, and that does bother me."
Buckingham and Nicks' feud reignites
Much has happened in Buckingham's relationship with Nicks. So much, in fact, that we could probably write a very long book. But Buckingham and Nicks have just added about 10 more chapters to this ongoing saga. Buckingham has come out to reignite his long-time feud in two recent explosive interviews.
Speaking to Rolling Stone, Buckingham says Nicks was the cause of his firing. She "wanted to shape the band in her own image, a more mellow thing. I think others in the band just felt that they were not empowered enough individually, for whatever their own reasons, to stand up for what was right. And so it became a little bit like Trump and the Republicans."
In the LA Times interview, he was even harsher. "Her creativity, at least for a while, it seemed like she wasn't in touch with that – same with the level of energy she once had on stage," he said. "I think that was hard for her, seeing me jump around in an age-inappropriate way. Also, she's lonely. She's alone. She has the people who work for her, and I'm sure she has friends, but, you know."
Interestingly enough, Nicks actually responded to Rolling Stone.
Stevie Nicks tells her version of events
In her statement to Rolling Stone, Nicks wrote, "It's unfortunate that Lindsey has chosen to tell a revisionist history of what transpired in 2018 with Fleetwood Mac. His version of events is factually inaccurate, and while I've never spoken publicly on the matter, preferring to not air dirty laundry, certainly it feels the time has come to shine a light on the truth."
"Following an exceedingly difficult time with Lindsey at MusiCares in New York, in 2018, I decided for myself that I was no longer willing to work with him…To be exceedingly clear, I did not have him fired, I did not ask for him to be fired, I did not demand he be fired. Frankly, I fired myself. I proactively removed myself from the band and a situation I considered to be toxic to my well-being. I was done. If the band went on without me, so be it…And after many lengthy group discussions, Fleetwood Mac, a band whose legacy is rooted in evolution and change, found a new path forward with two hugely talented new members."
Nicks also writes that she wasn't jealous at all of Buckingham having a family. She didn't want kids. "I'm proud of the life choices I've made, and it seems a shame for him to pass judgment on anyone who makes a choice to live their life on their own terms, even if it looks differently from what his life choices have been," Nicks concluded.
So, don't expect Buckingham and Nicks to share the stage ever again. It's a shame because they gave us such great music. Guess there really is a fine line between love and hate.