Lindsey Lohan's 'Mean Girls' Hair Was Inspired by This 'Friends' Character
Lindsay Lohan channeled an iconic TV look in her hit movie, 'Mean Girls.' In fact, it was at her insistence her character wore this style.
Over the years, Mean Girls has become a modern classic for the early millennial generation. A witty and insightful look at teenage social dynamics from a female perspective, it features a ton of iconic performances from amazing actors. One of them, Lindsay Lohan, gave one of the best performances of her career. It's worth noting, however, that one particular aspect of her character came from a very unexpected place.
'Mean Girls' got a lot of praise on release, especially for Lohan's performance
While it's somewhat of a cult hit today, Mean Girls was generally well-received when it first came out. It's not hard to see why, given how fun, funny, and well-shot and directed it is. What's more, it's praised for its semi-serious look at the cruelty of high school, shining a light on how tough it is to be a teen.
More than anything, though, the actors made the film. Rachel McAdams' Regina George often comes to mind for fans. She practically defined the entire movie, codifying the titular Mean Girl trope for an entire generation.
That said, it can't be understated how important Lohan was to the production. While she initially tried out for the part of Regina, it's hard to imagine her as anyone else but protagonist Cady Heron. Lohan perfectly portrayed her initial innocence and slow transformation into one of the mean girls she vowed to take down, adding a ton of nuance to the role. In a career full of fantastic performances, this one has always stood out as one of the best.
Lindsay Lohan's hair in one 'Mean Girls' scene was inspired by 'the Rachel'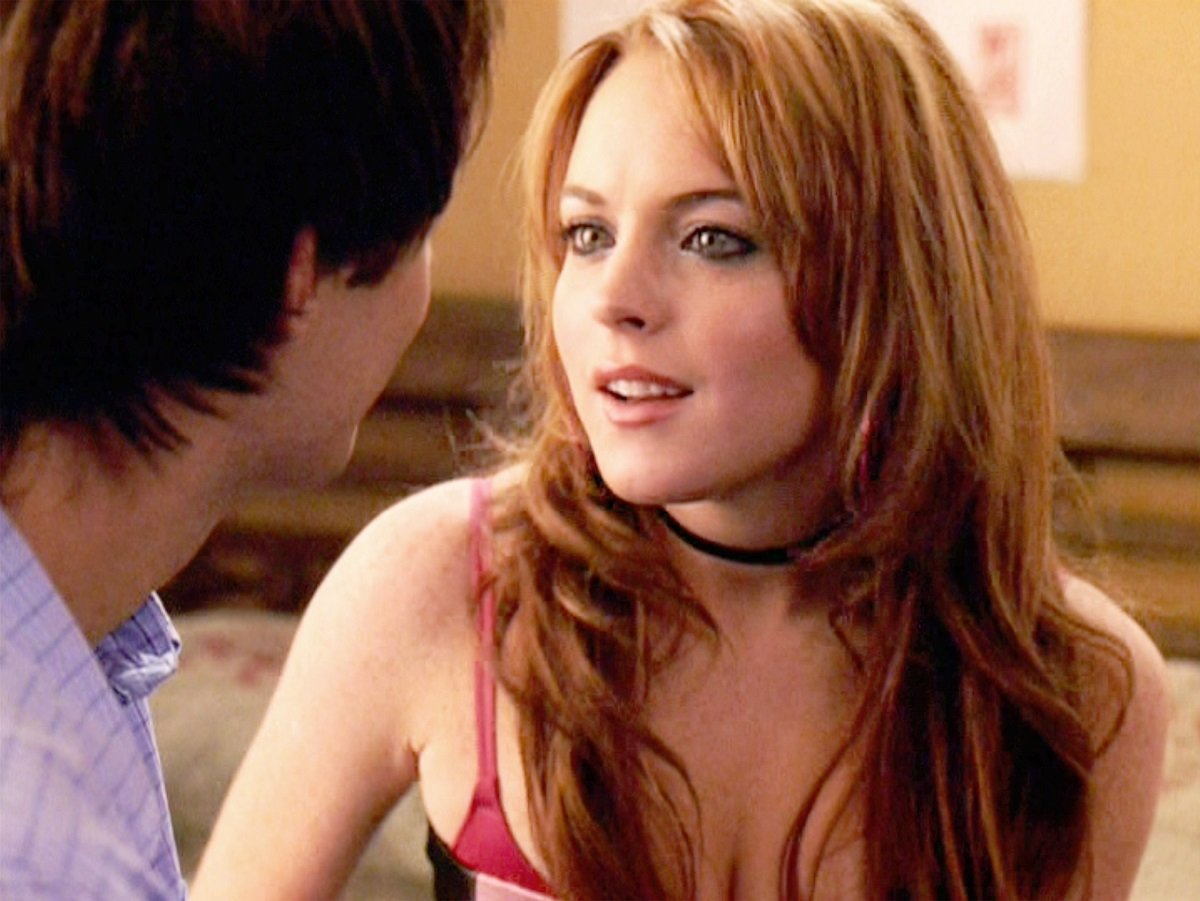 Lohan had a lot of great looks as Cady. But one of the film's best came during the "small get-together," which turned massive house party. We first see the nice-turned-mean-girl Cady when she descends the staircase in her home, outfitted in a black and white minidress and choker. Needing a hairstyle to match this fetch new look, Lohan herself had the final say in how it was done.
"I wanted it like Jennifer Aniston," she explained during a video by Vogue looking back at some of her outfits through the years. Though Lindsay Lohan's hair in Mean Girls was quite a bit longer than the Friends star's, the general style is pretty unmistakable. Parted to the left instead of the right (which is filmmaking shorthand for a villain character), it's hard not to see it as "the Rachel" once you know what to look for.
Lohan is experiencing a career resurgence
Despite being a force in Hollywood during her childhood and teen years, Lohan's career slowed considerably after a bit. This was largely due to her experiences with drugs and alcohol, as well as the constant negative attention by the media as she grew older. The star has made a significant comeback in recent years despite ups and downs.
Around 2014, she took a break from film and TV to star as Karen in the Playhouse Theatre adaption of Speed-the-Plow. Following a bit part on 2 Broke Girls and an appearance in the short film Human Voices Wake Us, she took a break from acting until around 2018. Lohan came back for a recurring role on the series Sick Note, followed by the film Among the Shadows.
The actor became really became active after that. She acted as a judge on The Masked Singer Australia and led the reality show Lindsay Lohan's Beach House. After a few episodes of Celebrity Watch Party, she started her own podcast around a year later. At present, the latest development for the star is her signing a multi-film contract with Netflix. The first of these movies, Falling for Christmas, is set for release in December 2022.