Linkin Park Fans Retweeting the Late Chester Bennington's Political Posts Amid Presidential Faux Pas
It's been three years since the music world lost Linkin Park frontman, Chester Bennington. Over the weekend, Twitter disabled a video that President Donald Trump retweeted after Linkin Park claimed copyright infringement. Here's how fans responded to the anniversary of the tragic death and those controversial tweets.
Chester Bennington became the face of mental health awareness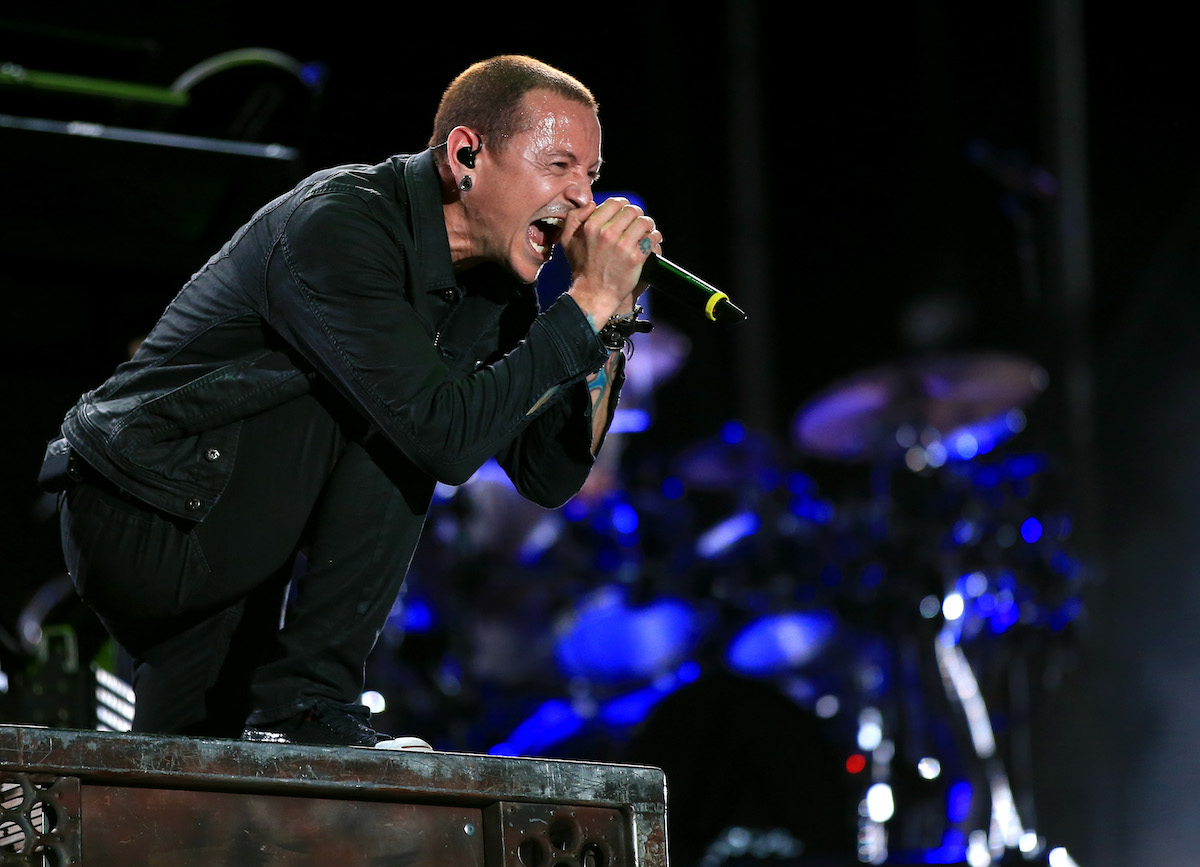 Three years to the day since Chester Bennington's death, fans took over social media platforms to share their everlasting connection to the Linkin Park frontman and mental health awareness advocate.
The official band account posted on the late singer's behalf.
"#chesterbennington is trending on Twitter today. We miss you, Chester. #MakeChesterProud," the tweet read.
Thousands of fans commented and retweeted, sharing their stories of hope and healing in light of Bennington's death. The Los Angeles County Coroner's office ruled Bennington's official cause of death as death by hanging in December 2017.
Following Bennington's death, his widow, Talinda Bennington-Friedman, partnered with 320 Changes Direction — an organization obviously close to her heart
"The idea for 320 was born out of my personal experience and the recognition that we can do better to address the needs of those who are suffering with mental health concerns and addiction," she said on the website.
"For 13 years I watched my husband Chester struggle with depression and substance use. I often felt scared and alone. I was uneducated about the challenges he faced and I wanted information — but finding answers to my questions and available help for our family was very difficult."
She continued: "After my husband lost his battle with depression and addiction, I knew I had to make a change to the mental health landscape."
"We need to streamline access to the help that IS available. And we need to change the culture of mental health so that those in need – and their family members – are able to speak openly about their struggles so that they can seek the care they deserve," she said.
Bennington's political tweets resurfaced for this reason
Preceding the anniversary of Bennington's death, White House social media director, Dan Scavino, retweeted a video that featured Linkin Park music. It has since been disabled and now reads, "This media has been disabled in response to a report by the copyright owner."
President Donald Trump retweeted the post which the band claimed as copyright infringement. The official band account shared their response to the now-removed tweet stating:
"Linkin Park did not and does not endorse Trump, nor authorize his organization to use any of our music. A cease and desist has been issued."
While the band's official position and response is clear, fans took it a step further and dug up old posts from Bennington which correlates to Linkin Park's current views.
The timing of the president's tweets is, as fans have stated, insensitive — particularly with Bennington's political views clearly stated on the platform in previous years.
Bennington's death brought family issues to the surface
With the loss of one of music's greatest forces, Bennington's fans and supporters have rallied around the singer's family and bandmates in the three years since.
This includes Bennington's widow after she found love again with Michael Friedman — a Los Angeles firefighter. However, that support hasn't come without contention.
Bennington's sister, Tobi Bennington, has a different opinion of her former sister-in-law. In multiple Instagram posts from February 2020, Tobi Bennington stated she stands by [Chester] Bennington's oldest son from a former marriage, Draven Bennington.
Draven Bennington originally refuted Talinda Bennington's quotes in the Rolling Stone article which claimed the frontman stopped taking his antidepressant medications months before his death. Fans weighed in with mixed reactions causing further infighting with, what is obviously, still an extremely delicate topic.
Regardless of where Draven and Tobi Bennington stand, one thing is clear: Chester Bennington was loved and is still very much missed by many.
How to get help: In the U.S., call the National Suicide Prevention Lifeline at 1-800-273-8255. Or text HOME to 741-741 to connect with a trained crisis counselor at the free Crisis Text Line.