Lionel Messi's $14 Million Yacht Beats Out Cristiano Ronaldo and Wayne Rooney's Vessels
Even on the open sea, Lionel Messi can't get away from his soccer rival Cristiano Ronaldo, who also owns a sick yacht.
Lionel Messi is a living legend in the soccer world, and he's handsomely paid for his performances on the pitch. One of the most extravagant things he's purchased is a state-of-the-art yacht. But even on the open sea, Messi cannot get away from his eternal rival Cristiano Ronaldo, who also owns a sick boat.
Neither player can do anything without fans and critics comparing them. So who has the most impressive view of the sea? And what other soccer stars have gone big on yachts of their own?
Lionel Messi's massive net worth is well-deserved
Messi's journey to becoming arguably the best soccer player of all time is a fairy tale. The shy kid from Rosario, Argentina needed growth hormone treatments just to be 5'7." Messi signed his first contract on a napkin. A shortlist of his most impressive accomplishments is enough to make even the most casual soccer fan dizzy.
The six-time Ballon D'or winner is a 10-time La Liga champion who's won the Champions League four times. Messi is Barcelona and La Liga's best-ever goalscorer; he holds the record for the most hat tricks and assists in a league and a European season. No one has ever scored more goals for a single club.  
Describing his impact with mere statistics is like discussing the greatness of Prince's "Purple Rain" by just listing the guitar chords. It misses the point. Watching Messi weave his all-encompassing style of magic — dribbling through walls of defenders and picking out passes most players can't even see — is why we love sports in the first place. It's joy incarnate. 
Messi's litany of accolades is highly lucrative. He currently earns about $164 million a year from his club. The highest salaried soccer player, according to Forbes, has a net worth of $600 million. Messi's generally not a flashy guy off the field. But he still spent a ton of money on a yacht for his family. 
Messi and many soccer players live lavish on the open water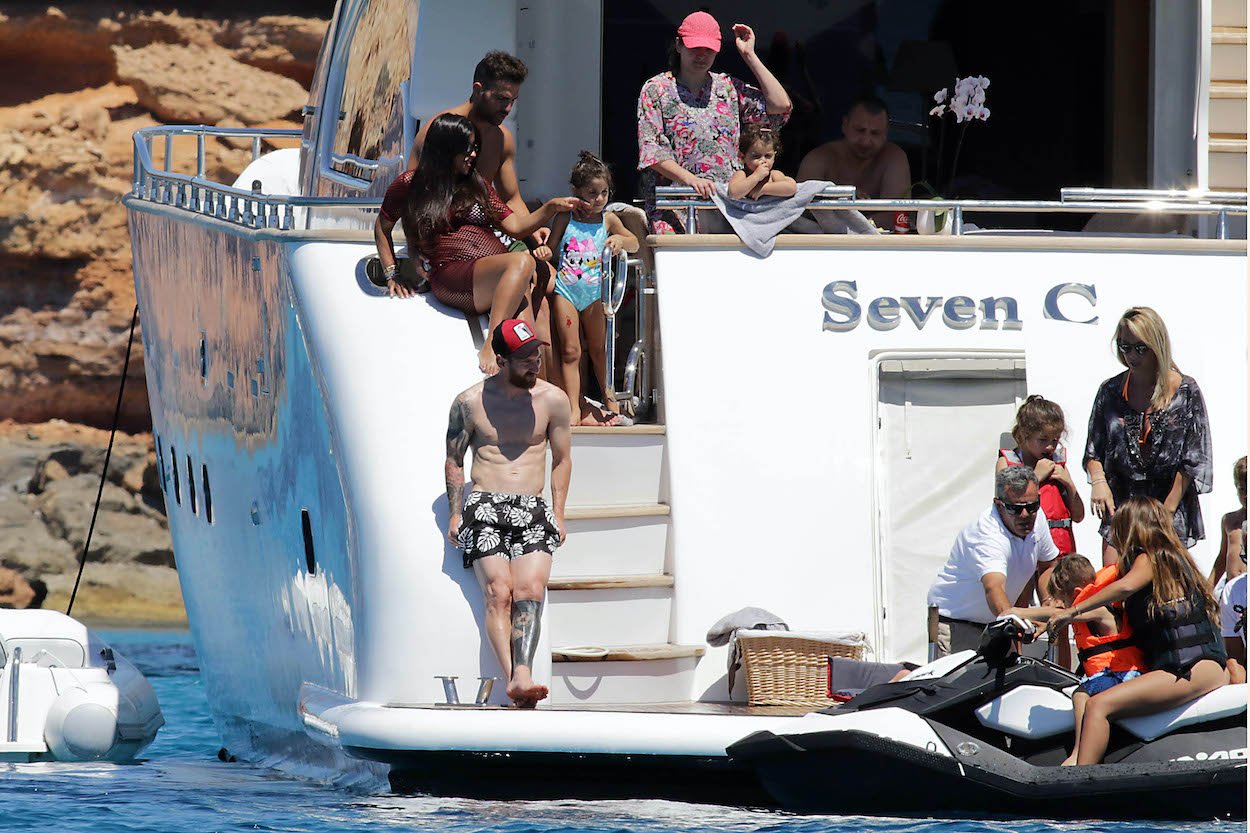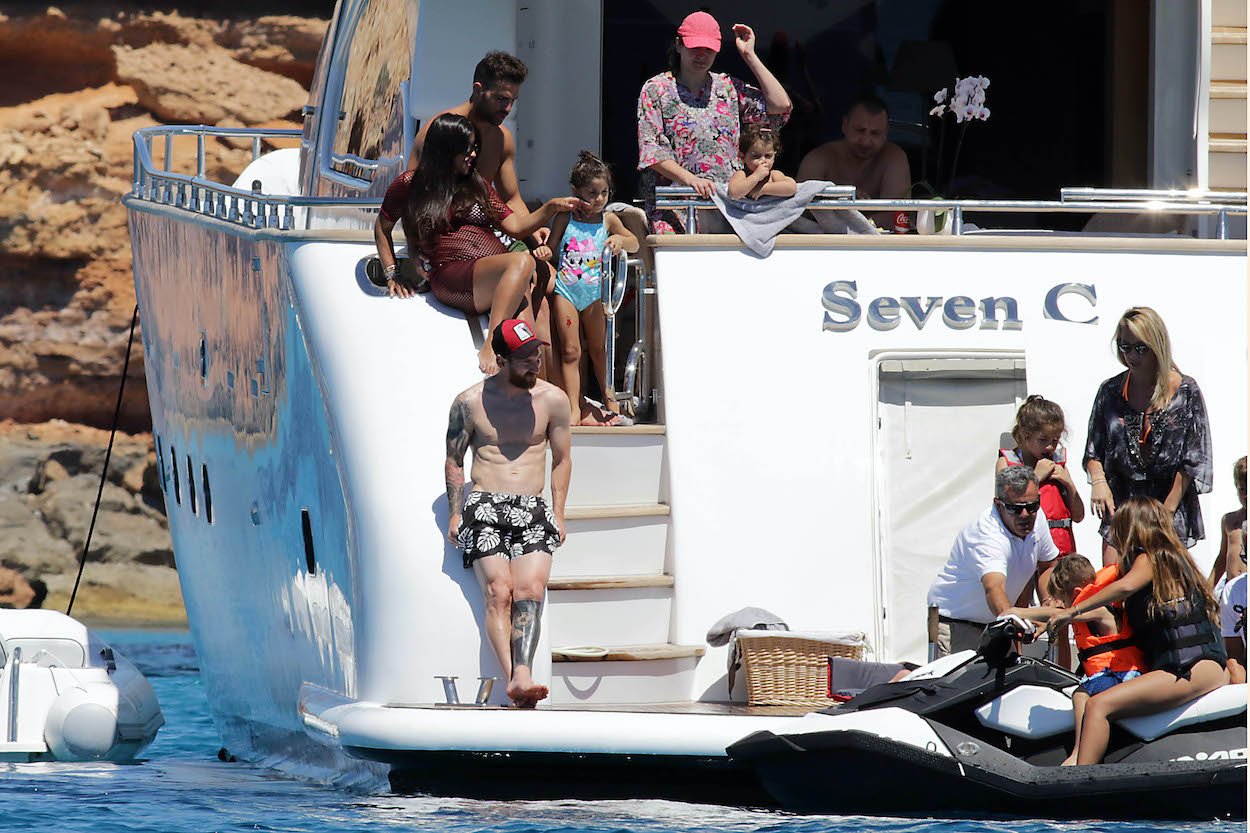 Messi and Cristiano Ronaldo have been soccer's defining figures for the past decade. As different as their personalities are, their legacies are inseparable. Both prodigious talents honed their craft through years of hard work. They both broke scoring records while leading one of the two biggest teams in Spanish football. They also share an interest in fancy boats. 
According to The Sun, Ronaldo and Messi own the two most expensive yachts among current and former soccer players. (Sergio Ramos, David Beckham, and Wayne Rooney round out the top five.) Ronaldo's Palmer Johnson Ascari cost over $10 million — easy to see given its amenities. The yacht is 92 feet long, can host nine guests, and has a VIP room. 
But Messi is the king of the sea. His Maiora Seven C yacht, valued at over $13 million, is the same size as Ronaldo's. But it can also go 25 miles per hour. It has four bedrooms and a VIP bedroom. It also comes with a tender, a wave runner, and two kayaks. Messi's teams have won five more games than Ronaldo's in head-to-head matchups. His advantage over CR7 also extends to the realm of yacht ownership. 
But Messi's salary has become a problem for Barcelona
Despite his wealth, Messi knows all too well that money can complicate things. His salary is increasingly a point of contention, as Barcelona fell apart on and off the pitch. Under the mismanagement of former club President Josep Bartomeu, Barcelona's finances reached their breaking point.
Reckless spending combined with the coronavirus pandemic left the club with over a billion Euros in debt. There was also Barcagate, a scandal where Barca officials paid a company named I3 Ventures to smear critics of Bartomeu's regime, with Messi himself being one of the targets. 
Living on this financial high-wire act didn't make the team any better. They hit rock bottom last season, failing to win any trophy for the first time since 2008 and suffering their third straight Champions League humiliation, losing 8-2 to Bayern Munich in the quarterfinal. The chaos at the club prompted Messi to attempt to force his way out during the offseason.
Barca managed to keep hold of him, but Messi gave an explosive interview with Goal.com where he called Bartomeu a liar and bemoaned the lack of quality in the squad. Messi hasn't spoken much since then, but the situation still looms over Barcelona's season.
Remember reading that Messi makes $164 million a year? That number became public when his entire contract was leaked to Spanish media in January. Messi and the club are the only parties with access to this information. So, it seems likely that Barcelona officials shared the contract to put blame on Messi for the club's financial state.
It seemed inevitable that Messi would leave at the end of the season. While that is still very much a possibility, Barcelona now finds itself on an upswing that could convince him to stick around for a few more years. They've recovered from a slow start to challenge for the La Liga title. They've only lost one league game in 2021, and they're only four points off first place Atletico Madrid.
Unsurprisingly, Messi is leading the way as the top scorer and the leader in assists. Joan Laporta, who served as president of the club during Messi's ascent to the top in the early 2010s, returned as club president after winning the election in March.
Whatever Messi decides to do with his future, he'll be able to think about it with a nice view of the ocean.