Lionel Richie Recalls Stevie Wonder Pranking Him: 'I Kept Thinking Maybe He's Not Blind'
Music master and current American Idol judge Lionel Richie has more than 50 years in the entertainment business. Known for his legendary career with the Commodores and as a solo artist, Richie's penned classics such as "Hello," "Endless Love," and "All Night Long."
His songwriting talents played a role in him forging tight relationships with other musicians, and his bond with fellow legend Stevie Wonder goes back decades. They're so close, Wonder once pranked Richie and couldn't stop laughing about it.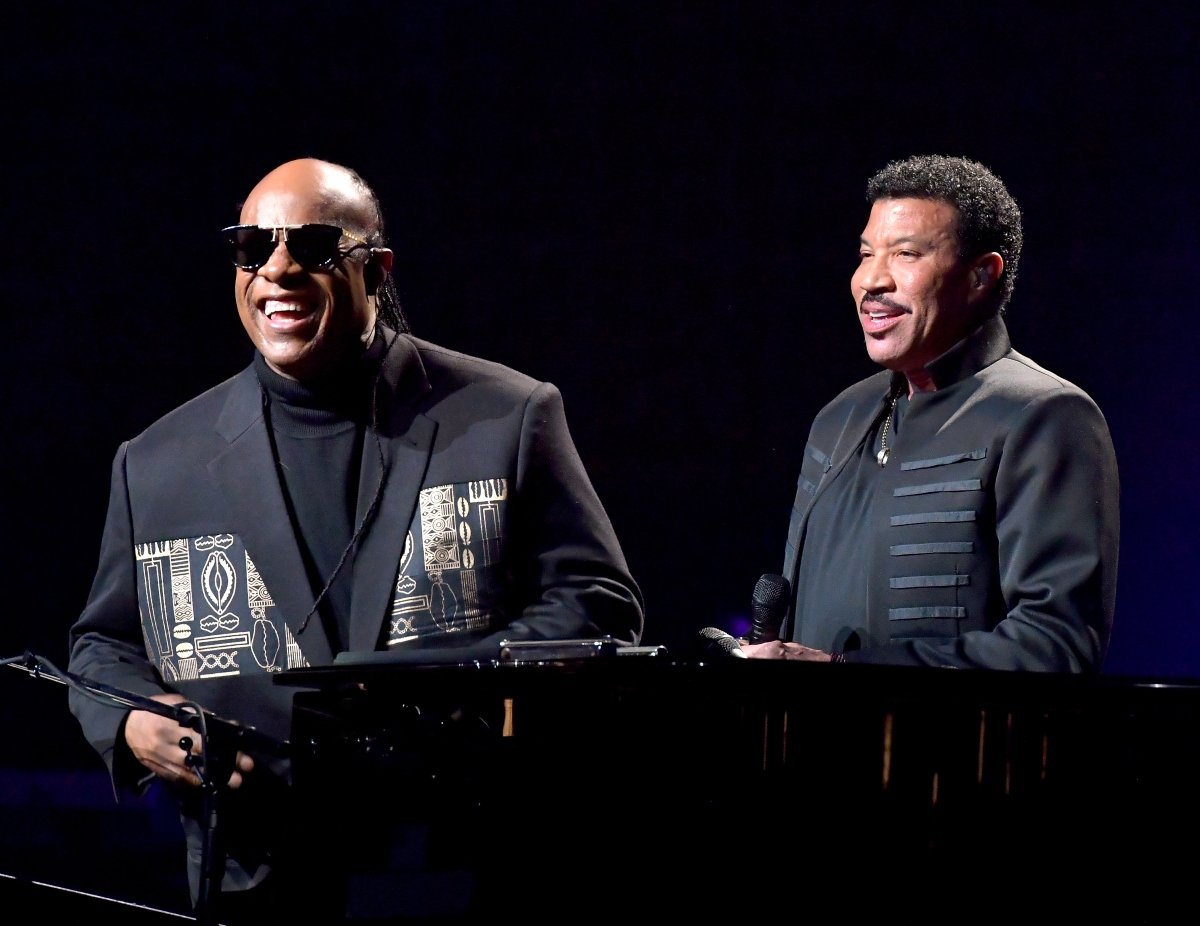 Lionel Richie and Stevie Wonder met at Motown
Lionel Richie officially began his music career as part of the Commodores. The band formed in Tuskegee, Alabama in the late 1960s and landed a deal with Motown in 1972. It was there they met the prodigy Stevie Wonder, who signed with the label in 1961 before age 12.
During their early years, the Commodores toured as the opener with acts such as the Jackson 5 and Wonder. They went on to become one of the biggest selling groups for Motown and eventually, Richie parted ways with them in 1982. Though his relationship with the Commodores changed, Richie and Wonder stayed close.
RELATED: Lionel Richie Explained Why the Clay Sculpture in the 'Hello' Video Doesn't Look Like Him
Richie says Stevie Wonder pranked him behind the wheel
Richie appeared as a recent guest on Naomi Campbell's vlog, No Filter With Naomi and chopped it up about his career, family, and celebrity stories. He has plenty! Campbell couldn't wait to hear the old one about the time Stevie Wonder played a trick on him. What happened?
Richie explained that Wonder has always had a reputation for being a jokester, and his antics often caught people off guard. Back in the day, he went to Wonder's house to visit, and the singer invited Richie to listen to some new music.
"He says, 'I've got this song for you. Come out to the car.' So, I said ok," said Richie. He added that Wonder had a cassette that he carried outside with him and gestured for Richie to get in the passenger's side. Richie noted it was common for people to chill in the car and listen to music back in the '80s and '90s, so he got in.
"He goes around and gets in on the driver's side, and then he cranks the car up. And then he puts the cassette in the car, but then he does this," Richie motioned as if he was backing car out of a driveway. "I said, 'Stevie! Stevie! Stevie!' Then of course he starts laughing and puts it back in park," he recalled. Richie admitted the car moved a little bit, but that's not what struck him the most.
"I don't remember anything about the song he played. I just kept thinking, 'I've got to get out of this car.' Stevie's crazy. And then I kept thinking, 'Maybe he's not blind.' I don't know," Richie joked.
Shaquille O'Neal once joked about Wonder too
Back in 2019, Shaquille O'Neal went viral when he told a story about Wonder on Inside the NBA. He said he bumped into the singer as he was heading out of a building and Wonder was coming in, and Wonder recognized him. "Hey Shaq," he allegedly said.
O'Neal's story had the entire internet cracking up and fueled jokes and conspiracy theories about Wonder.