Why Lisa Vanderpump Didn't Mind Kyle Richards' 'Crafty' Comment About Her
Ex-friends and enduring Bravo icons Lisa Vanderpump and Kyle Richards are not working toward reconciliation if their most recent spat is any indication.
Richards had some things to say about her one-time best friend's craftiness. But Vanderpump didn't seem to take all of the comments as an insult. Read on to find out why she thought Richards complimented her but also added, "I don't have time for the negativity."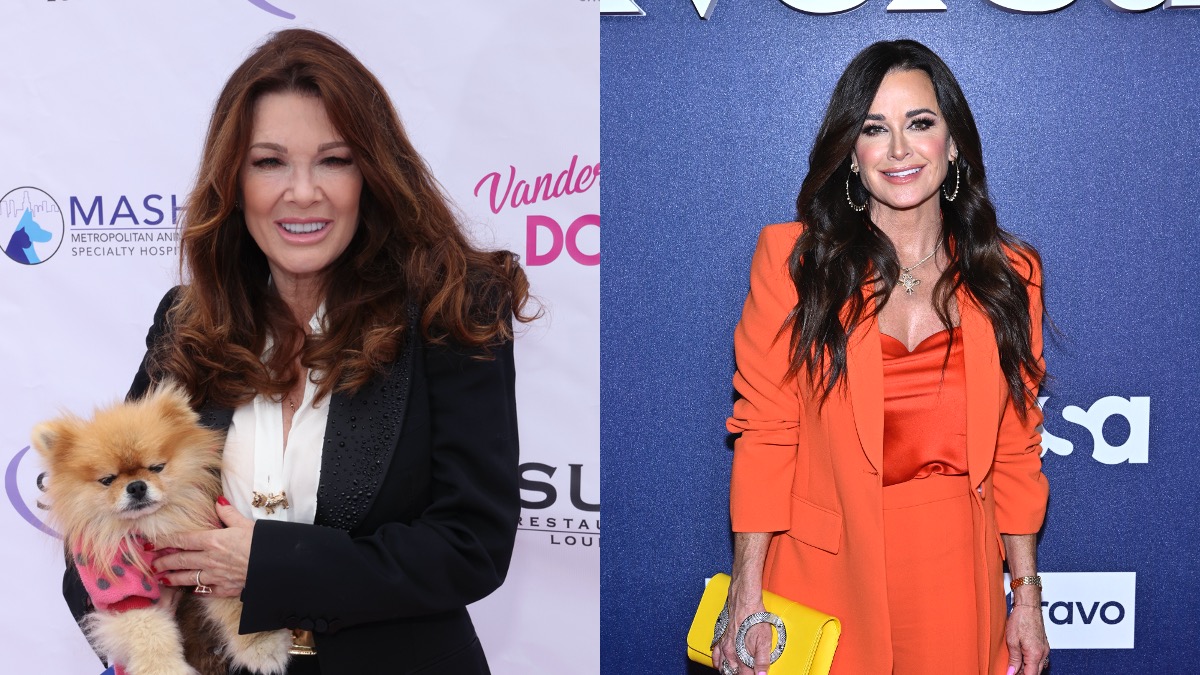 Kyle Richards said she didn't believe 'crafty' Lisa Vanderpump's tweet
Since their falling out on The Real Housewives of Beverly Hills, Richards and Vanderpump have taken public swipes at each other from time to time. And Richards saw another opportunity when her former friend contradicted her current RHOBH co-star Dorit Kemsley.
Notably, Kemsley experienced a home invasion in October 2021. And Kemsley and her husband, Paul, subsequently claimed Vanderpump never reached out to them. So, she shared a screenshot of a text message on Twitter.
"Of course I reached out to [Paul Kemsley]!" Vanderpump wrote. She also added she didn't hear "a word from any of them" after her horse-riding accident. "But that's ok," she added. "I had pillars of support."
The tweet didn't convince Richards, who told Page Six, "Let me say, she's very crafty, so I don't know."
"I mean, who am I inclined to believe?" she asked before answering, "Obviously Dorit and PK."
Lisa Vanderpump thinks Kyle Richards calling her 'crafty' is a compliment
Vanderpump seemingly took the comments by Richards in stride. "Oh, I hope I'm crafty! Crafty means you're smart, right? I'll take it as a compliment," she told Page Six.
Notably, the outlet shared that their reporter "watched as the Vanderpump Rules star unlocked her phone, went to [Paul Kemsley's] contact and opened up the pair's message history. The last text she sent was dated Oct. 30 — three days after the robbery — and it read, 'I'm so sorry to hear what transpired glad that you're all safe.'"
Vanderpump said she reached out to Paul instead of Dorit because they "had an existing relationship" prior to his coupling up with his wife. She added, "I just felt that I wanted to reach out to him."
But she wasn't all that surprised by the response she received. "They constantly come at me," she said of her former co-stars. "That was one of the reasons I left. But it's OK. I've moved on from it."
She added, "I've just opened a new restaurant, I've got the Vanderpump Dog Foundation, we have TomTom, we have Pump, we have SUR, Vanderpump Rules has been picked up."
"I don't have time for the negativity," she concluded.
Lisa Vanderpump's former castmates had a strong reaction to hearing her name
As Vanderpump mentioned, she still stirs some strong reactions from her former co-stars. For example, when current RHOBH star Garcelle Beauvais shared that her son got a job at Vanderpump à Paris in Las Vegas, Erika Jayne proclaimed, "I'm gonna up my Lexapro!"
Meanwhile, Lisa Rinna sprawled face-up across the floor.
RELATED: Lisa Vanderpump 'Didn't Realize How Life-Changing' the 'Housewives' Franchise Would Be