'Listen to Your Heart': Bachelor Nation Can't Even Handle How Matt Disrespected Chris Harrison Like That
The Bachelor: Listen to Your Heart premiered on April 13 and introduced Bachelor Nation to a whole new cast of characters.
Every few Bachelor/ette seasons someone will show up with a guitar in hand, claiming to be on the show in search of true love. Most recently that contestant was none other than Jed Wyatt. Listen to Your Heart is the cure for that. In addition to searching for love, contestants are freely and openly promoting their music careers.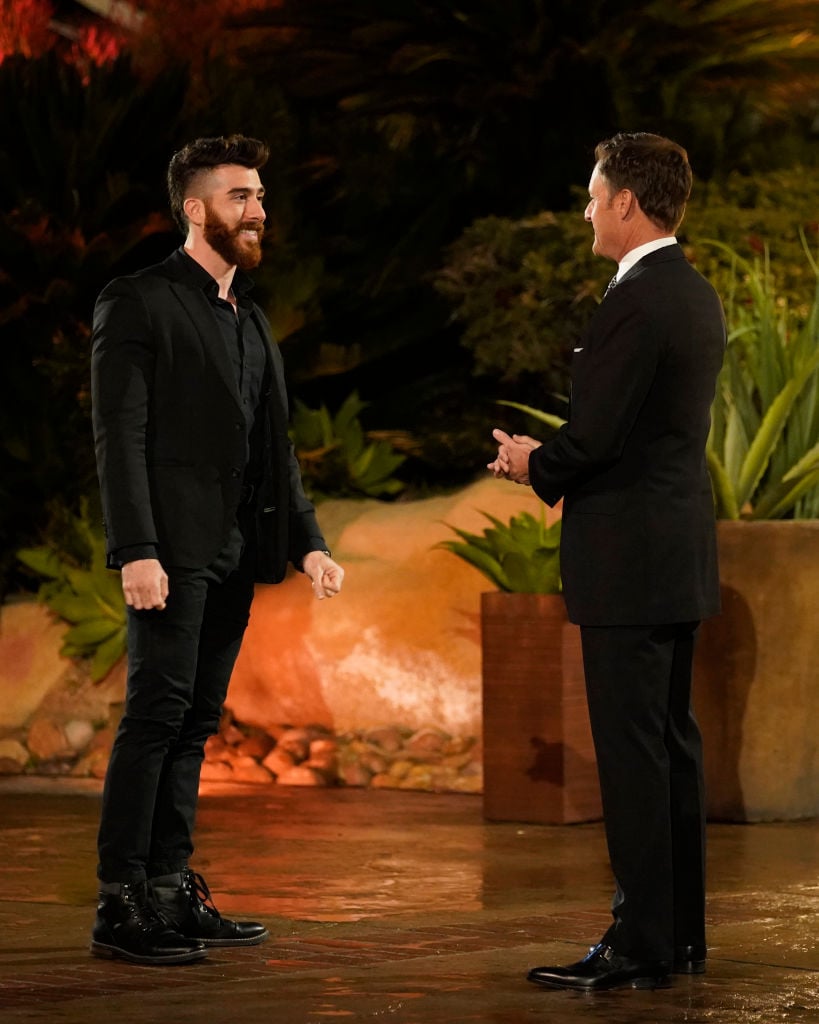 'The Bachelor: Listen to Your Heart' contestant Matt Ranaudo
One musician Bachelor Nation met during the premiere was "neo-soul" singer Matt Ranaudo. He got himself into a little bit of drama by telling one contestant he'd take her on a date when he ultimately decided to take someone else. Fans thought, for sure, he'd be going home. But he ended up getting a rose at the last minute.
His ABC bio reads:
"Growing up watching his father tour the country as a musician, Matt caught the bug early on and moved to Los Angeles to chase his lifelong dream of being a successful musician. Matt has dedicated his life to his music and band "Brother Stone & The Get Down," which he co-leads alongside his cousin. Being laser-focused on his music has meant sacrificing a love life. He wants a down-to-earth girl to share his life and dreams with, on and off the tour bus."
Additionally, Matt "has been playing music since he was 3 years old," "writes music for TV shows, commercials and sometimes other artists," and his "longest relationship has been with his beard: seven years strong."
Matt didn't know Chris Harrison's name and Bachelor Nation is pissed
But what really stuck out to Bachelor Nation about Matt was that he didn't know Chris Harrison's name. In a talking head interview, he repeatedly asked producers for help remembering the host's name, to no avail. It did not sit well with Bachelor fans.
"HOW DOES MATT NOT KNOW CHRIS HARRISON'S LAST NAME," asked one fan on Twitter.
"If you don't know Chris Harrison's name, you don't need to be on an @ABCNetwork reality show," wrote another.
"MATT GET THE F*CK OUT OF HERE WITH THAT "I THINK I RECOGNIZED THAT GUY" BULLSH*T PUT SOME RESPECT ON CHRIS HARRISON'S NAME," wrote another.
"The disrespect this man has butchering Chris Harrison's name. How DARE u," tweeted another.
And some fans didn't buy it.
"Matt pretending he doesn't know Chris Harrison's name – no one is interested in that," wrote one Twitter user.
Here's hoping that Matt learns Chris Harrison's name by the next episode.
Read more: 'The Bachelor': Peter Weber Responds to a Fan Who Asks Why He's 'Not Listening to the Doctors' and 'Hanging out With People'