Will the 'Listen to Your Heart' Cast Be on 'Bachelor in Paradise,' 'The Bachelorette,' or 'The Bachelor'?
Listen to Your Heart is the latest addition to The Bachelor franchise spinoffs alongside The Bachelorette and Bachelor in Paradise. The new series has been described as BIP meets A Star Is Born, as it contains a musical element. That said, the Listen to Your Heart cast doesn't feature any Bachelor Nation alums. So how does the show tie into the rest of the franchise? There are plenty of elements that will feel familiar. And according to Chris Harrison, there's a chance the fresh crop of contestants will end up on one of the established series.
How 'Listen to Your Heart' is different from 'Bachelor in Paradise'
Listen to Your Heart is most similar to Bachelor in Paradise out of the ABC reality franchise. "If you're a fan of The Bachelor you will sense that familiarity," Harrison told E! News in April 2020. "You're gonna think, oh, OK, this feels right. It feels familiar."
Now that familiarity may come from the Listen to Your Heart elimination process. "Early on, it really will feel more like Bachelor in Paradise in that there are true rose ceremonies of women giving the man roses and the men giving the women rose, and that's how people are voted off," Harrison said.
Nevertheless, the rose ceremonies may be the only major similarity. Of course, we know the members of the Listen to Your Heart cast already have a connection through their love of music. Harrison also told E! News how things change as the show moves forward. He said:
You know, there's only that that level of Paradise rose ceremony in the first couple of episodes because then it does get to the musical performances. And then it's really up to the panel of judges that are some of the biggest names in show business but also some very familiar Bachelor family names. They're the ones that will decide who stays and who goes and a lot of that has to do with the musical talent but just as important, if not more important, is the chemistry and the relationship that you're showing and displaying on stage.
The 'Listen to Your Heart' cast is new to Bachelor Nation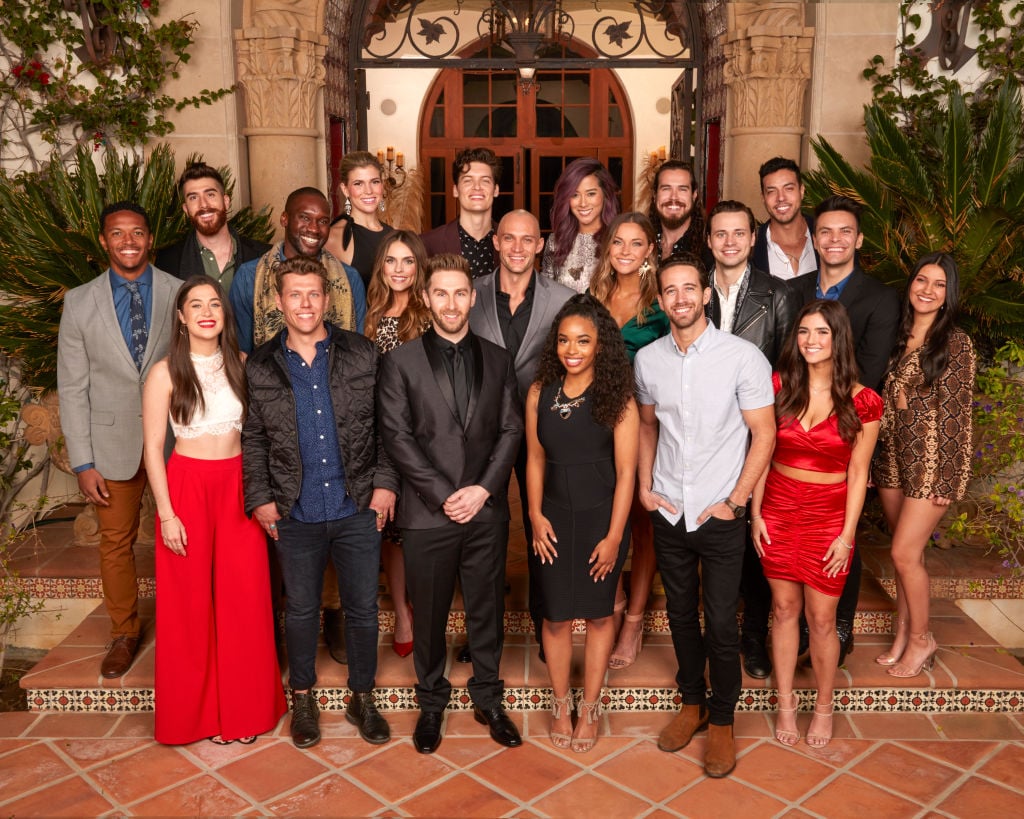 Another key difference between Listen to Your Heart and Bachelor in Paradise is the lack of familiar contestants. We know BIP highlights former castmates from The Bachelor and The Bachelorette. However, the Listen to Your Heart cast is filled with an entire batch of new contestants to the franchise.
"Listen to Your Heart was a blank slate," Harrison told Entertainment Tonight. "Yeah, there was this outside idea of Bachelor in Paradise meets A Star Is Born, but what does that mean? You have to actually define that, make it happen."
It also seems the franchise cast some individuals who weren't even familiar with the franchise. "It was funny. I knew who they were because I had studied who they were, but they don't know me. They don't really know the show," Harrison told Us Weekly. "It was a brand new experiment. One of the guys was a little, like, 'Is it Chris Hansen?' I was like, 'Nope, not catching predators!'"
Chris Harrison says the 'Listen to Your Heart' cast could be on 'The Bachelorette,' 'The Bachelor,' or 'BIP'
In the above interview with Entertainment Tonight, Harrison acknowledged the challenge of bringing in a new cast for The Bachelor: Listen to Your Heart.
"The scariest thing about reality TV is having all-new characters that you have to be introduced to,"he said. "It takes patience from you, Bachelor Nation, that you have to sit there and go, 'OK, who is Jamie, who's Ruby, who's Chris, who's Matt, who's Trevor?' You have to take time to meet these people."
Even so, the host believes the Listen to Your Heart contestants would fit in seamlessly with the future casts of Bachelor in Paradise, The Bachelor, and The Bachelorette.
"Just having met all of these people and watching them evolve, I could easily see some of them ending up on the beach in Paradise or maybe it doesn't work out and they end up coming onto The Bachelor or Bachelorette," Harrison told Refinery29. "I could easily see the worlds colliding like they tend to do with our franchise."
Harrison also noted nothing has been decided when it comes to casting. Then when speaking with Us Weekly, Harrison confirmed contestants can always return to the franchise as long as they're single.
"That's the good thing about The Bachelor. There are no rules," Harrison said. "It's not like we'd be breaking any regulations. If somebody is single and we feel [they] would be great for the franchise, why not?"
The Bachelor Presents: Listen to Your Heart airs Monday nights at 8 p.m. EST on ABC.
Read more: Why Jed Wyatt Won't Be on 'The Bachelor: Listen to Your Heart'