'Little Fires Everywhere' Has Reese Witherspoon Posting Her '90s Looks — Who Was Her Style Inspiration?
In Little Fires Everywhere, Reese Witherspoon portrays Elena Richardson. Elena is a wife, mother, and journalist living in Shaker Heights, Ohio, in the year 1997. The lives of her, her husband, and her four high-school-age children are interrupted by the arrival of Kerry Washington's Mia Warren and her own teenage daughter.
The series features plenty of '90s references, from the entertainment they enjoy to the current events of the time. And as you can see from the images in Witherspoon's above Instagram post, they really nailed the style of the decade.
Witherspoon was an up-and-coming actress at the time
The '90s were an important time in Witherspoon's real life. Rather than being a working mom like Elena, she was a young actress just getting her start. Her first film, The Man in the Moon, came out in 1991. It earned her quite a bit of praise, but it took a while before she made a real impact.
It wasn't until the middle of the decade that Witherspoon began to attract a lot of attention. Her 1996 films, Freeway and Fear, were helpful in this area. She then broke out with her starring roles in Pleasantville, Cruel Intentions, and Election in the last two years of the '90s.
She has been posting throwbacks from the era
Fast-forward twenty years, and Witherspoon is a bonafide movie star. She won an Oscar for her 2005 film Walk the Line, and it has all been uphill for her since. But she still enjoys looking back on young Hollywood years.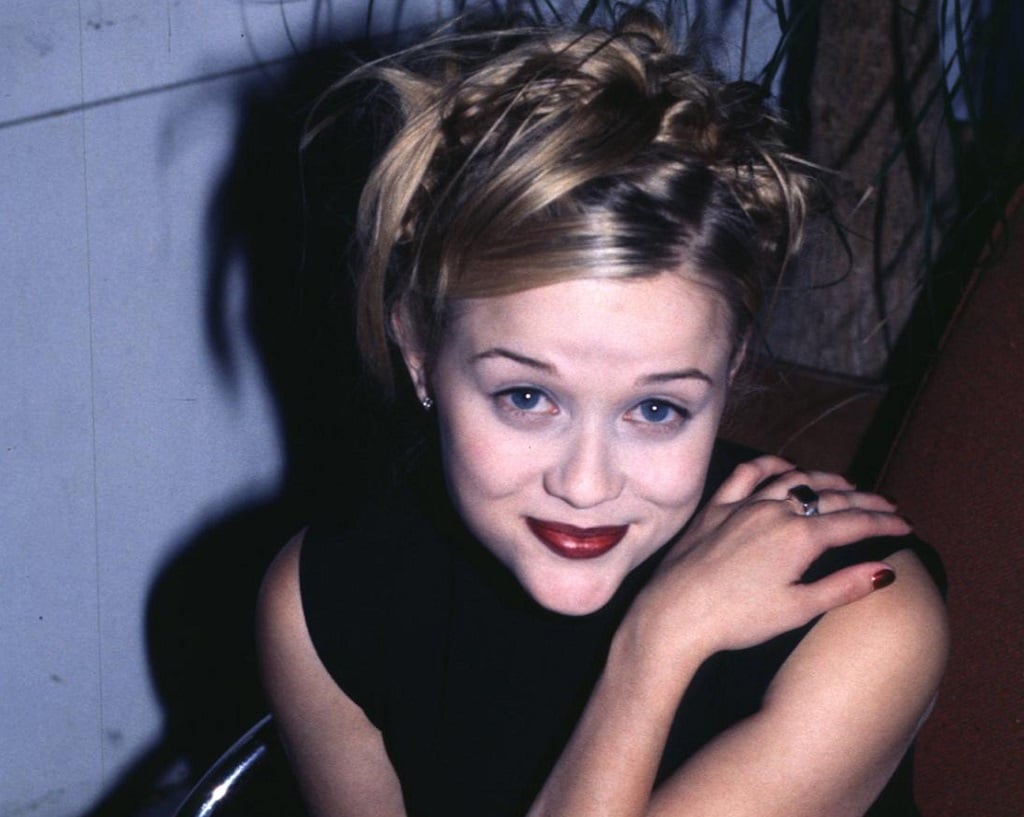 Witherspoon posted the above photo of her from the Freeway premiere on Instagram on April 9, 2020, writing, "There's a lot to unpack here. I mean…what is happening with my hair? But most importantly… who else enjoyed this 90's brown lipstick trend?"
This followed the above throwback, posted on March 5, of her captured by the paparazzi while traveling. "If you're looking for some style inspo this spring, look no further. You have found it." And if that wasn't enough of the above hairstyle, there's more to come.
She cites these '90s icons as inspiration
Witherspoon has kept the '90s throwbacks going with the above photo from the premiere of the 1997 film Nowhere, which she posted on May 7, 2020. Not only did this unique pose earn her quite a few likes and comments from her celebrity friends, but she also tagged those who helped bring this look to life.
"Pretty sure Gwen Stefani is responsible for this hair trend," Witherspoon wrote in the caption. "Drew Barrymore inspired these eyebrows and Jared Leto is responsible for my leather choker. Thanks guys!"
This came full circle with the young cast of 'Little Fires Everywhere'
For Witherspoon, returning to this era is very nostalgic. But for her young Little Fires Everywhere co-stars, who weren't even born then, it's entirely foreign. "The style was very, very different," said Megan Stott, who played youngest child Izzy Richardson, in an interview with Entertainment Weekly.
Lexi Underwood, who played Pearl Warren, said she "learned a lot more about '90s TV and film," in part from playing trivia with Witherspoon. "I think I knew only two of the six movies that she asked me about," she said.
Witherspoon, who, along with Washington, was an executive producer on the show, affirmed her unofficial behind-the-scenes role in a BuzzFeed interview. "We got to be sort of '90s consultants because we were teenagers in the '90s," she said.