'Little Fires Everywhere' Stars Reese Witherspoon and Kerry Washington: Who Has A Higher Net Worth?
The upcoming Hulu drama, Little Fires Everywhere, has two very big names attached. Reese Witherspoon and Kerry Washington are the leads of the miniseries, which is based on the book of the same name. This looks to be a very lucrative deal for both of the giant stars, each of whom has a high net worth to begin with.
Who do Witherspoon and Washington play in 'Little Fires Everywhere'?
In Little Fires Everywhere, Witherspoon portrays Elena Richardson, a journalist and seemingly perfect wife and mother to her four teenage children. She is all about planning ahead to make sure that everything works out. But all of that is upended when Washington's Mia Warren comes to town in the summer of 1997.
Elena and Mia's lives are soon entangled both personally and professionally. Four months later, Elena's house burns to the ground, and it is definitely not an accident. How do these two events coincide? You'll have to watch the miniseries, out March 18, 2020, to find out.
They're also executive producers
In addition to being co-leads of the show, Washington and Witherspoon are also working behind-the-scenes. Both are credited as executive producers alongside writer and creator Liz Tigelaar, and three other women: Lynn Shelton and Lauren Neustadter, who Witherspoon worked with on The Morning Show, as well as Oscar-nominated producer Pila Savone.
"When I was a kid I wasn't like, 'I want to be a producer one day!' But I think I have always been…a person with a lot of opinions and a person who's wanted to contribute to the environments that I'm in," Washington told Variety of stepping into this role. "I've always wanted to be able to share my perspective and have a seat at the table and have a voice in the process, and producing allows me to do that."
How much are they making per episode?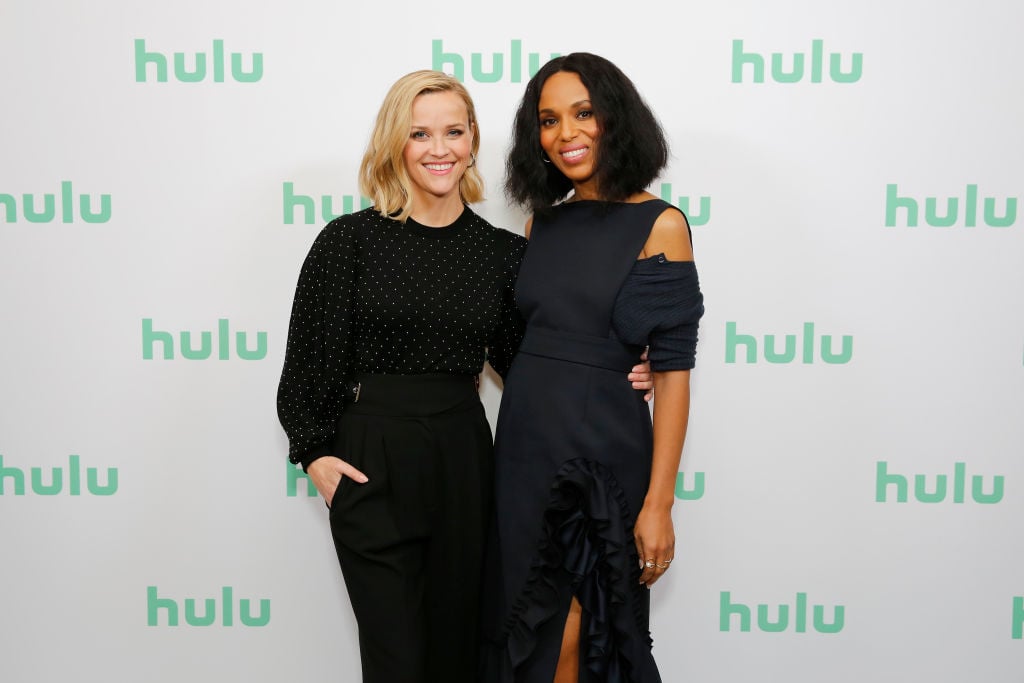 Given their status on the project, it's understood that Witherspoon and Washington would be making a lot of money for Little Fires Everywhere. According to Variety, both are part of a very elite club — one that began back in the late '90s and has only grown in the years since.
Like the casts of Friends and The Big Bang Theory before them, both Witherspoon and Washington made at least $1 million per episode. The miniseries has eight total episodes, so you can do the math.
Kerry Washington's net worth
Washington is best known for her role in the ABC drama series Scandal. It was on the long-running show that she first began producing. She has continued in this capacity since the series came to an end in 2018, producing the Netflix film American Son.
Given its popularity and her rise to the role of producer, Washington increased her salary on Scandal from $80,000 per episode to $250,000. She is thought to have a net worth around $25 million. As impressive as that is, Witherspoon easily tops it.
Reese Witherspoon's net worth
Witherspoon has had an impressive film career, to say the least. She started off in the industry as a teenager, and landed her breakout role in Legally Blonde at the turn of the century. Further fame followed with an Oscar for Walk the Line and shift to TV with Big Little Lies and The Morning Show.
The actress and producer (she has her own media company, Hello Sunshine), is firmly in the $1 million and over club, and has been since Big Little Lies Season 2. She also has a clothing brand, Draper James. As one of the highest paid actresses in Hollywood, Witherspoon is worth a whopping $240 million, according to Forbes.