'Little House on the Prairie': Charlotte Stewart Played a Joke on Set by 'Kissing… And Kissing and Kissing' This Co-Star
Charlotte Stewart decided to follow in Michael Landon's footsteps of practical jokes and recruited her co-star to play one on the 'Little House on the Prairie' crew.
Charlotte Stewart landed her role as school teacher Eva Beadle on Little House on the Prairie in 1974. Starting off as a spinster on the series, Miss Beadle was occasionally seen with a suitor and ended up tying the knot in season 4. An onscreen kiss scene provided an opportunity for her and her co-star to play a practical joke on the crew.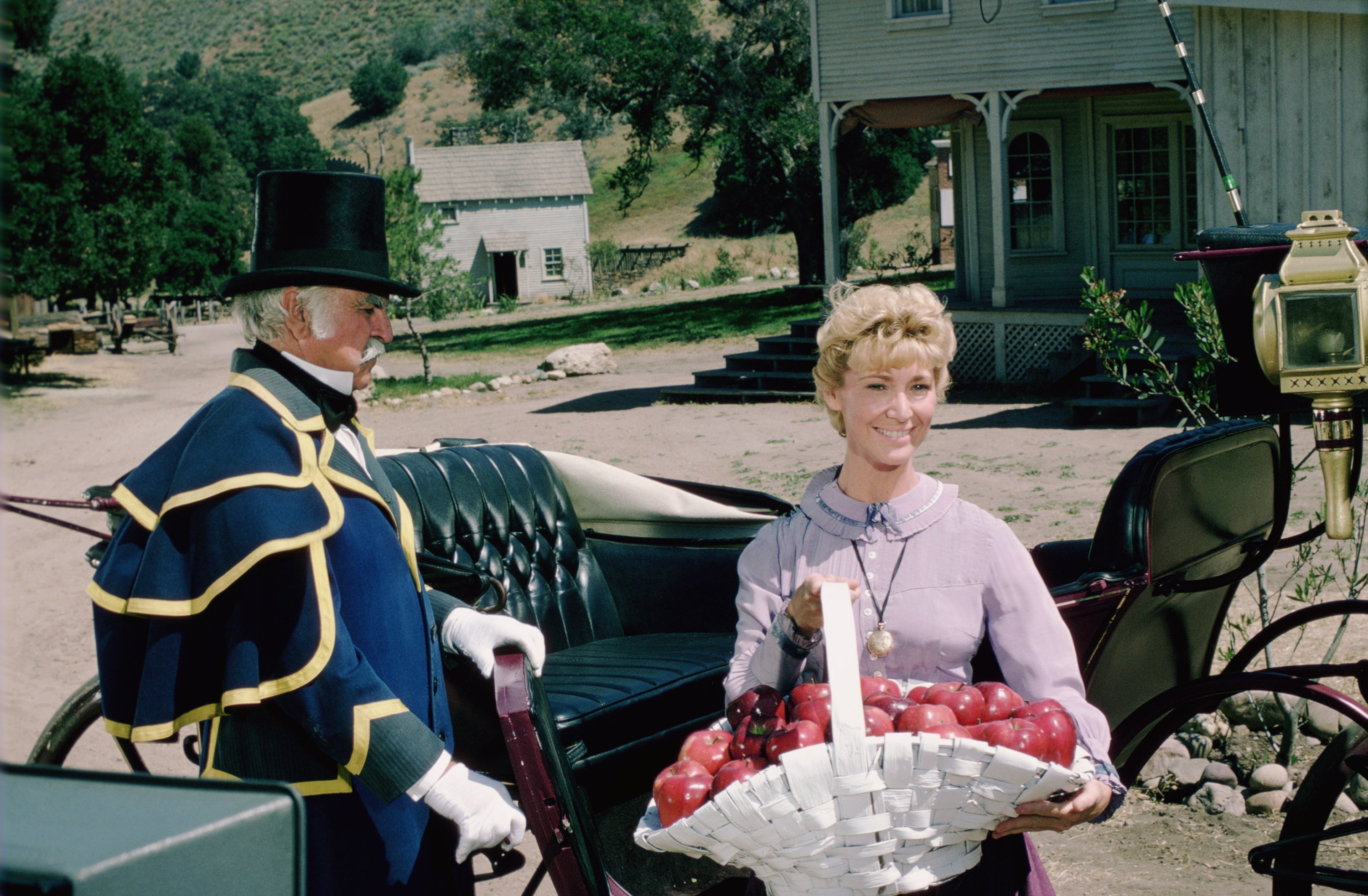 Charlotte Stewart got to choose her onscreen husband in 'Little House on the Prairie'
Stewart remained on Little House for four seasons through 1978. In season 4, she was approached by show creator and co-star Michael Landon for an opinion on a spouse for Miss Beadle.
"Toward the end of my run with Little House, Mike came up to me one day with two photographs – headshots of two different male actors," she recalled in her memoir, Little House in the Hollywood Hills: A Bad Girl's Guide to Becoming Miss Beadle, Mary X, and Me. "He asked, 'Which one would Miss Beadle marry?'"
After seeing the pictures, Stewart recognized one of the contenders and quickly made her decision.
"I looked at the two photos of the actors in Mike's hands and saw that one of them was Josh Bryant, my longtime friend from Pasadena Playhouse," she shared. "Of course I picked him."
Miss Beadle got hitched in season 4
Stewart was thrilled to be working with her pal. Their natural rapport with each other resulted in stellar on-air chemistry.
"Josh and I rehearsed our scenes away from the cast and crew and were able to fall into those moments so easily," she wrote. "It was a lot of fun and I think that real friendship shows up on the screen."
In the episode "Here Come the Brides", Eva and Adam tie the knot, which meant Stewart and Bryant would get to smooch on camera.
"For reasons I can't remember, Bill Claxton, the director, wanted to get more than one take of that scene," Stewart explained, "which is when Josh and I cooked up an idea."
'Little House' characters perfected their kiss scene
With Little House being a family-friendly show, onscreen PDA was kept to a minimum. To shock their crew members, Stewart and Bryant decided to hold their lip lock long after their scene came to an end.
"We told the cinematographer that after Bill said 'Cut', to keep the camera rolling," the Little House alum wrote. "When he did, Josh and I kept kissing. And kissing and kissing and kissing. Until the whole crew was busting up."
Apparently their performance was good enough to save for the show's greatest hits of bloopers and practical jokes.
"Every now and then we'd do stuff like this for 'the party reel' – a collection of bloopers and pranks we'd show at a cast party," she remarked. "Usually it was moments when the set would fall over or someone would flub lines."
Stewart and Bryant were both written out of Little House at the end of season 4 but continued their special friendship.