'Little House on the Prairie': Why 'Mrs. Oleson' Star Katherine MacGregor Retired From Acting After the Show: 'She Just Felt Wrung Out'
Little House on the Prairie was considered a top family drama during its run from 1974 to 1983. With Michael Landon at the helm as series creator, executive producer, and main character Charles Ingalls, the show featured an ensemble cast to make up the townspeople of Walnut Grove.
One character that stood out from the rest was snooty mercantile owner Harriet Oleson, played by Katherine MacGregor. Maintaining her role for the entire duration of the series, the actor decided to leave show business when Little House came to an end.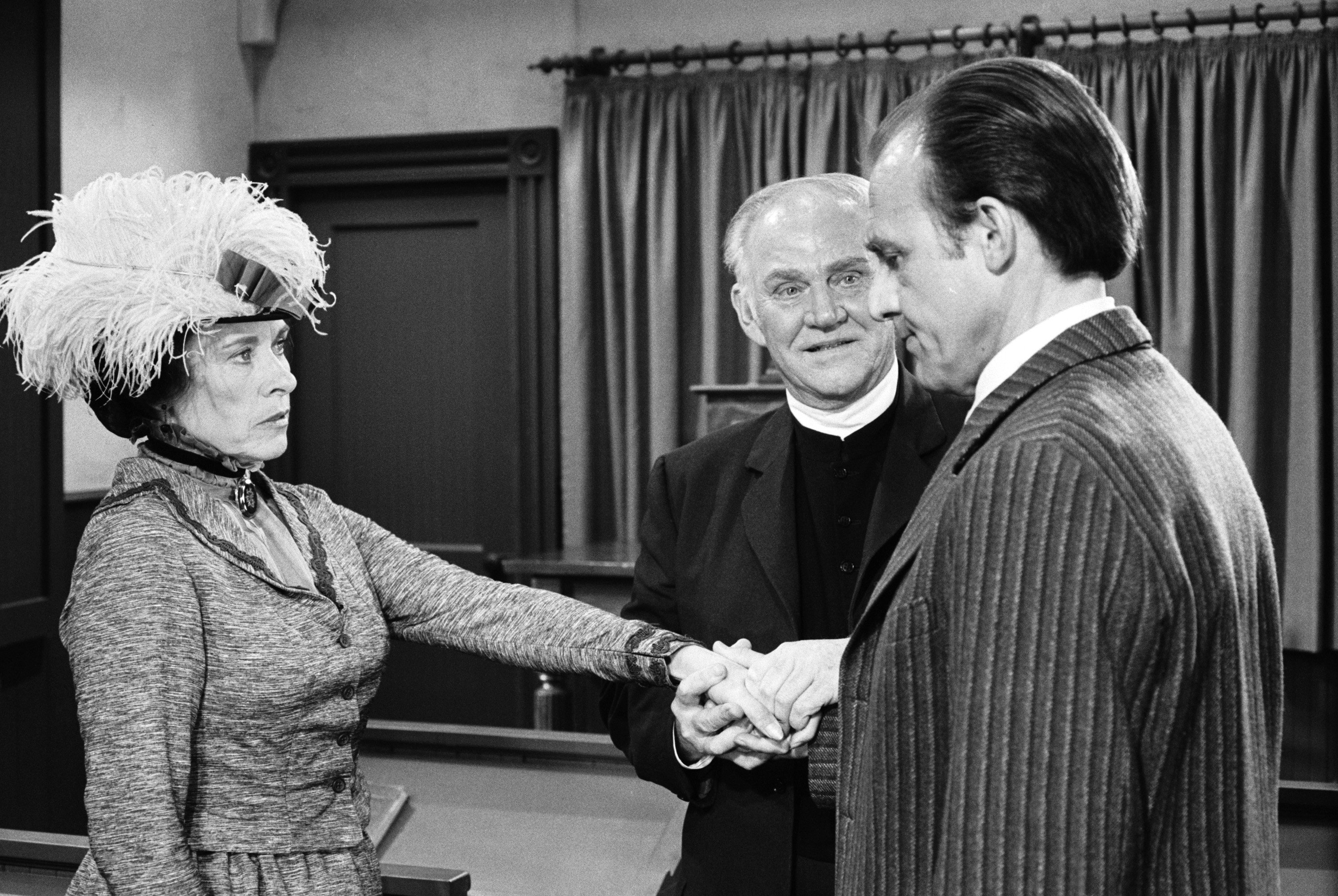 Katherine MacGregor worked in theater before 'Little House'
Charolotte Stewart portrayed Walnut Grove schoolteacher Eva Beadle in the show's first four seasons. During her time on the series, she formed a close friendship with MacGregor and learned of her extensive theater experience.
"Katherine's background… was largely in theater and she brought an almost academic seriousness to her work," Stewart wrote in her book Little House in the Hollywood Hills: A Bad Girl's Guide to Becoming Miss Beadle, Mary X, and Me. "She'd gotten her start in New York as a dance instructor in the 1940s and went on to work steadily in regional theater and on Broadway."
MacGregor also had some film and TV credits to her name prior to her role on Little House.
RELATED: 'Little House on the Prairie': Melissa Sue Anderson Said These 2 Co-Stars Were the 'Most Unlike Their Characters'
"Her film and television resume included a small, uncredited role in the Elia Kazan film On the Waterfront," Stewart shared. "Then a smattering of guest roles on TV shows including Mannix, All in the Family, and Ironside."
Playing Mrs. Oleson sometimes came with a risk
MacGregor's role as the Walnut Grove merchant and mother of two spoiled children – Nellie and Wille – could be physically demanding at times. One episode in season 4 featured Nellie eloping with the new boy in town, where Mrs. Oleson and her husband (Richard Bull) chase after her on horseback. The scene turned a bit dangerous for the two actors.
"As the horse approaches the farm at a gallop you see Katherine slide off, pulling Richard Bull down with her," Stewart recalled. "It's a funny moment on screen however it was unrehearsed, not performed by stunt people, and not in the script. In fact, Katherine got hurt pretty badly and they had to run her to a hospital. Richard, thankfully, was fine."
Stewart revealed that scenes like this one were often a part of the script for Mrs. Oleson, where MacGregor apparently wanted to switch gears by the series' end.
"I would guess that the physicality of the role, along with injuries like this eventually took their toll," Stewart wrote of MacGregor, "leading her to retire from film and television when Little House was over."
Katherine MacGregor star stayed off screen after 'Little House'
After Little House went off the air, MacGregor was apparently ready for some much-needed R&R.
"She loved playing Mrs. Oleson and threw everything she had at the part, physically and emotionally," Stewart noted. "Once the show was over, she says she just felt wrung out."
MacGregor went on to lead a more quiet life out of the spotlight when her role as Mrs. Oleson came to an end.
"She didn't do any more television or film," Stewart wrote. "Instead she got involved with a children's theater company in Hollywood and moved into a little apartment on Vine St. across from her beloved Vedanta Society, a Hindu temple and worship center."
MacGregor died in November 2018 at the age of 93.