Liza Minnelli's 4th Wedding Cost $3.5 Million and Had a 6-Foot-Tall Cake
Celebrities have a tendency to do it up big — no matter what the "it" is. Some of the most wealthy among us just can't help themselves when it comes to flaunting their riches.
Whether it's in the cars they buy, their extravagant houses, or their bespoke clothing, many celebrities make it clear that they're living their lives much different from their everyday fans. As one might imagine, the tendency to go over-the-top especially extends to celebrity weddings.
For one thing, they've got a guest list full of other famous people who are pretty hard to impress. For another, they know that the press will be all over the event, reporting out every detail. The end result is some of the most lavish, impressive weddings one could ever imagine. 
When Liza Minnelli got married for the fourth time, she spared no expense and made sure the event was one everyone would remember. 
Liza Minnelli was born into celebrity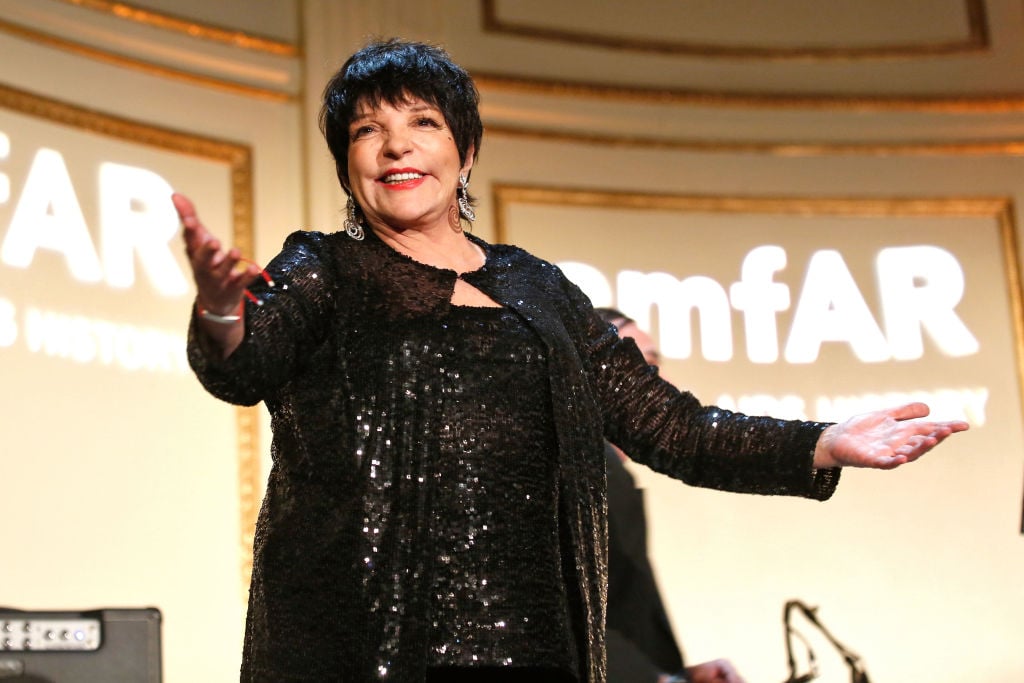 Minnelli has lived her entire life in the spotlight. The daughter of famous actor Judy Garland, Minnelli became a star in her own right by stepping out of her mother's shadow through her talented singing and stage acting career.
Her acting debut was while she was still a toddler with the 1949 musical comedy In the Good Old Summertime. Garland divorced Minnelli's father, Vincente Minnelli, when their daughter was still very young, and Liza Minnelli spent much of her childhood shuttling back and forth between her parents. 
As a teenager, Minnelli left school to head to New York, intent on making her acting dreams come true. She got her first leading Broadway role in 1965 and earned herself a Tony at the young age of 19, literally setting the stage for a lifelong career of major accomplishments.
Her fame leaped from the stage to the screen with her breakthrough role in 1972's Cabaret. Her film career floundered for a while even though she landed opportunities alongside big names like Martin Scorsese.
In the 1980s, Minnelli sought treatment for substance abuse and renewed her energy in her career. She teamed up with megastars Frank Sinatra and Sammy Davis Jr., making it clear that she was far from done. In recent years, she's had a few notable guest appearances on television shows, but she primarily focuses on live musical performances.
Marriages have been a struggle for Liza Minnelli  
While there is no denying that Minnelli has found broad success in her career as an entertainer, she has had less luck when it comes to love. The famous singer has been married (and divorced) four times.
From 1967 to 1972, she was married to the Australian singer Peter Allen. Shortly after, Minnelli wed film producer and director Jack Haley Jr. in 1974. They would later divorce in 1979. That same year, Minnelli embarked on her longest marriage when she wed sculptor, Mark Gero. The pair remained married until 1992. 
After her marriage to Gero ended, Minnelli remained single for quite a while. Cupid's arrow struck once again when Michael Jackson introduced her to David Gest — who had helped produce some of the King of Pop's television specials — in 2001.
Rumors swirled around the relationship, including rumors that Gest was gay and just after Minnelli's fortune, according to The Washington Post. In 2002, the couple married with Gest gushing about his new bride, calling her "the most beautiful woman in the world." 
The lavish wedding did not provide a happy ending
When Minnelli walked down the aisle for the fourth time, it was in one of the most extravagant ceremonies ever. Michael Jackson served as the best man, and 850 guests were invited to take part in the big day.
They had a 60-piece orchestra providing prime entertainment as they sliced into their 6-foot-tall cake. All told, the couple dropped $3.5 million on the impressive ceremony. 
Unfortunately, the happy days did not last. Minnelli had been once again struggling with substance abuse issues, and Gest blamed a relapse on many problems in their marriage.
He also alleged that Minnelli was physically abusive. The marriage would dissolve after 16 months amidst a flurry of ugly accusations. Minnelli accused Gest of stealing from her; he accused her of giving him herpes.
They both sued and countersued one another until they finally settled with a no-fault divorce and dropped the other pending suits. Minnelli has made it clear that she has no intention of seeing if the fifth time is the charm. "If you even hear I'm getting married, hit me over the head and take me outta there!" Minnelli exclaimed in 2012.