Lizzo Drops New Video for 'About Damn Time', Announces Album Release Date: 'It's Bad B**** O'Clock'
Lizzo just released the single and music video for "About Damn Time," plus the release date for her upcoming album.
Lizzo took over the music industry in 2019 with hit singles like "Truth Hurts" and "Juice." Fans have been eagerly awaiting her return, and it looks like the wait is over! The pop star just released the single and music video for "About Damn Time," plus the release date for her upcoming album. 
Lizzo releases a new single and music video: 'About Damn Time'
Lizzo dropped "About Damn Time" last week after teasing the track on Instagram, calling the track the "song of the summer."
The singer released the music video for the disco-infused song on August 14, telling followers, "Have you been feeling stressed? Have you also been feeling sexy? Well I got the remedy for you….I put my whole Lizussy into this one!"
The video, directed by Christian Breslauer, begins with the pop star attending a "Stressed and Sexy" support group. Lizzo soon leaves, dancing down the hallway and singing to her reflection: a glitter-clad alter ego. 
The lyrics match the carefree and confident vibe of the video, with Lizzo singing, "I been so down and under pressure // I'm way too fine to be this stressed, yeah // Oh, I'm not the girl I was or used to be // B*tch, I might be better."
Lizzo reveals release date for new album 'SPECIAL'
In addition to dropping "About Damn Time" and its music video, Lizzo announced the name and release date of her new album. 
"SPECIAL. THE ALBUM. JULY 15," she captioned a shot of the black-and-white album cover. The cover photo is simple; just a close-up shot of Lizzo wearing a sequined hood. 
Speaking about the album to Apple's Zane Lowe, the singer said, "I think that the music really is going to speak for itself. I'm writing songs about love from every direction, and I hope that I can turn a little bit of the fear that's been running rampant in this world, energetically into love. That's the point."
"I had a lot of fear, and I had to do the work on myself, and this music is some of that work in turning that fear into love," Lizzo continued. "I hope that when people listen to this album, it makes their day just a little bit better, a little bit more filled with love."
Lizzo's career, including hits like "Juice," Good as Hell," and "Truth Hurts"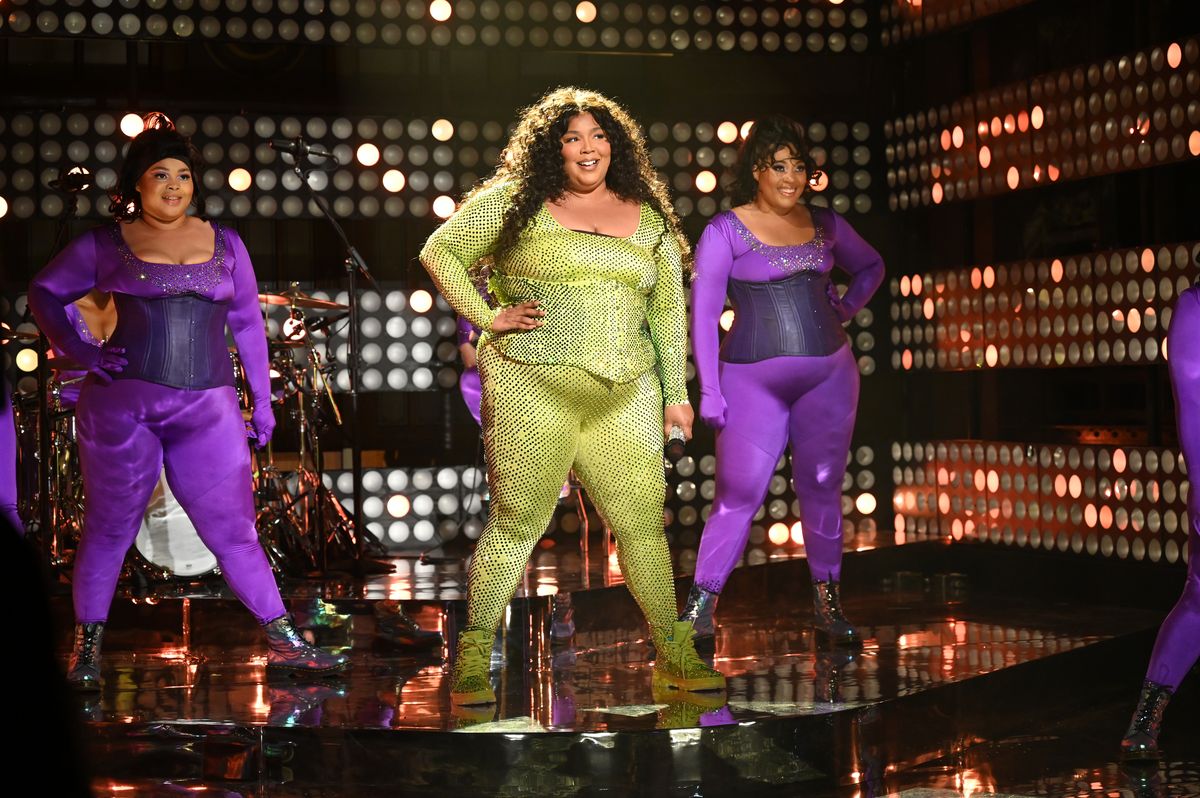 Lizzo rocketed to fame in 2019, but she wasn't an overnight success. She's been creating music since 2011, releasing music and performing every chance she got in the early days of her career. The artist was signed to Atlantic Records in 2016, but didn't break through until 2019, with the release of Cuz I Love You, her third studio album. 
Singles like "Juice" and "Good as Hell" helped launch her to stardom, but she also got a helping hand from the Netflix movie Someone Great. The movie used her 2017 single "Truth Hurts," and the song quickly blew up, inspiring TikTok trends and going on to become her first Billboard No. 1 hit. 
Lizzo has a history of hitmaking, and "About Damn Time" is no exception. Fans can't wait to see what the rest of SPECIAL has in store!