Lizzo Just Sent a Thirsty Comment to Rapper Blueface After He Shot His Shot at Her
After Blueface shared his love for Lizzo in an interview, she responded with a super sexy photo and flirty comment.
Lizzo has it all: talent, beauty, intelligence… So it's no surprise that she has people around the world vying for her love and attention. Among them is rapper Blueface, who recently professed his love for her in an interview. But unlike some fans, he actually got a response from the Cuz I Love You singer.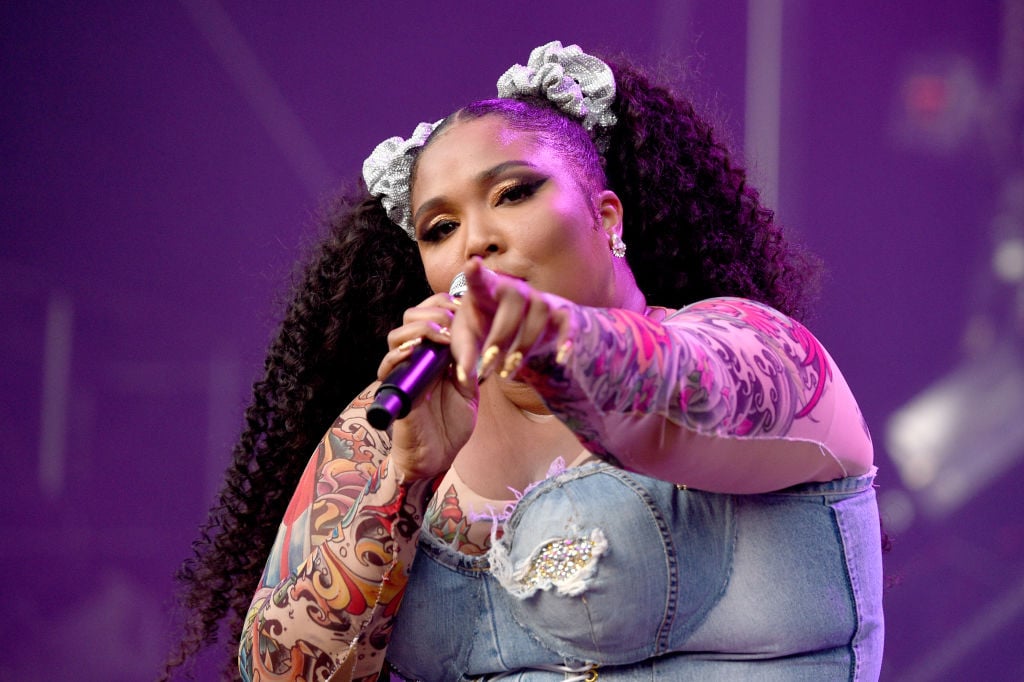 Who is Blueface?
Blueface, 23, is a rapper who rose to fame in late 2018. Hailing from Los Angeles, he is best known for the song "Thotiana," which peaked at No. 8 on the Billboard Hot 100. The song was later remixed by Cardi B and YG, giving him more exposure and further boosting his star.
His offbeat style of rapping and voice has drawn comparisons to fellow rappers such as E-40, Suga Free, and Silkk The Shocker — but some would argue that he comes off more gimmicky.
Fans appear to love it regardless, though. XXL even awarded him in 2019 with a spot on its coveted freshman class list alongside stars such as DaBaby, Megan Thee Stallion, and Roddy Ricch.
What Blueface said about Lizzo
This all began on March 12 when Blueface appeared on the Los Angeles-based radio program The Cruz Show. In the interview, he was asked if he is still dating amid the coronavirus pandemic, which has essentially brought American life to a standstill.
After Blueface said yes, the hosts asked him if he would hook up with stars such as Rihanna, Megan Thee Stallion, and Lizzo even if they had the coronavirus.
Blueface admitted that he would indeed get with Lizzo, agreeing with the hosts that she's a beautiful woman. He then stared straight into the camera and delivered a message to the "Juice" singer.
"Lizzo, if you out there and you hearin' this, call me baby," he said before once again calling on the singer to contact him. When the hosts said they believed she would reach out, Blueface said: "I hope so."
Luckily for him, she did. The "Truth Hurts" crooner responded on March 28 with a sizzling post shared on her Instagram page. It features a photo of her wearing a fire red thong along with the caption: "Blueface babyyy." It's the "Holy Moly" rapper's signature catchphrase, often used as an ad lib and opener in his songs.
Blueface has yet to publicly respond to the post.
Who has Lizzo dated?
Lizzo hasn't had many known romances since rising to fame in 2019. The 31-year-old tends to be pretty private when it comes to her personal life, but she has admitted that some of her biggest songs were inspired by exes.
These days, it appears that Lizzo is single and ready to mingle. In recent months, she's gotten flirty with everyone from Chris Evans to Drake. She even admitted in an April 2019 interview on Busy Tonight that she had been trying out the celebrity dating app Raya, though she confessed that she hadn't been having much luck on there.
"But even if I were in a relationship, I'm a single-minded individual, and I really like my freedom," she added to People magazine in July. "I think there's a lot of people that need to be in relationships and need to be in love. I want it sometimes, but I don't need it."
Right on, Lizzo. But we have to admit that he would be interesting to see where things would go with Blueface — right?
Read more: What Is Lizzo's Real Name? It's Not What You Think