'Locke & Key': The 5 Creepiest Moments in Season 2
Locke & Key is back for season 2 with double the stakes, double the action, and double the scare factor. The Netflix adaptation has so far been fairly tame compared to the horror elements in Joe Hill and Gabriel Rodriguez's comic books; that's because showrunners Meredith Averill and Carlton Cuse wanted to put more emphasis on the fantasy elements and family drama. However, it wouldn't truly be Locke & Key without some unsettling scenes. Here are the creepiest moments in Locke & Key Season 2.
[Spoiler alert: The following story contains spoilers for Locke & Key Season 2.]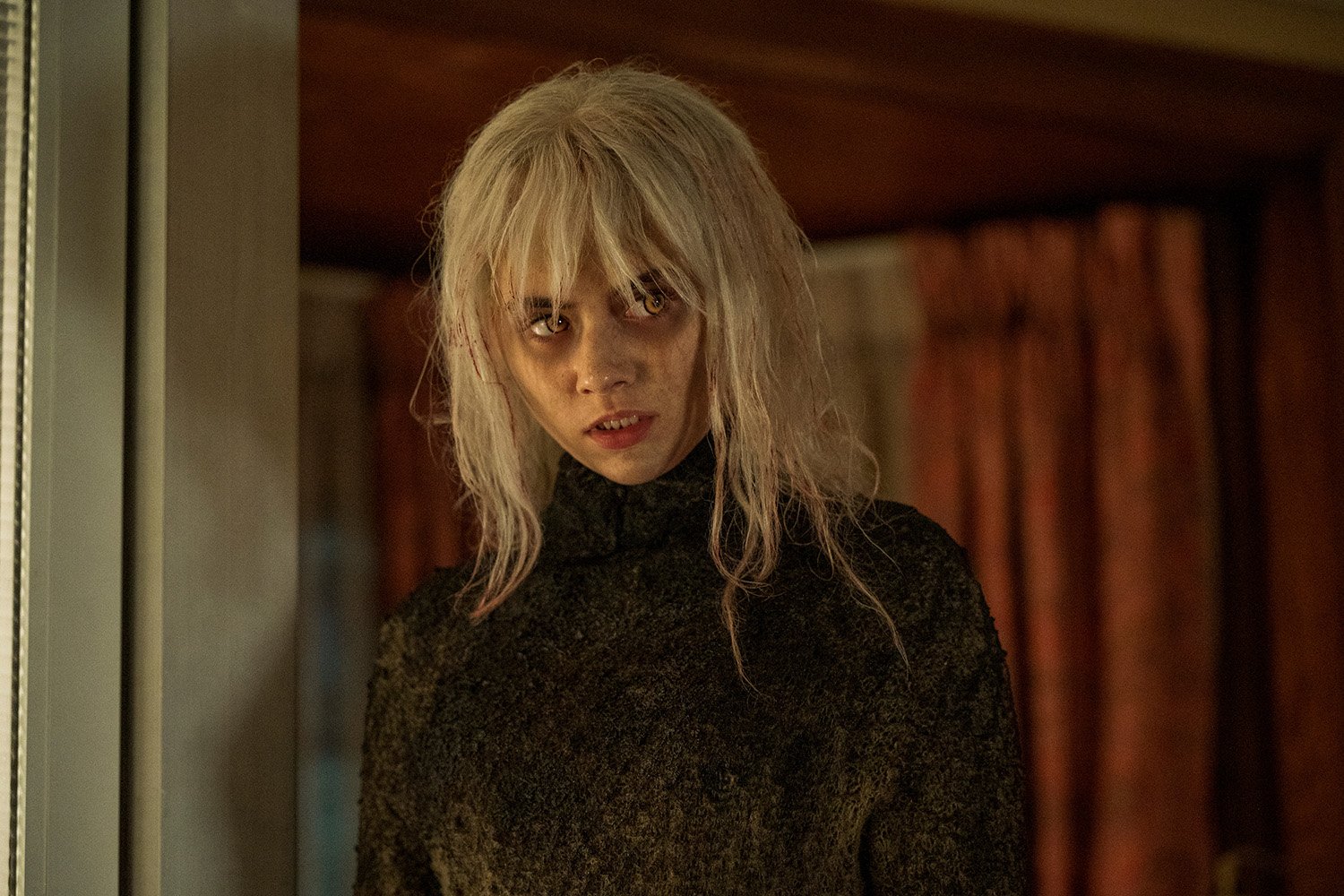 Eden killing the movie theater employee
Locke & Key Season 2 features a possessed Eden Hawkins (Hallea Jones) after a Whispering Iron from the Black Door hit her in the arm. Armed with a demon inside her body, Matheson's mean girl is now even more aggressive, having gained super strength and an appetite to match. Viewers see Eden's new form in action in the season 2 premiere.
While attending The Splattering's premiere, Eden visits the concession stand to buy some snacks. The theater employee at the counter makes some crude remarks about her body, which angers Eden. She leans in for a kiss but then bites off the employee's lips. The scene cuts to Gabe (Griffin Gluck) looking for Eden, and he finds her eating popcorn behind the counter with blood all over her face. The employee's lifeless and bloody body sits next to her.
Gabe showing his true demon self
Eden might have a strong temper, but Gabe's is even worse. Every so often, when Gabe gets really angry, he shows his true form as a demon: a scaly-faced creature with massive, sharp teeth and a deep growl. The demon comes out for only a moment when Gabe's experiment with making a new key fails. But, it's enough to frighten even Eden. Gabe's true form also appears later in the series when Erin (Joy Tanner) captures him with the Chain Key.
The giant spider in Keyhouse
Fans with arachnophobia might want to watch Locke & Key Season 2 Episode 3 with caution. Bode Locke (Jackson Robert Scott) and his new friend Jamie (Liyou Abere) discover the Small World Key, which can be used on a dollhouse replica of Keyhouse to manipulate the actual house. The Locke kids soon learn the danger of the Key when a spider enters the dollhouse, bringing a giant spider to Keyhouse.
Bode and Tyler Locke (Connor Jessup) find giant spiderwebs spun all over the house. When the spider sees them, it chases them through Keyhouse, wreaking havoc on the kitchen. Bode calls Jamie to have her kill the spider in the dollhouse, which kills the giant spider — and spreads its guts everywhere.
This scene might make many viewers feel uneasy, but perhaps it would help to know how it was filmed. As Jessup told Screen Rant, the giant spider was actually "a man with a green leotard holding what looked like one half of a green bean over his head."
The evil mannequins in Eden's mind
Perhaps one of the creepiest scenes in Locke & Key Season 2 is the chase inside Eden's head. Kinsey Locke (Emilia Jones) and Scot Cavendish (Petrice Jones) use the Head Key to enter Eden's mind and see what she's hiding. They see some of her demonic memories, but evil mannequins in Eden's head cut the visit short.
The mannequins chase Kinsey and Scot with unsettling speed, their faceless bodies twitching as they move. At one point, they surround Kinsey and cover her face with their hands. Kinsey and Scot use the Matchstick Key to set them on fire, just barely escaping.
Frederick Gideon coming back as an Echo
The Locke kids might have defeated Dodge (Laysla De Oliveira), but there's a greater evil on the loose. Season 2 introduces Captain Frederick Gideon, a violent Revolutionary War soldier with a penchant for harming others. Gideon's general nature is unsettling, but the final scene where he returns as an Echo and immediately kills Eden seems to foreshadow the danger to come.
In an interview with Decider, Cuse and Averill confirmed that Gideon will pose an even bigger threat to the Lockes in season 3.
"What you're going to learn is that there is a bigger, badder demon than Dodge, that comes from that other side," Averill said.
"It's a lot of havoc," Cuse added. "I would say it's like an eight on the havoc scale, possibly even a 10 by the end of the season."
All episodes of Locke & Key Season 2 are now streaming on Netflix.