'Loki': Who Is Hunter B-15? How Wunmi Mosaku Made the Character Her Own
In Loki, Hunter B-15 takes the forefront with a stand-out episode 2 moment. Actor Wunmi Mosaku helped shape the Marvel Cinematic Universe character from the ground up, making the TVA employee her own. What are the origins of the role, and how did the acclaimed actor win the part?
Wunmi Mosaku stars as Hunter B-15 in 'Loki'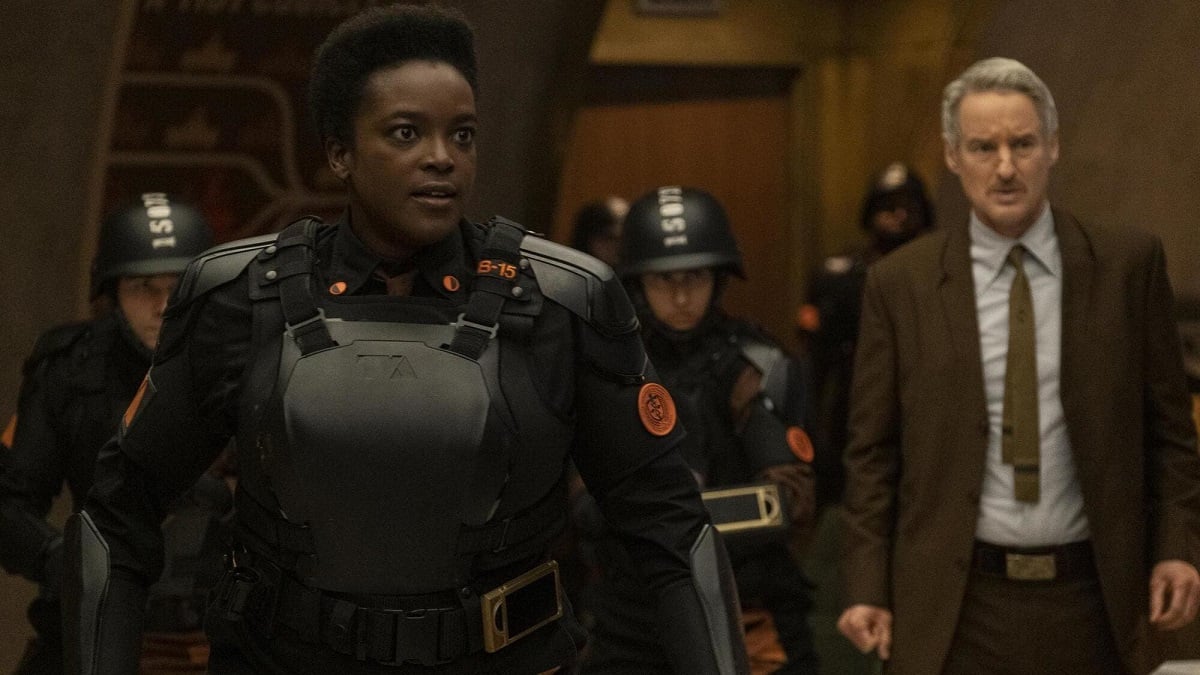 Loki picks up where Avengers: Endgame left the God of Mischief — an alternate timeline post-the Battle of New York in 2012. He escapes with the Tesseract but is quickly apprehended by the Time Variance Authority, specifically Hunter B-15, played by Mosaku.
"When I got the call I got the part, I hadn't realized I auditioned for it, because it was all top secret," Mosaku told Elle of being cast in the series. "I was very excited. I watched every film Loki was in," said the actor, who once admitted to not being a big Marvel movie watcher before landing the part.
Why she 'got to start from zero' with the character
Mosaku helped shape Hunter B-15, who was "originally written as a male character," according to director Kate Herron. And she's in good company. "Some of my favorite women in sci-fi, like Ripley in Alien, were originally written as male, and it's so exciting that she can fit into that group of badass women in sci-fi."
"I got to start from zero, build up, and figure her out," noted Mosaku. She adds, "My personality comes out in how she deals with those disruptors [of the sacred timeline]. She doesn't pull any punches. She's completely, authentically herself," Mosaku continued of her character.
The actor on representing 'strength'
Because the writers built Hunter B-15 around Mosaku, the character not only acts like her but looks like her, too. Not having to fit into a specific mold of what she should look like was something the actor enjoyed, as was using her theatrical fighting background.
"I love that I have my natural hair, I have my West African physique, and I'm really playing the strength of my physical body," Mosaku said of the role. "'Strong' looks one way a lot of the time, like it's a certain body type, and actually, 'strong' is many different shapes and frames. If you're strong, you're strong — however you look."
Other Wunmi Mosaku roles before 'Loki'
RELATED: 'Loki' Star Tom Hiddleston Has a Secret Connection to Co-Stars Wunmi Mosaku and Gugu Mbatha-Raw
On the subject of her work before Loki, Mosaku has appeared in a variety of projects. She worked on U.K. miniseries such as Moses Jones, The Body Farm, and Fearless, among others. She had a recurring role in Luther. Mosaku also starred in a Black Mirror episode, "Playtest," and in HBO's Lovecraft Country.
Aside from her extensive TV work, the actor's also been in a few films of note. She followed up the Oscar-nominated dramedy Philomena with two big-budget projects: Batman v Superman: Dawn of Justice and Fantastic Beasts and Where to Find Them. And her performance in the horror movie His House won her a British Independent Film Award.