A Look Inside Dolly Parton's Mysterious Husband's Surprise Birthday Party in 1979
Not a ton is known about Dolly Parton's husband, Carl Dean. The only thing that's abundantly clear is that he goes out of his way to stay out of the spotlight, and has for over 50 years. But in 1979, Cosmopolitan did a feature on Parton and, during the interview period, the "9 to 5" singer and her band, Gypsy Fever, threw a surprise party for Dean. Here's what happened.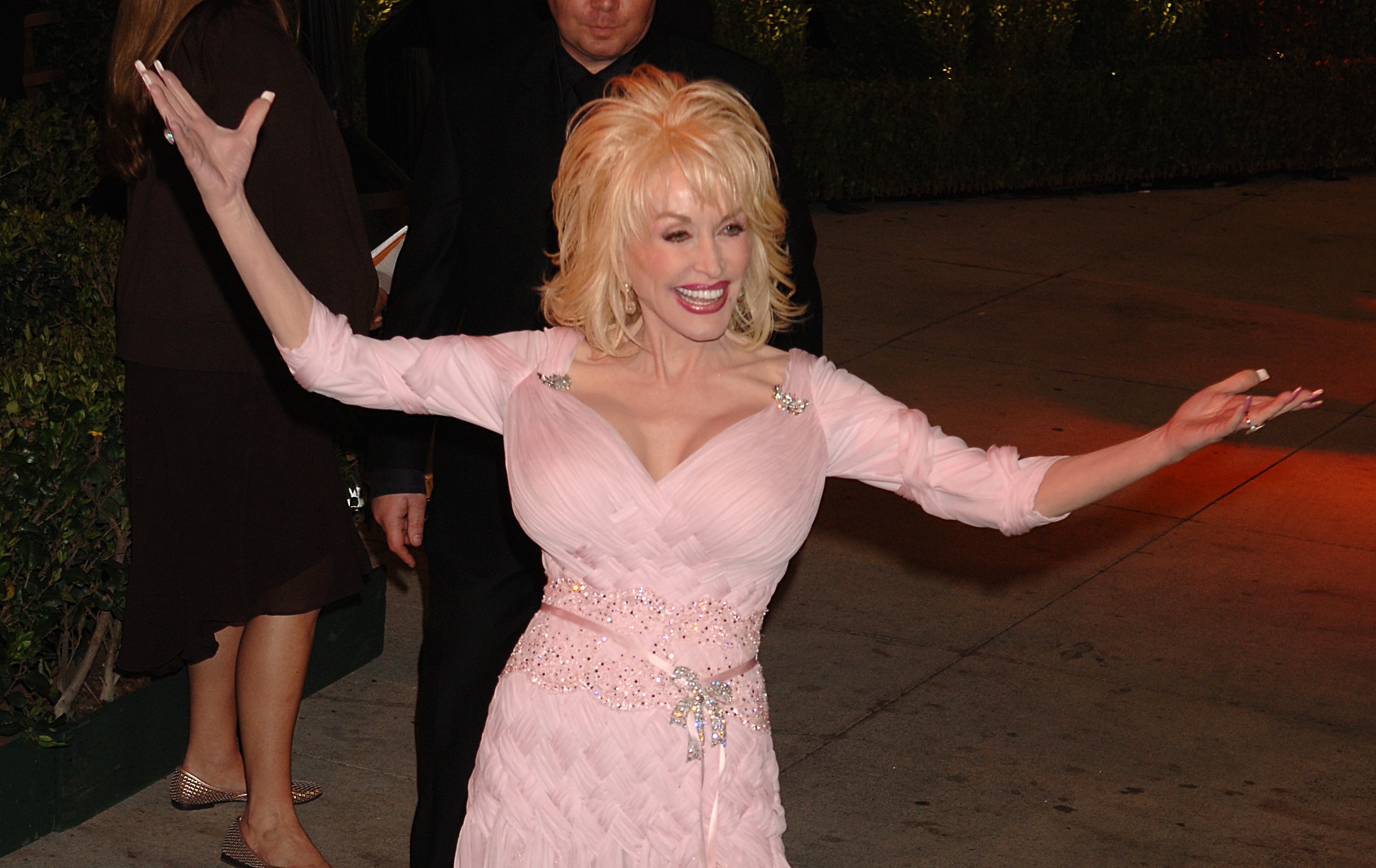 A botched surprise party for Dolly Parton's husband, Carl Dean
The party took place in a dining room at a Howard Johnson's Inn just outside of Albany. Parton and Gypsy Fever had just finished playing a show and Dean was along for the ride (a rarity).
"He never goes with us," pianist Gregg Perry told Cosmopolitan writer Laura Cunningham. "But this week, he's made a real exception. I guess 'cause we're here for an entire week, and also, 'cause it's his birthday."
Parton, Gypsy Fever, and Cunningham waited in the dark in plastic cowboy hats and armed with paper noisemakers. But the surprise didn't go off as planned.
"The crucial moment is blown: A waitress pulls back the sliding panel, revealing all of us in our cowboy hats—'Happy Birthday!' we cry, prematurely," wrote Cunningham, as recorded in the book Dolly on Dolly. "The lanky stranger—is it really He?—turns, enters the room backward, as if making way for yet another person behind him. He makes mock gestures of greeting to some invisible person."
"Well," he laughed, "I thank you from the bottom of my crotch."
Carl Dean 'is an unusual fellow'
Readers at the time devoured the description of Dean provided by Cunningham, typically so secretive and keeping to himself.
"He is an unusual fellow, this mystery husband," she wrote. "Tall and good-looking, rather like a young Gregory Peck, he has a way of moving his angular body so that he seems to come toward you in sections. He also makes exaggerated faces, talks to his right shoulder, hangs his head, looks under the table. Still, there's real charm along with this strange series of tics. Carl Dean announces that he is a fan of television and night-club comic Steve Martin, and no doubt that explains a lot."
The Cosmo writer went on to say that every time Dean addressed the group, his speeches were all in "the style of an impersonation."
"You sure are a real nice bunch of folks," he said several times.
Champagne and volley ball — neither of which Dolly Parton partook in
The dinner included "domestic champagne" and fried clams out of a cowboy hat — "You've never had fried clams until you've eaten them from a hat," said Parton, who didn't eat any.
Parton had been fasting but allowed herself a small piece of steak.
"On special occasions, I can have a piece of meat," she said.
After dinner, a cake was served adorned with orange and turquoise roses. And after cake, the group ran out to the back lawn of the Howard Johnson's for a game of volleyball in the fresh night air. Parton did not participate on account of her long nails, but she enthusiastically cheered everyone on from the sidelines, seated with her feet tucked under her as she often does.
"The bugs is bitin' me, I'm gonna go to bed," she declared after a while. Before retreating to her room, she gave the birthday boy a goodnight kiss.
"Gee, thanks, Daddy," she said in a baby voice and curtsying.
For Dean, the night was not over — there was more volleyball to be played.