Looking Back at the Letter Eminem's Estranged Dad Wrote Him in 2001 After Discovering He'd Made It Big
It's no secret that Eminem had a complicated relationship with his father. He's rapped about him in his music, claiming he allegedly abandoned him and his mother when he was a young child. He also said in interviews he used to try to contact his dad in letters that were ultimately returned, per Metro. But when his career blew up, his dad re-emerged, penning a letter to Eminem explaining his absence.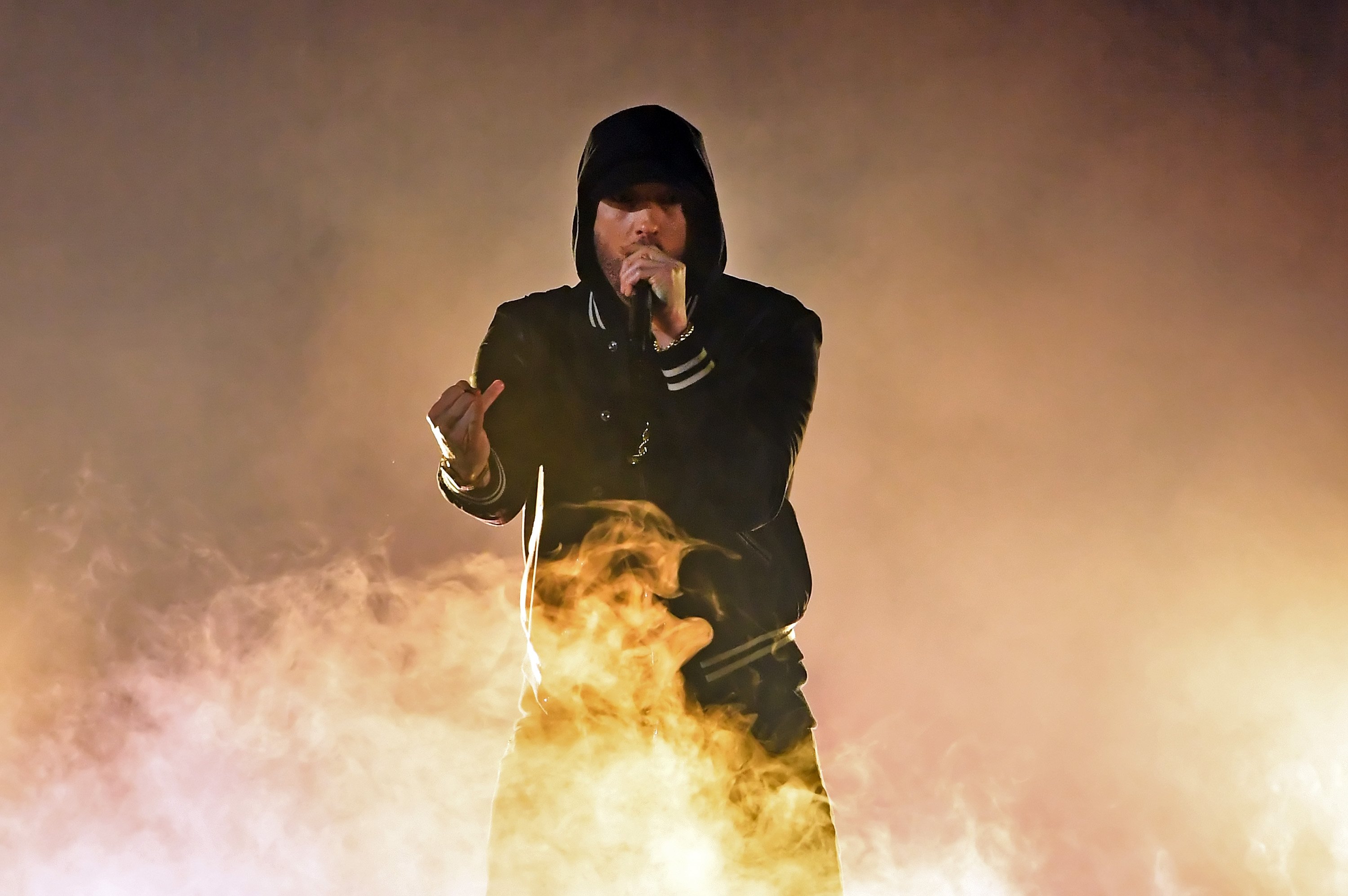 Eminem's dad said in his letter that his mother had painted an incorrect narrative of him
After Eminem broke out with 1999's "My Name Is," his dad, Marshall Bruce Mathers II, attempted to contact him via a letter published in The Daily Mirror, BroBible reports. In it, he shared what he called his "truth," writing he hadn't abandoned Eminem.
"You think I dumped you and your mother [Deborah Mathers] and never came looking for you. You're convinced I'm a drunk who never answered any of your letters. Well, I want you to read this and realize you've been fed lies all your life," he wrote before clarifying he wasn't looking for any handout.
Mathers went on to say he liked being a family man, "but sadly the atmosphere between [me and Deborah] deteriorated." Then one day, he claimed, Deborah just took off with their son. "There wasn't even a note. I got in my car and started to drive around anywhere you and your mum might be. I now believe you'd gone south to Missouri where Debbie had family. It was like a bolt from the blue."
"To read now that it was me who walked out makes me choke with tears of rage," he continued. "I spent six weeks looking everywhere for you both, I was distraught. Eventually, I got divorce papers, but it was all done through lawyers and they wouldn't tell me where you both were. There was never a day in court, it was all done on paper. After about a year I gave it up, I just had no more energy for it. In the movies, you'd track someone down, but in real life, you can't do that. You have a job, you have to work, you don't have unlimited cash to go hunting around the nation."
He also discussed his life after the fallout with Eminem's mom
Mathers also addressed the letters Eminem claimed to have sent, saying he never got "even one" of them. "Anyway, in 1975 I moved to San Diego, fell in love again and had a son and daughter. Michael's 23 and Sarah's 21. They're the half-brother and sister you never met," he shared.
Mathers pointed out that it was actually Michael who told him of Eminem's success, which "freaked [him] out." From there, he tried to contact his son, but his attempts had been unsuccessful, which is why he wanted Eminem to reach out to him.
"I just want you to know there hasn't been a day when I haven't thought about you," he concluded. "I'm saying all this in the News of the World because they're the only paper who've bothered to find the truth. I'd get on a plane right now, this second, and go anywhere in the world if you'd meet with me. Please get in touch. Love Dad."
Eminem responded, but it wasn't in the way his dad hoped
Eminem spoke about his father in a 2010 60 Minutes interview with Anderson Cooper. He revealed he still hadn't reconnected with him as he wasn't really sold on his story about not being able to find him.
"If my kids moved to the edge of the earth I would find them, no doubt in my mind," he said. "No money, no nothing, if I had nothing I would find my kids."
It's not known if they ever connected in the years before Mathers' death in 2019. But based on Eminem's past comments, it seems he was OK with that.