What Was Lorde up to During Her Break From the Spotlight?
In 2013, Lorde took the world by storm with her edgy music. Her hit song "Royals" was massive, played on heavy rotation on virtually every radio station. Eventually, she became so famous that she joined ranks with her heroes Taylor Swift, her bestie, and Katie Perry. By the time she released her second album, Melodrama, in 2017, she had become the one inspiring the new generation of pop singers like Billie Eilish and Olivia Rodrigo. But all of a sudden, after her tour in 2018, she disappeared, leaving no trace of herself online and on social media.
This was nothing new for the New Zealand native, however. She tends to take breaks from the spotlight in between albums because being a pop star absolutely fries her. Breaking out as a teen was hard work, but she learned a lot about herself. Now she's more experienced. Her third album, Solar Power, is finally out, and it seems as if Lorde is slowly returning to the spotlight. But what has she been up to all this time?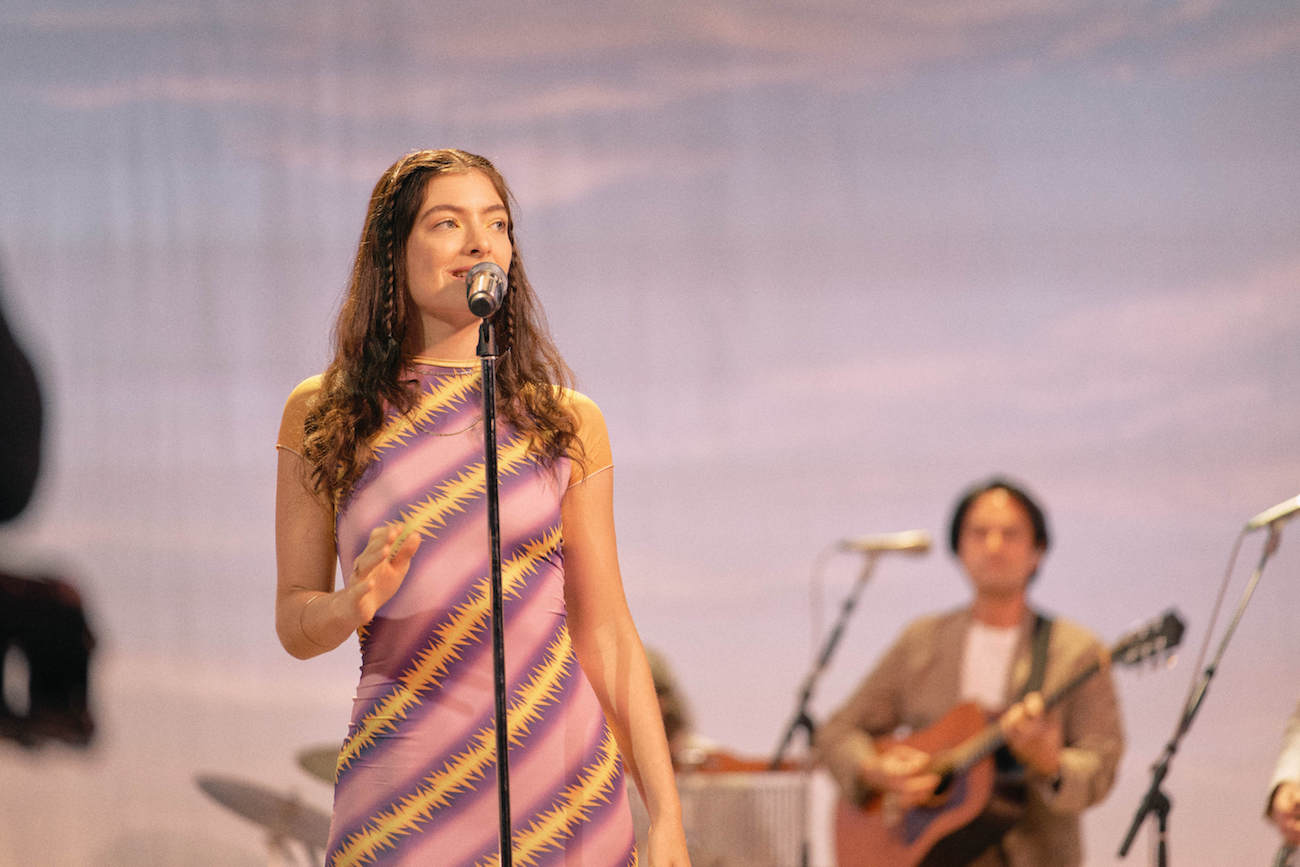 Lorde came home from her 'Melodrama' tour fried
Lorde, whose real name is Ella Marija Lani Yelich-O'Connor, was absolutely fried in 2018. Speaking to Vogue, Lorde says went back to New Zealand, adopted a dog named Pearl, tended her garden, and "deepened old connections," and rented a house on a cliff with her friends. "It was a heady period, and New Zealand itself began to nourish her in unfamiliar ways," Vogue wrote.
Lorde feels like she's younger now than she ever felt during her teenage years. "I was so serious and shy and tough. And I think that coming home, having a second record under the belt, I just felt like I could relax and play," she says. "I don't know—something started to happen, and it was all to do with spend­ing time outside."
She hadn't really connected to nature before her hiatus either. "I could sense that it would be very bad for the work and for me if I stayed online," she explains. "I don't think I've met too many people for whom social media is a net positive. It's producing crazy chemicals, forming crazy neural pathways that are not rooted in positivity."
RELATED: Is Billie Eilish Friends With Lorde?
Through multiple hiatuses, Lorde says her fans have allowed her to say, "Okay, I'm going to come and do the thing—do the shoot, do the red carpet, speak to the journalists, put the music out—and when I've done it to the point of total exhaustion, when I have completely quenched that thirst, I'm going to go home, and you're not going to see me for two or three or four years. I'll be doing the other thing, which is being there for every single birthday and dinner party and cooking every single meal and going on every single walk and taking every single bath. And when I've done that, and I'm like, all right, that's enough of that for a little while, I'll come back again."
Her dog Pearl died unexpectantly and then the pandemic happened
During her hiatus, Lorde's dog Pearl died unexpectantly in 2019. She announced that the loss of her dog delayed Solar Power that November in a newsletter obtained by Entertainment Tonight (per USA Today). Lorde wrote that it was especially tough because she was "grieving hard for Pearl, carrying it everywhere with me."
"It all felt hollow without my boy beside me," she wrote while teasing new music. However, the pandemic also delayed her new album. She and her producer Jack Antonoff had to FaceTime a lot. "We're still working away — Jack and I FaceTimed for over an hour this morning going over everything," she added. "But it'll take a while longer."
She also revealed that she didn't think she'd want to tour again after Melodrama but she's ready to get back out there. "I still don't know what touring is gonna look like for me, sensitive sweet pea plant that I am. But I know now how excited I am to get back out there," she wrote.
RELATED: Lorde Had Fewer Hit Songs Than You Think
Her time off ensures she can give fans "work that will last ten, twenty, thirty years. I understand— I want nothing more than to feed you treats, pop perfect morsels straight into your little mouths. But as I get older I realize there's something to be said for the pleasant feeling of waiting for something of quality to become available to you. You could have something of lesser quality much faster, but as the high quality thing comes into fruition, a warm feeling grows inside you."
Lorde has struggled with stardom
Lorde doesn't feel like a celebrity. "I'm great at my job, but I'm not sure I'm the man for the job," she explains to Vogue. "I'm a highly sensitive person. I'm not built for pop star life. To have a public-facing existence is something I find really intense and is something I'm not good at. That natural charisma is not what I have. I have the brain in the jar."
Her close friend and photographer Ophelia Mikkelson Jones, who shot the cover art for Solar Power, would agree and disagree with Lorde's self-assessment. "She's a shy and reserved woman, but she has this incredible intelligence. She's so alert, always awake and watching, and she has the most insane memory. I'm stoked by the idea that someone in her position would have these qualities, and they also make her a great friend."
RELATED: Lorde Calls Her Hit Song 'Disastrous' and 'Awful'
Singer-songwriter Clairo says Lorde is like her mom, even though their two years apart. "Even from a distance, you feel her presence, like she's watching over you. I think she's had this effect on so many young people. I think she's made a lot of people feel understood and comfortable in whatever state they're in."
Whatever Lorde thinks of herself and stardom, everyone seems to love her. She inspires friends and fans alike, and they're all equally happy that she's back making new music. However, we don't know how long we'll have her this time before she retreats again. But if her breaks are what she needs to give us more great music, then we'll take what we can get. She communicates with her music.