Lorde Just Spilled About Her Dream Collaboration: 'I Kinda Want to Talk to Harry Styles'
Lorde's music was positively inescapable back in 2013 when her hit song "Royals" was climbing international charts. The success made her debut album, Pure Heroine, a breakout hit that put the young singer on a fast-rising path to stardom. Just 16 years old at the time, Lorde faced an immense amount of attention just as she was coming into her own. 
Her follow-up album, Melodrama, wasn't released until 2017, and it failed to have the reach of her debut. Fans haven't heard new music from the artist in quite some time, so the announcement that her third album, Solar Power, would be releasing in late August 2021 has gotten quite some buzz.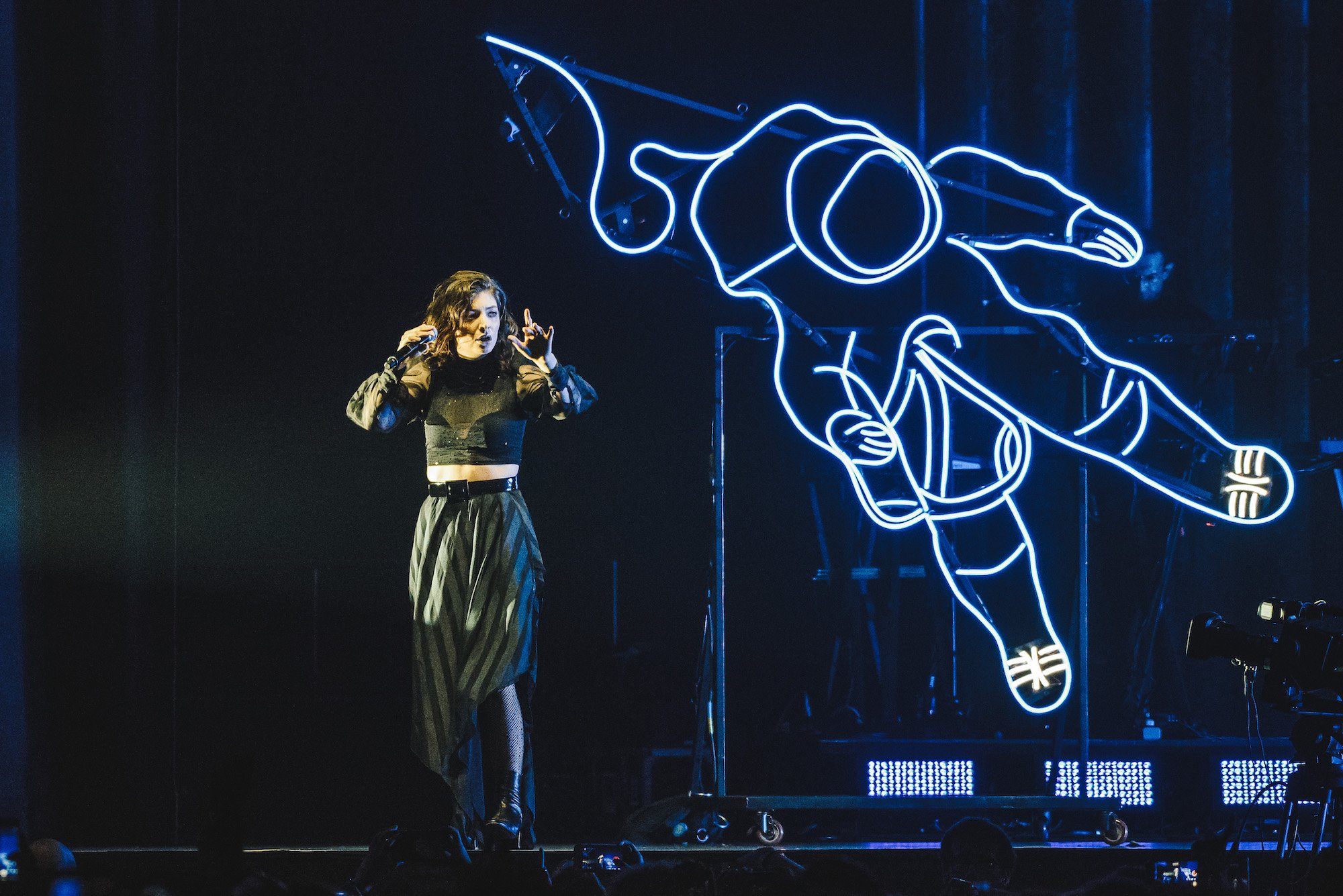 As the singer reflects on what has changed for her in the years since her unexpected international launch into the spotlight, she is also looking to the future and how she may want to collaborate with other artists. Top on her list? Harry Styles. 
Lorde would be excited to work with Harry Styles
In a video interview with Vogue, Lorde answered 73 rapid-fire questions about everything from her personal life to her professional goals. The singer reveals that she always knew she wanted to be a solo artist, and that has certainly fit the kind of work she's released so far. However, flying solo doesn't eliminate the chance to collaborate with other artists in order to mix and match talents for a new flair. 
When the interviewer asked Lorde who she'd like to collaborate with in the future, she was quick to answer. She looked coyly at the camera and said with confidence, "I kinda want to talk to Harry Styles." The interviewer quipped, "I do, too," with a laugh before moving to the next question. 
Harry Styles, of course, rose to fame as a member of the pop phenomenon boy band One Direction. However, he — like Lorde — has certainly found his groove in solo work in recent years. His self-titled debut solo album was released in 2017 and showcased a talented singer-songwriter with a penchant for reflections on love and relationships. 
Have Lorde and Harry Styles collaborated in the past?
Harry Styles has had some impressive collaborations that have helped increase his fan base as well as spiced up his on-stage performances. Republic World collected some of Styles' most memorable on-stage collaborations, and they include some surprising artists.
Harry Styles and Lizzo have appeared on stage at one another's events, and fans went wild for the results. Kacey Musgraves — a Nashville star who previously toured with Styles — invited him on stage for a delightful performance of her song "Space Cowboy." 
Other collaborations for the songwriter include artists John Legend — they wrote a song titled "I Wasn't Ready" — and Snow Patrol pianist Johnny McDaid. Clearly, Styles is willing and able to work with a wide range of artists, but — so far — Lorde hasn't been one of them. Could that change with her expressed interest? 
Lorde's 'Solar Power' album could offer remix potential
One popular way that artists collaborate is on remixes of their existing hits. With fresh singles coming from Lorde's upcoming album Solar Power, there are lots to choose from for a potential remix. 
This option has precedent. The song "Homemade Dynamite" from her second album, Melodrama, was remixed and featured a collaboration with SZA, Khalid, and Post Malone. The YouTube video of the results has racked up nearly 19 million views, making it arguably more popular than the original version. 
If Lorde did take this route with a song from Solar Power in order to find a space to work with Harry Styles, it might be a track about love, since that tends to be Styles' wheelhouse. It would also offer the chance for a killer duet between the two talented vocalists. Time will tell!