Lorde Recalls Listening to 'Royals' On the Radio for the First Time: 'I Felt Very Proud but Very Shy'
Some songs and some voices strike a chord with the world. They take us by surprise and soar to the top of the charts because of their meaning or how they make us feel.  In June 2013, the song that put the music industry on its tail was "Royals" by Lorde. It was this New Zealand's debut single and made everyone stand up and take notice of this girl that was just one month shy of 17, making her the youngest female artist to top the Billboard Hot 100 since 1987.
For the singer, it was a lot to take in.
The first time Lorde heard 'Royals'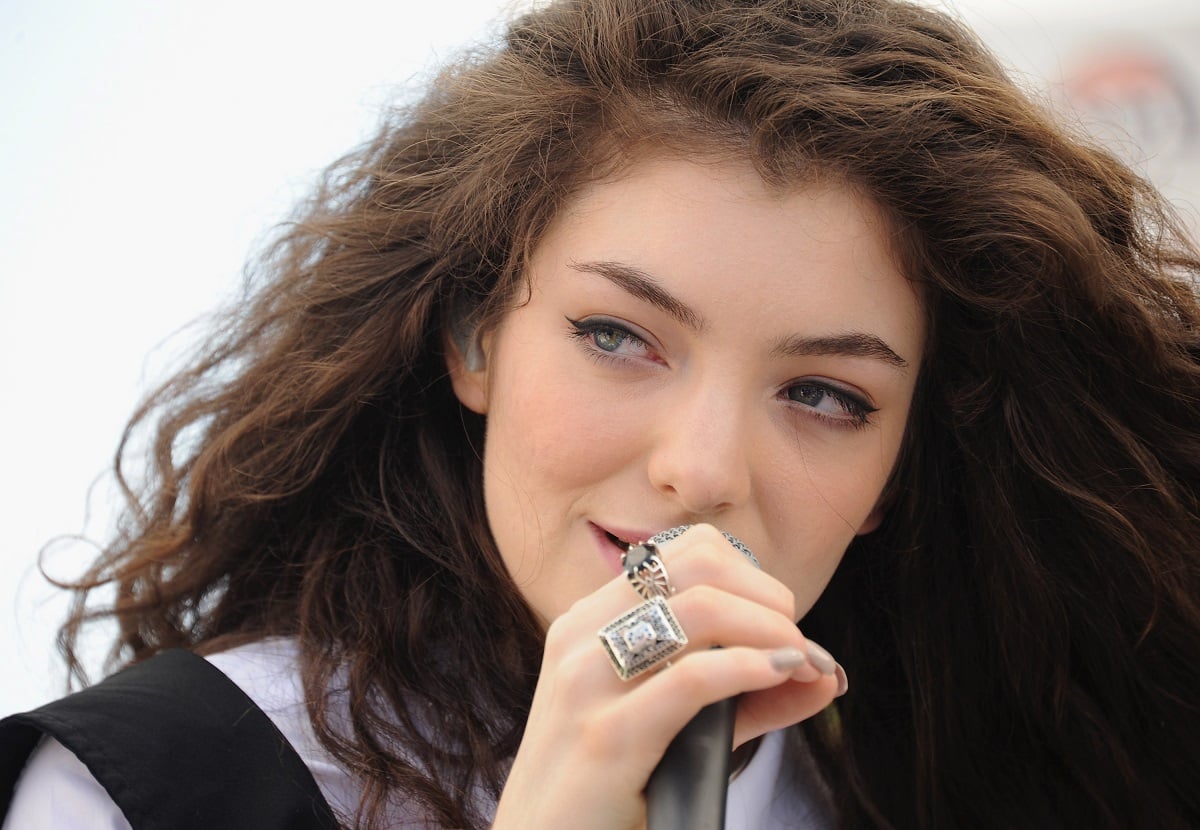 "Royals" spent nine weeks at the top of the Billboard Hot 100 and was certified Diamond by the Recording Industry Association of America. There were 10 million units sold worldwide, earning it a place on the list of Best-Selling Single of all time.
In an interview with Vogue, Lorde was asked what it was like to hear "Royals" on the radio the first time. In her reply, she kind of chuckles as she recalls that she was, "in my parents' living room. My sister had called the radio station to request it and I felt very proud but very shy."
It makes sense because as a person, Ella Yelich-O'Connor (Lorde's birth name) is admittedly a "shy, library person," as she told Vanity Fair in 2017. It is hard to imagine being in the spotlight at such a young age with a triple-platinum debut album. Yet that is what Pure Heroine achieved for her.
Lorde's take on the spotlight
In May 2018, Lorde made the decision to ditch social media. She apparently left to discover a way to stay true to herself and improve her mental health. "I realized I was trying to come up with a funny Instagram caption and do a photo of me that looked cool that I would hope would get a certain amount of likes," Lorde told Zane Lowe for Apple Music. "For me, I'm not a girl that gets a bunch of likes. I am who I am, and I've got to lean into that."
This doesn't mean she won't occasionally show up on your Instagram feed. A photo was posted of Lorde wearing a silk blouse at a restaurant with a martini in her hand. It was uploaded by a New Zealand food writer, Albert Cho, who was celebrating his birthday. Her fans went nuts. Everyone wanted to ask Lorde questions, prompting Albert to delete the photograph.
Despite her popularity, Lorde wants to stay true to her very private personality. Therefore, she has no real intention of returning to social media consistently. "Being off social media makes me feel incredible," she wrote in an email to her fans (via People). "I'd love to maintain feeling that good, and also build this really cool new zone with you guys."
What's next for Lorde?
Lorde has been out of the spotlight for the past few years, since the release of her second album, Melodrama. However, this changed in Summer 2021. Her third and very much anticipated album was released on August 20, 2021. The album, Solar Power, consists of twelve songs.