Loretta Lynn and Jack White: What Ignited Rumors of Romance?
Why did Dan Rather suspect Loretta Lynn and Jack White were hiding a romance after watching their music video for 'Portland, Oregon,' which was made when she was 70 and he was 29?
As a country legend, Loretta Lynn has graced the scene of the music industry since the '60s. And in 2004, she sparked rumors of a romance with Jack White of the White Stripes when the two shared a kiss. At the time, she was 70 and he was 29.
So, what did Lynn have to say when asked about her relationship with the rocker by journalist, Dan Rather?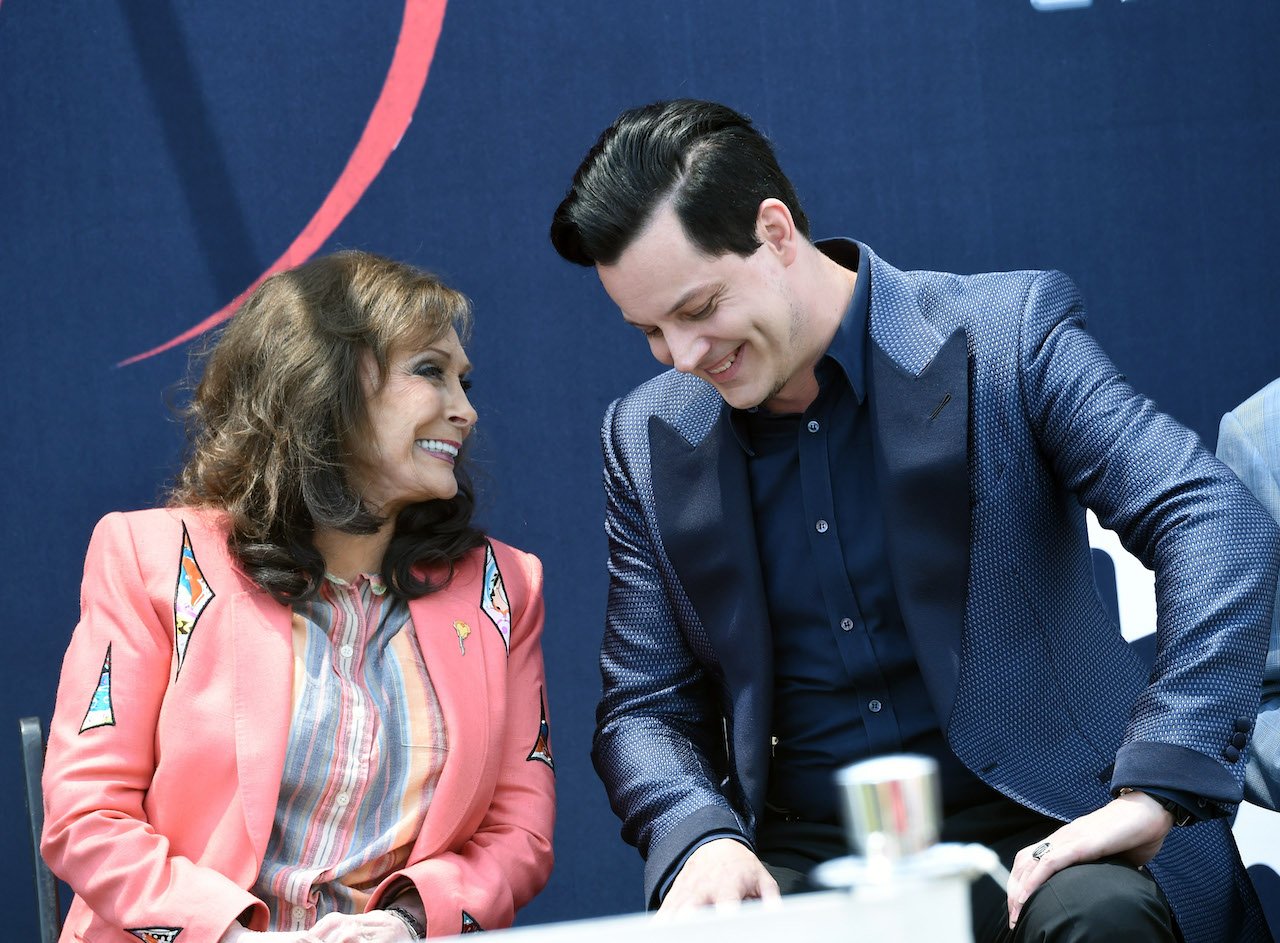 Loretta Lynn and Jack White's friendship
In a 2014 Big Interview with Rather, Lynn opened up about her friendship with White, who seems to be a bit of a country fan. She said they met when they were both doing shows in New York and he approached her backstage.
Once they began talking about how Lynn was heading back to her home, presumably in Tennessee, to record new music, White offered to come with her to help her record it. She said he followed her and they made an album called Van Lear Rose for which they eventually won two Grammys.
Despite the success of their collaborative work, Rather was curious if their age difference ever bothered Lynn. She told him, "Not at all."
"He's a young boy with an old mind," she said of White. "He seems to be older in his ways and actions."
That's when Rather "respectfully" brought up a scene in the music video "Portland, Oregon" in which White and Lynn shared a kiss. He plainly asked her if there was "something romantic" he should know about.
Loretta Lynn denied romance with Jack White
Though Rather seemed a little suspicious, Lynn told him there was no romance between her and White.
For the record, MTV called their behavior in the "Portland, Oregon" music video "serious flirting." The video has seemingly disappeared from the internet, but MTV described scenes where the two musicians traded glances, held hands, and eventually shared a kiss.
"One is left to wonder where that last nightcap might lead them," they concluded of the chemistry. So, Rather wasn't alone in his assessment.
And in the end, the esteemed journalist confessed he thought Lynn would "deny it if there were" something more to her relationship with White.
"No, I wouldn't," she disagreed. "I'd tell you."
So, it seems that's that.
Jack White thinks Loretta Lynn is 'the greatest female singer/songwriter of the 20th century'
That same interview with Rather included an excerpt of White gushing about the country star's talents. "I think she's the greatest female singer/songwriter of the 20th century," he shared.
"Sometimes I think maybe she doesn't even know how brilliant she is. Like, when you're talking to her … you just almost wanna take her aside and say, '… This is what everybody's trying to do. It comes to you so easily,'" the White Stripes' frontman explained of Lynn.
According to him, she has a unique way of writing songs that is nearly impossible to replicate. "I tried as much as I could to learn from her on the craftsmanship," he admitted. "But I — I couldn't make my way around it with a compass."
And Lynn gave White high praises as they were honored together on the Music City Walk of Fame in Nashville, Tenn. "Nashville needed Jack White," she declared in a clip shared by NewsChannel 5.
In the end, it seems their adoration ends with a musical friendship or, as Lynn said, she would have told Rather otherwise.