Loretta Lynn: A Look Back at 9 Iconic Moments in Honor of Her 90th Birthday
To honor Loretta Lynn's 90th birthday, we're looking back at nine iconic moments from her career in the music business, which has now lasted more than six decades.
Legendary country star Loretta Lynn turned 90 on April 14, 2022. She's been famous for more than 60 years and has tales of friendships with stars from the past, like Patsy Cline and Frank Sinatra. So, in honor of her 90th birthday, look back at nine iconic moments from her celebrated life and career.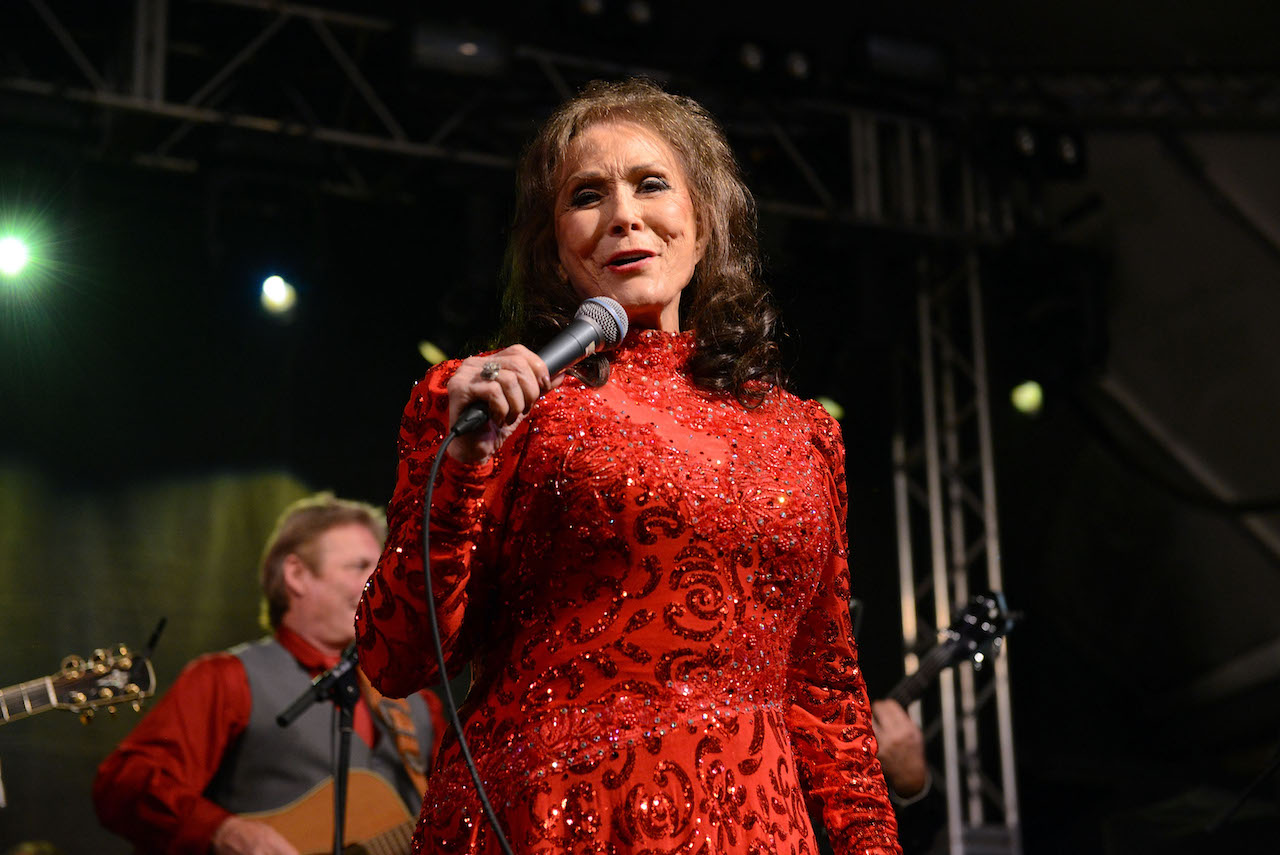 Loretta Lynn and Patsy Cline crashed a secret meeting
First up is Lynn's friendship with Patsy Cline, which began when she moved her career to Nashville. When other artists planned a meeting in the early '60s to keep her away from the Grand Ole Opry, they invited Cline. And she called Lynn to tell her.
"Inviting Patsy was their mistake," Lynn noted in her autobiography, Coal Miner's Daughter. They showed up together and that seemed to put a stop to the plot.
"Patsy put the stamp of approval on me, and I never had any problems with them again," she concluded. "In fact, they are all my friends now."
Loretta Lynn wore a 75-pound dress for an iconic anniversary
Cline also inspired Lynn to start wearing gowns for her appearances and performances. And for her 50th anniversary with the Opry, she wore a custom-made dress covered in glass beads. "She's only worn it once," Lynn's designer told PBS. "I didn't think she'd wear it more than that because it weighs 75 pounds."
It's important to note she was 80 at the time.
Loretta Lynn created country music superstardom as a mother
Lynn shared in her autobiography that she married her husband, Oliver "Doolittle" Lynn, when she was 13 years old and became pregnant within the first year. Notably, she may have been two years older when she married, as reported by The Hollywood Reporter, or it could have been a mistake with paperwork. Either way, by the time Lynn was starting a career in country music, she'd already had a few of her six kids.
Loretta Lynn performed her iconic song 'One's on the Way' on 'The Muppet Show'
Lynn wrote honestly about life as a housewife and a mother of six. And she took on a few of the less glamorous aspects of managing a large brood with her song "One's on the Way." She even performed it while crawling with baby muppets — not to be confused with Muppet Babies — on The Muppet Show.
The song includes the lyrics: "And the pill may change the world tomorrow, but meanwhile, today / Here in Topeka, the flies are a buzzin' / The dog is a barkin' and the floor needs a scrubbin' / One needs a spankin', and one needs a huggin' / Lord, one's on the way"
Loretta Lynn wrote songs about her rivals
Speaking of Lynn's songs, it can't be overlooked that she wrote a couple of famous tunes about individuals who were "bragging around town," saying they had somehow intruded on her relationship with her husband. Such romantic predicaments were supposedly the inspiration for songs like "Fist City" and "You Ain't Woman Enough," the last of which she sang while holding a charming grin for The Ed Sullivan Show in 1970.
Loretta Lynn was the first woman to win the CMA Awards Entertainer of the Year
This point is very monumental in terms of accomplishments. In 1972, Lynn became the first woman to take home the title of Entertainer of the Year at the CMA Awards, per Taste of Country. Notably, Dolly Parton was the next woman to win the award, but not until 1978.
Loretta Lynn told the ever-iconic Frank Sinatra to 'get this show on the road'
In the '70s, Lynn worked with Frank Sinatra on a few occasions. And she recalled on Watch What Happens Live how she worried Rat Pack singer, Dean Martin, would be unable to perform in one instance because he wasn't sober.
"Frank, we gotta get this show on the road," Lynn remembered saying. She was concerned about Martin's ability to perform but added he ended up saving the show.
Loretta Lynn put Patsy Cline's underwear on display
According to PBS, Lynn recalled a pair of underwear handed down to her from Cline. "I never did wear these panties out," she said. "I finally just kept 'em. There ain't no way to wear 'em out."
She used to display the undergarments in a museum, though she eventually decided to pack them away.
Loretta Lynn and other stars raised money for 2021 flood victims
Last on the list, but certainly not least, is how Lynn pulled together a "Hometown Rising" concert to help raise money for those who were impacted by deadly floods in Tennessee in 2021. Stars like Reba McEntire hit the stage and raised more than $930,000.