'Love at First Sight' for Taylor Swift and New Cat
In an Instagram Live video on April 26, 2019, Taylor Swift revealed more details about her new song, "ME!" featuring Brendon Urie of Panic! At The Disco, which she dropped at midnight along with the music video for the song.

Swift and Urie provided Swifties (the nickname for Taylor Swift fans) with even more details about the song, Swift's upcoming seventh studio album, and Swift's new kitten. Keep reading to learn what Swift and Urie revealed about Swift's new kitten.

New cat joins Meredith and Olivia

Swift is known to be a cat lover. She's got two cats, Meredith and Olivia, whom she named after two of her favorite TV characters. Meredith is named after Grey's Anatomy character, Meredith Grey (Ellen Pompeo) and Olivia is named after Olivia Benson (Mariska Hargitay) of Law & Order: Special Victims Unit.

What is the name of Swift's new cat?

During their Instagram Live video where Swift and Urie are being driven around on a golf cart, Urie revealed the name of the newest addition to Swift's cat family.
"Another cat moment I have to say was when we met, [Urie turns to Swift] 'Can we say his name?'" At the same time, Urie and Swift reveal the name of her "new family member," Benjamin Button.
The name comes from the Brad Pitt film, The Curious Case of Benjamin Button, about a man who ages backward.

How Swift met her new kitten
Swift met the new addition to her cat family while on the set for her new music video. In one scene, Urie offers Swift flowers, which she turns down, then a ring, which she rejects, then finally, a kitten, which she happily accepts. The kitten used during the scene eventually became Swift's new pet.
"I fell in love," Swift said. The kitten's handler asked her if she wanted to hold the kitten before the shot so they could get acquainted. "And so she hands me this tiny cat and he just starts purring and he looks at me like, 'You're my mom and we're going to live together."

"It was truly love at first sight," Urie added. 'Love at first purr, like he did not stop in your arms doing the [Urie makes purring sound], it was so adorable."
Swift went on to explain what happened when she first met Benjamin Button. "When I started holding him, I was obviously in love with him, and his handler was like, 'You know, he doesn't have a home.' He literally looked at me like, 'adopt me, please,' and I was like, 'OK, I'm gonna do that.'
"So this kitten was brought in, just like, just a cute kitten they brought in because he didn't have a home. And they did a program where they try to get kittens adopted by putting them in like, commercials and stuff, and oh my God, it worked," Swift said.

Swift's cats make cameos in the music video

A great example of Swift's sense of humor comes in the music video's opening scene. Urie and Swift play a couple who are arguing French. They yell at each other in their living room in front of their so-called "young daughters." At that moment, the camera pans to Swift's cats, Meredith and Olivia, who are sitting on the couch. Referring to her cats as her daughters is a great example of Swift's wit.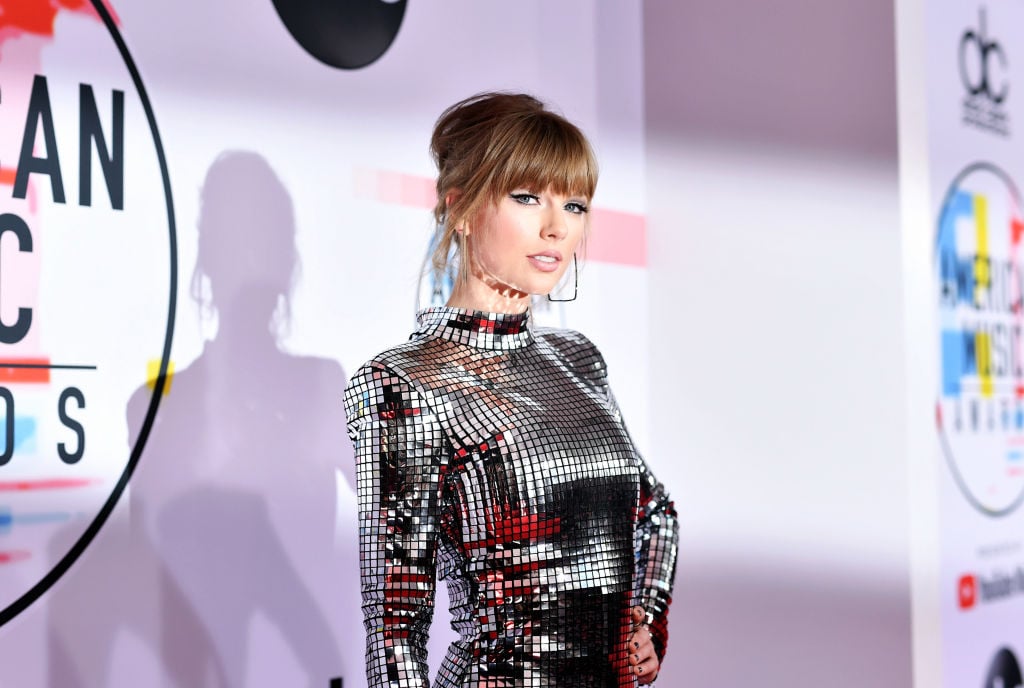 What fans didn't know, until Swift and Urie revealed in their Instagram Live video, was how difficult it was filming that particular scene with Meredith and Olivia.

"Do you want to tell them about Dave Meyers [the music video's director along with Swift] getting the cat shot?" Urie asked Swift in the video.

"Cats do what they want, it's the best thing about cats," Swift said while Urie laughed. "You can't train cats. Um, cats train you. So, we were on set. We're trying to get them to just sit on the couch for a second, together, and have a shot of them being like, [Swift looks up in awe], and we couldn't do it."

"I got treats out, I'm petting them and then running. And every time they'd just jump off the couch and scatter and we'd have to run after them and grab them and be like, 'Meredith, no!' And so, we're doing this and we're like, 'We're not going to get the shot,' and all of the sudden they're rolling the camera, Dave Meyers, the director of the video, walks into the shot and goes, right behind the camera, and stands there and goes, 'meow.' And both cats just go, [Swift turns her head]. So, that's when we learned that my cats can actually speak human English."

"Or at least speak Dave," Urie added.