'Love & Hip Hop': Former Star Hazel-E Explains How Her 'Marriage Boot Camp' Beef with Shanda Denyce Started
One of the most memorable personalities in the Love & Hip Hop franchise, Hazel-E, is on reality television again. This time, she's appearing in the Marriage Boot Camp franchise. One of the notable storylines this season seems to be a simmering feud between Hazel-E and another Love & Hip Hop alumna, Shanda Denyce.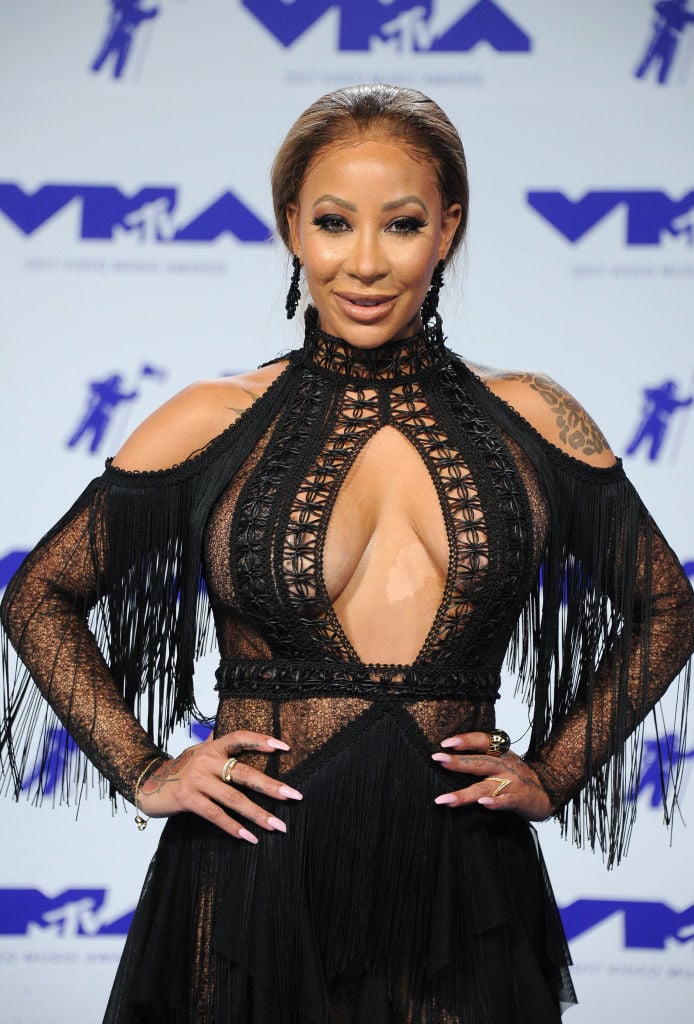 Hazel-E is now on 'Marriage Boot Camp' after being off reality television for a while
Hazel-E (real name Arica Adams) is originally a Hollywood publicist. She later made a career change, becoming an entrepreneur and rapper. As one of the original main cast members of Love & Hip Hop: Hollywood, she starred in the first two seasons. She after the second season, though she returned in a supporting capacity for the third season and once again became a main cast member again in the fourth season. After this season, she left the show again and hasn't been back.
Now, she has made a return to reality television with Marriage Boot Camp; Hip Hop Edition. She appears in the show with fiancé, De'Von Waller.
Here's how everything began
In an interview with Meaww, Hazel-E and Waller talked about being on Marriage Boot Camp. The couple said that their experience on the show was good for their relationship. "We enjoyed being on the show and in the house,' said Hazel-E. "We enjoyed getting to know each other on a deeper level, like learning what makes each other tick and getting tips. And I mean, it was a true test."
They also both agreed that they would appear on it again if they had the opportunity to do so again. "Yeah, because I just know I would get some good tips out of it and it will be really authentic and it wouldn't just be just for TV or whatever," Hazel-E added. 'You would really gain something from it."
One part about Marriage Boot Camp that is getting a lot of buzz is the feud between Hazel-E and Denyce. They both appeared on Love & Hip Hop: Hollywood. Hazel-E even says that she played a part in Denyce and her husband, Willie Taylor of Day26, appearing on the show anyway. "So, the beef with Shanda just started on social media a couple of years ago," she explained. I knew her husband Willie, we were always good friends and I did PR work for him as well. When they wanted to join Love & Hip Hop: Hollywood, they reached out to me and I put in the word with him, our producers, and got them on the show. So I didn't understand why Shanda always had some animosity or little slick words for me on social media. So, when I came face to face with her in the house, I put it, I checked her on-site, like all these that you talking about and why are you talking and why you feel that way?"
RELATED: 'Love & Hip Hop': Stars Lyrica Garrett and Pam Bentley Almost Come to Blows in 'The Conversation'
Are Hazel-E and Shanda Denyce friends now?
Despite their dust-up on the show, it looks like they are at least on better terms right now. They now follow each other on Instagram and Hazel-E gives credit to the fact that living together made them come to terms with their problems with one another. "[After] being in the house and having to live together, we have now worked past certain issues," she said. "We actually follow each other on Instagram now. So, once again, therapy clearly worked for all of us in the house. Because we don't want to kill each other anymore and that's a good thing."
Marriage Boot Camp: Hip Hop Edition debuts new episodes each Wednesday on VH1.