'Love Is Blind' Fans Can't Get Over How Clearly Obsessed With Lauren Cameron Still Is
'Love Is Blind': Looking at their latest YouTube video, Lauren and Cameron are still madly in love and fans love to see it.
Love Is Blind fans fell in love with Lauren Speed and Cameron Hamilton on the first-ever season of the new Netflix series. Lauren's fun, quirky personality is the perfect compliment to Cameron's smooth, calm demeanor. Fans simply had no choice but to stan.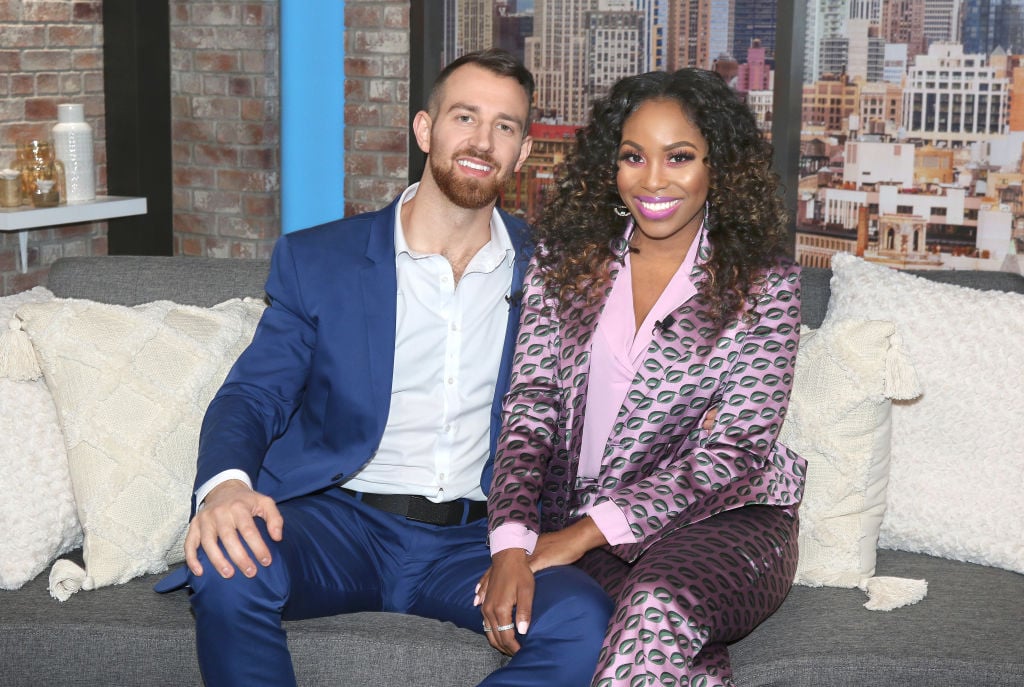 It's been a few weeks since the series reunion aired and even still fans can't get enough of Lauren and Cameron. Their Instagram accounts (both over a million followers now) are filled with Love Is Blind viewers begging for more Hamiltons content.
Lauren and Cameron gave the people what they've been asking for in the form of a YouTube channel: "Hanging With The Hamiltons." Their most recent video features a Q&A with burning fan questions. Someone asked what the couple's love languages are.
Lauren and Cameron share their love languages
"What's you love language, baby?" asked Lauren.
"Oh, I think you know," replied Cameron.  
"I do know, but share," urged Lauren.
"I think we all know what my love language is. So my first love language, which I would probably say is physical touch, both receiving and giving physical touch. I think it goes without saying that it helps me feel connected to Lauren. It just makes me feel like everything's OK and that we're just connected," he said.  
"Is it like a comfort thing for you?" asked Lauren.
"It's a comfort thing but it's also a passion thing," said Cameron, elaborating: "I mean, it gets me excited about our relationship." 
"Words of affirmation. I love quality time. We spend a ton of quality time together so I'm very thankful for that," Cameron went on.  
"My love languages are quality time, words of affirmation, deeds! Deeds are one of my love languages for sure. Because I really appreciate deeds," said Lauren. Cameron told her he's "picked up on that."  
Lauren says Cameron is "so thoughtful." It seems he regularly tends to all of her love languages.
"I like to do deeds. I think there's like the love language of what you like to receive, and then the love language of what you like to give. And I think deeds is one of my top that I like to give. And physical touch," he said, smiling.  
The couple also sweetly shared the best parts about being married to one another.
"Waking up to your best friend every morning is the best thing in the world. Knowing that you have someone who loves you and wants to support you. Yeah, that's the best part. Growing with that person, learning more about them. Even when you're married and you know someone or you're in a relationship in general, you're always learning stuff new," said Cameron.  
"It's awesome having someone there who you know has your best interest at heart because you are a team," said Lauren.
'Love Is Blind' fans are thrilled to see Lauren and Cameron thriving as a married couple
Fans are absolutely swooning in the comments section.
"I will never get tired of seeing how obsessed Cam is with Lauren," commented one fan.
"Cameron literally loses his train of thought when he looks into Lauren's eyes. I love it!! The way they both look at each other is beautiful!" wrote another.
"The way he looks at her♥️ I'll always remember him saying, 'I'll take care of you,'" commented another.
"The way he constantly leans in to Lauren and smiles while looking in her eyes is so beautiful ❤️" wrote another.
And the comments go on like that.
Cameron also promised fans that "big things" are coming and that he and Lauren plan to keep sharing their relationship with the world. So rest easy, Lauren and Cameron super fans. More Hamiltons content is on the way.
Read more: 'The Bachelorette' Fans Are Gushing Over How Tyler Cameron Is Looking at Hannah Brown in This Pic