'Love Is Blind': Giannina Says There Was 'Some Speculation' About Carlton's Sexuality in the Pods
Carlton Morton starred in the first-ever season of Netflix's Love Is Blind. He got engaged to Diamond Jack without ever seeing her. But when the two took their romantic trip to Mexico, their relationship blew up.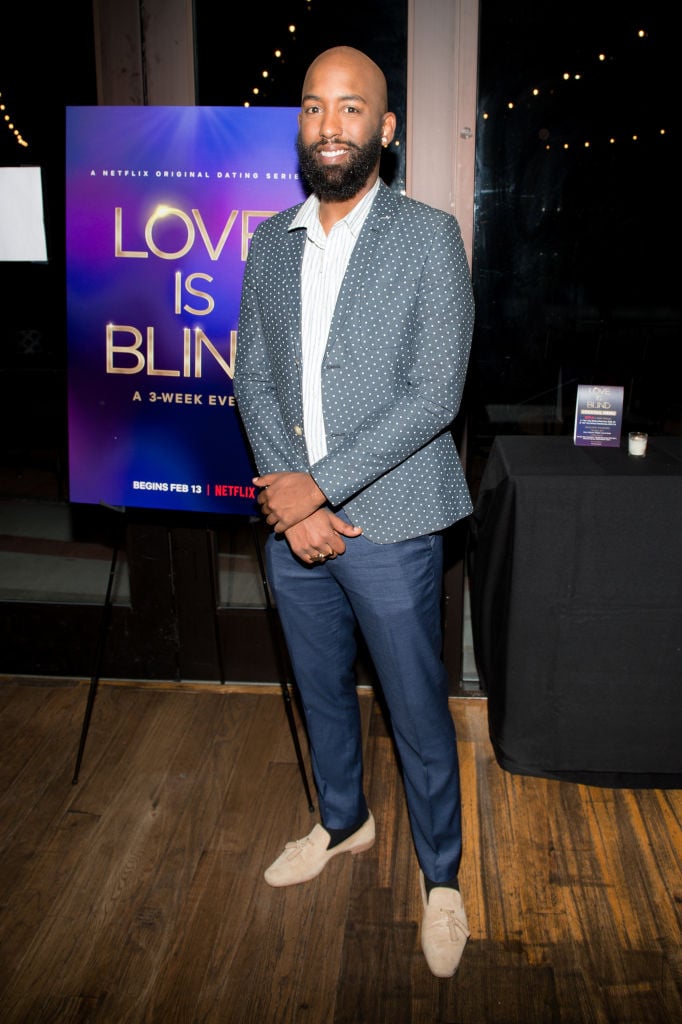 Carlton told Diamond that he's sexually fluid and Diamond didn't appreciate that he didn't tell her sooner. They got into a big fight and both of them left the show.
'Love Is Blind' contestants are allowed to leave the show
There have been some quotes from castmembers stating they felt they weren't allowed to leave while filming. In a recent episode of "Love In Sight," Giannina Gibelli says she and other contestants were "definitely encouraged to keep going and finish out the experience," but that Carlton and Diamond's exits prove they weren't stuck there.
"The word allowed is a very harsh word I think," said Giannina.
"If someone was saying, 'I don't want to be here. I can't be here.' It's more of like, 'Why? Are you going through something that maybe you can work through? Or are you sick? Can you physically not be here?' A lot of times I wanted to run away and that's just where it was like, 'OK why don't I want to be here? What's making me want to flee this? Is it because it's really hard emotionally? A wedding is a really big moment in my life. Is this the way that I want to do it? Maybe not.' But, at the end of the day, with Carlton and Diamond leaving, I guess you could have left if you don't want to be with each other," she continued.
Why Carlton didn't want to talk about his sexuality in the pods on 'Love Is Blind'
Carlton's sexuality was a big factor for the contestant during filming. He said he felt a lot of anxiety about telling his partner about his past romantic connections.
He said on "Love In Sight" that he only wanted to share his sexuality with the woman he ended up with.
"I wanted to share it with the one person I fell in love with in the pods. Had that been a conversation on the first day, things would have gotten back to the girls' side, let's be real, with the current climate of the way people look at people in the LGBTQ community, no one would have given me a chance. Or seen me," he said. "That was the thought process at that time. I can't speak for them because you just never know. But that's just the way I felt. I felt like if I tell it to someone else, they're gonna tell my story. It was very important for me to tell my story to the person I fell in love with. And I did just that."
According to Giannina, some of the women had speculated about Carlton's sexuality after getting to know him in the pods.
"There was speculation. It was like, 'He really likes fashion,' or, 'He really likes this.' You know, not to like stereotype. But I think besides the actual conversation you can just pick up a vibe. I mean some people have a really good radar for that. Some don't, just completely off. So it's all speculation until you actually know," she said on the podcast.
During the podcast episode, Giannina asked Carlton why he felt no one would give him a chance. She said she interpreted the group of people to be "pretty open."
Carlton said that he didn't feel comfortable telling 29 strangers about his sexual history. He said he didn't know how they'd react or if they'd be kind.
Carlton and Diamond
Carlton received a lot of backlash from fans of the show after the Mexico episode aired. Some fans felt he could have handled the situation better.
"People apparently think that I'm like a horrible person who hates women and that's just not the case. So I've just been trying to do everything I can to protect my mental health at this point," he said during his "Love In Sight" interview.
As fans witnessed, Carlton and Diamond were on fine enough terms at the Love Is Blind reunion. Carlton has even posted about her on his Instagram recently, wishing her "the best and pray[ing] for her happiness and prosperity."
Carlton and Diamon definitely won't be getting back together, it seems. But Carlton has also mentioned on his Instagram that he's ready to find love again.
Here's hoping he and Diamond both find what they're looking for.
Read more: 'Love Is Blind': Lauren and Cameron Share the Best Things About Being Married to Each Other and It's Almost Too Sweet to Handle