'Love is Blind' Hosts Nick and Vanessa Lachey Get Heated With Shake at Reunion
'Love is Blind' star Shake takes some serious heat from hosts Nick and Vanessa Lachey at the reunion regarding his comments about the women on the show.
The Love is Blind Season 2 reunion finally dropped, and suffice to say, things get spicy during the episode. Hosts Nick and Vanessa Lachey can't bite their tongues any longer when it comes to Love is Blind star Abhishek "Shake" Chatterjee's comments. Here's how it all goes down.
[Warning: This article contains spoilers for Love is Blind Season 2.]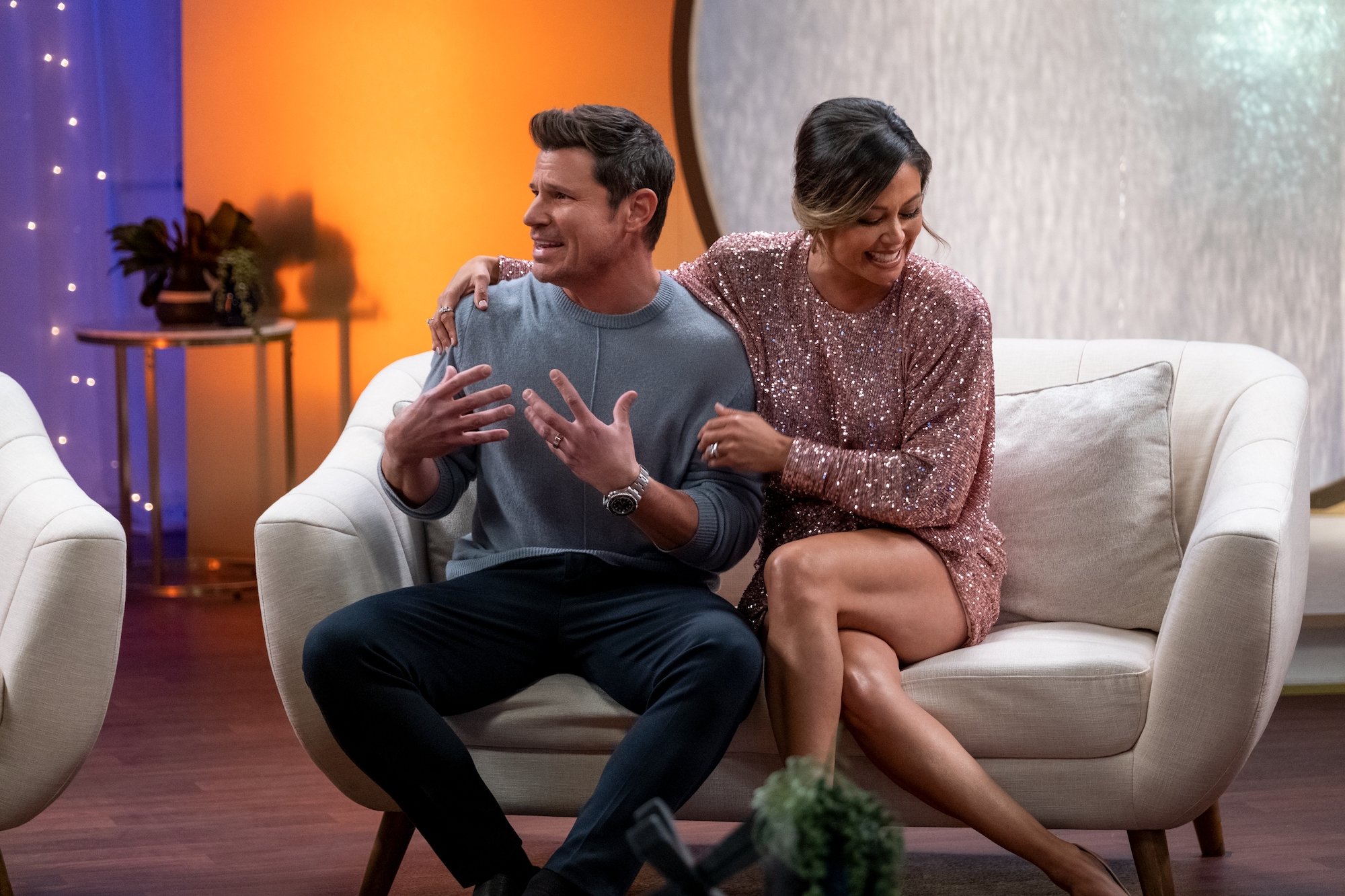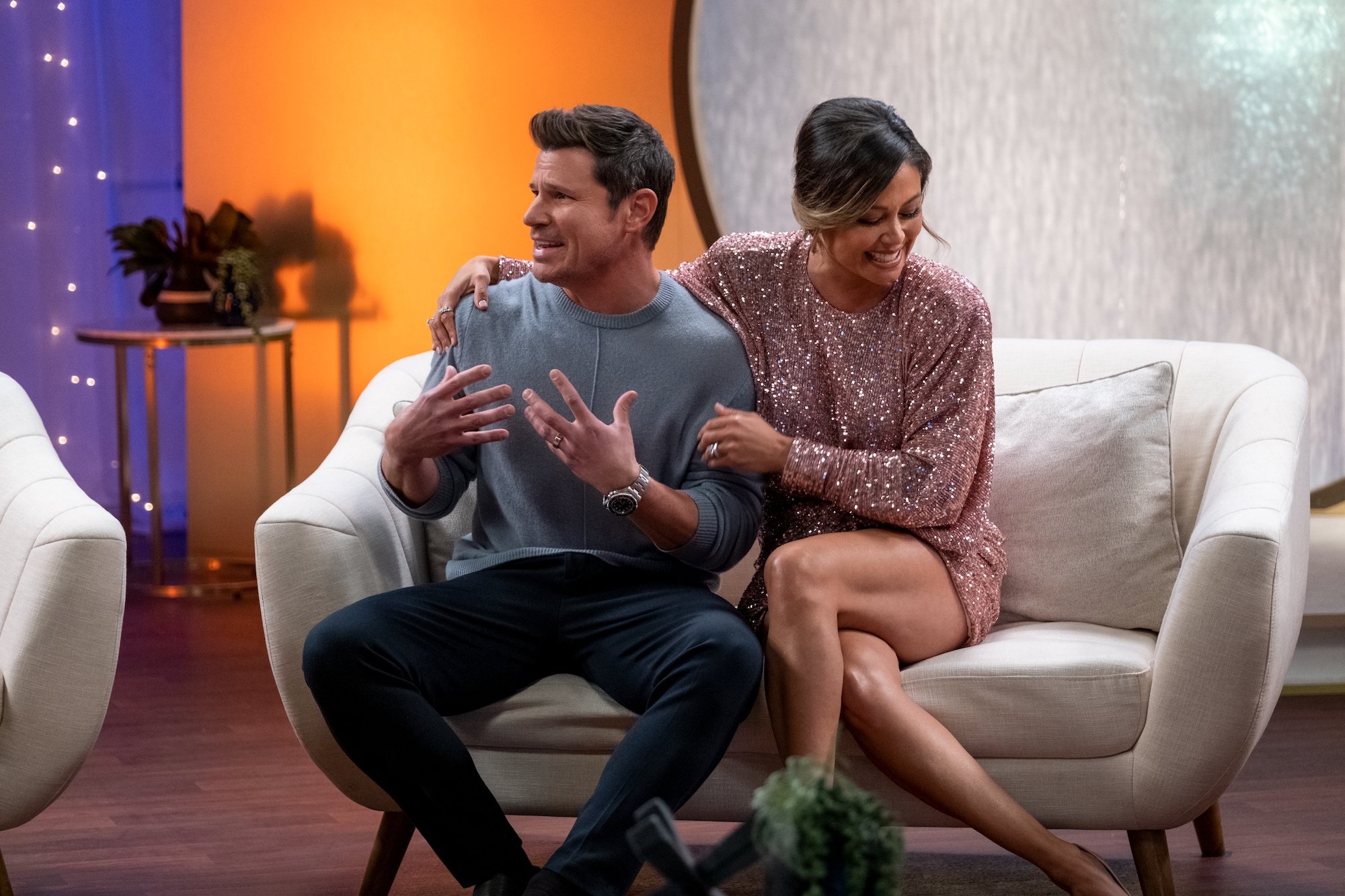 'Love is Blind' Season 2 villain Shake Chatterjee offends almost everyone on stage
Throughout Love is Blind Season 2, one contestant continually made comments that caused audiences' jaws to drop. The show features what Netflix calls a "social experiment" to determine whether or not love actually is blind. The contestants meet potential matches through separate pods and based on their conversations alone, find out whether or not they can fall in love with another person sight unseen.
However, Love is Blind's Shake repeatedly asked questions on his different dates that would give away the woman's approximate size. From "Can I carry you on my shoulders at a music festival?" to asking what size clothes someone wears, Shake didn't seem to understand the entire point of the series.
His costars found his actions offensive and took no time calling him out during the reunion. The most surprising moment though involved the hosts of Love is Blind Season 2, Nick and Vanessa Lachey, and their inability to keep quiet about Shake's derogatory comments.
'Love is Blind' Season 2 host Vanessa Lachey lost her cool with Shake Chatterjee
During the reunion, Shake's comments continually return to the importance of someone's physical appearance for him. After listening to him compare marriage to a "really big purchase," Lachey could no longer bite her tongue.
"I think you were on, if I may, the wrong show. And what I mean by that is, there are shows where they are based on their looks and if they have a connection. But what I'm saying is that you need to open your heart to the bigger picture. Because at the end of the day, what if she's mangled in an accident? What if she gains weight? What if she loses her hair, her legs, her arms? Are you not going to love her anymore?" the host angrily said.
Shake attempted to defend himself by saying, "That's different," but Lachey continued on her rant.
"I hope to God if I'm mangled, knock on f****** wood, this man stands by my side. I know he will. Because he loves me for me. So the problem I have, Shake, is that you sat there and berated every single one of these women physically, and then went through the process with this beautiful soul over here all because you wanted someone you wanted to f***. Not fall in love with."
Lachey stopped herself and admitted she felt heated over the topic, but Nick had a few choice words for Shake himself.
Nick Lachey couldn't keep quiet before snapping at Shake Chatterjee too
Nick chimed in, "What you were looking for sounds to me like the conventional dating world," Nick pointed out. When Shake disagreed, he continued, "What were you missing in the conventional dating world that you thought you could find here?"
The Chicago veterinarian said that love isn't necessarily blind for him and quipped he wanted love to be "blurry." Nick quickly retorted someone should get Netflix on the spinoff before both hosts changed the subject and moved on from Love is Blind star Shake's trainwreck line of thinking.
Want to see all the drama unfold for yourself? The Love is Blind Season 2 reunion is currently streaming on Netflix.