'Love is Blind': Proof that Some of the Cast Knew Each Other Before Filming
We are still reeling from the insanity that was the first season of Love is Blind. The show took Married at First Sight and The Circle and smashed them into one super addictive, partially problematic super show and fans couldn't get enough. The supposed purpose of the show was to test whether or not love was truly blind and if people could actually fall in love without seeing one another. But now, some things have come out that could mean that some members of the cast actually did know each other beforehand.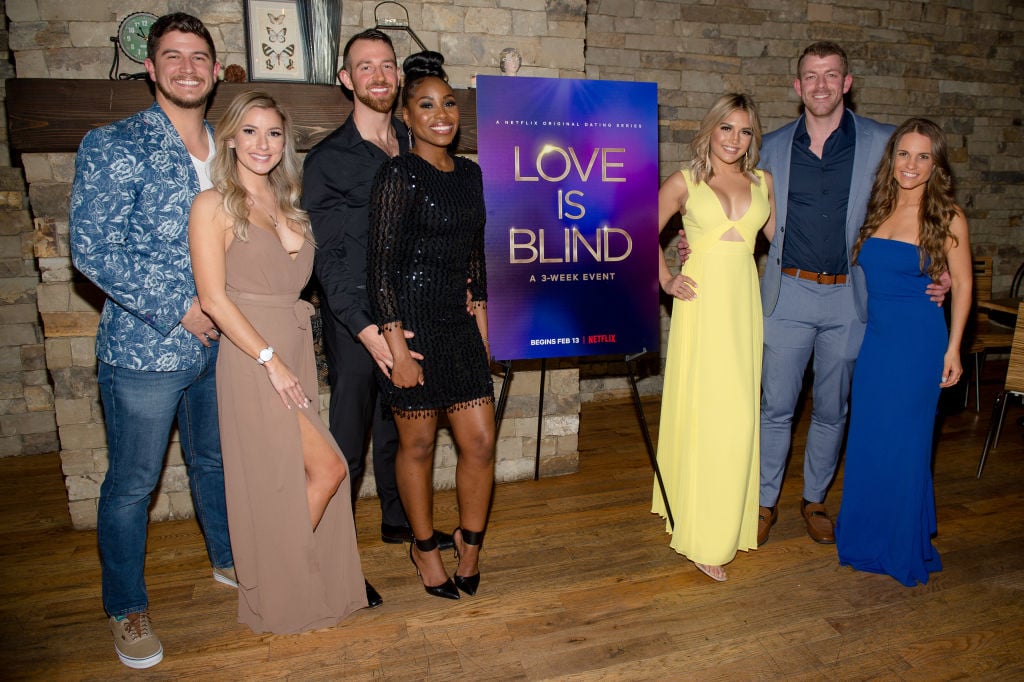 The premise of 'Love is Blind'
Love is Blind took a number of singles and put them in a house separated by gender. Then, the men and women entered pods where they were able to talk to their dates through a wall. Through a number of speed dates, the participants narrowed their options down and some eventually got engaged. After the engagements, they met face to face and moved in together while they planned their weddings. At the altar, they had to decide if they wanted to go through with the marriage or embarrass their partner in front of all of their friends and family by saying "I do…not."
But the show doesn't really work if the contestants knew each other beforehand, does it?
Production has been secretive about how they cast
All of the participants of season 1 lived in Atlanta, Ga. The purpose of this was supposedly so that the participants wouldn't have to overcome long distance.
"But they were all living around the Atlanta area [at the time of casting]," show creator Chris Coelen told Entertainment Tonight. "The reason that we did that was because we wanted to give these people a real shot at making their relationships work for the long term."
"Whether you think [love] is going to happen or not, we wanted people that would be ready to be married. If you're really in it — genuinely in it, which was the No. 1 casting criteria — it felt to us that it was too much of a bridge for someone living in Miami and someone living in Seattle to build. We thought let's at least start with them in the same geographical area."
But Cameron Hamilton, who ended up with Lauren Speed, never even applied for the show. Production found him, but he's not sure how.
"That's one of the big mysteries even today," Hamilton told the Los Angeles Times. "They just said someone recommended me to them, but they never clarified anything more than that.
The connection between the contestants
Atlanta, Ga is not that big and the influencer scene there is even smaller. So, it would be very hard to make sure that none of the contestants knew each other.
Apparently, luxury publication, Jezebel Magazine, featured Mark Cuevas as one of 2019's 50 Most Beautiful Atlantans, which means that he would have been well-known. Jessica Batten, Cuevas' former fiance was also pictured attending a Jezebel party in 2011, so she is aware of the magazine. Cuevas and Matt Thomas, who wasn't featured that much on the show, have been friends or at least acquaintances for a while as Cuevas attended one of Thomas' events for Brawl for a Cause.
And a source told Betches that some other contestants knew each other as well, like Lauren Chamblin (LC) and Lexie Skipper, who didn't make it far on the show.
"LC and Lexie are childhood friends," the source said. In addition, LC and Westley Baer, a couple that we didn' see much of, went to high school together.