'Love Island': Caro Viehweg Advises Not to Take the Men on the Show 'Seriously'
Love Island Season 1 third-place finisher Caro Viehweg is set to reunite with ex Ray Gantt on MTV's Ex on the Beach. Before the premiere, she gave advice to Love Island hopefuls, in which she suggested they shouldn't take the men "seriously."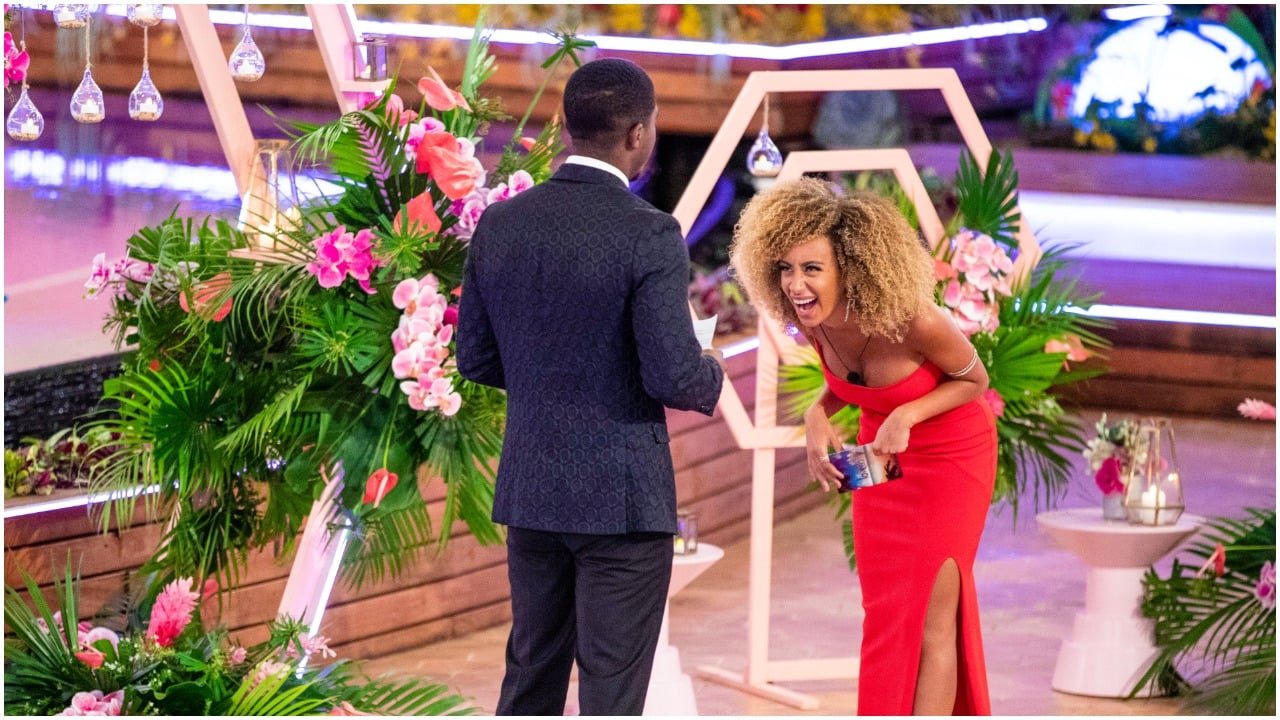 Caro Viehweg's advice for those who want to go on 'Love Island'
During a March 17 Instagram Q&A, one fan asked Love Island 1 (USA) star Caro Viehweg, if she would suggest giving the dating reality show a chance.
The Los Angeles-based student answered, "Yes, but only if you have thick skin." Additionally, she encouraged future islanders to "know what you're going to do with the opportunity afterward."
RELATED: 'Love Island USA': Andre Brunelli Reunites With His Ex-Wife
Caro then offered "the tea," admitting, "I don't recommend taking any of these island men seriously." The season 1 star seemingly clarified her stance in another Q&A posted the following day.
Responding to a follower who wondered about a relationship she wished she "fought harder for," Caro noted she's already "done the most," and included a screenshot of her Ex on the Beach bio. The description lists her as an ex who got a tattoo for Love Island partner Ray Gantt and is looking to rekindle their romance.
Ray Gantt and Caro placed third on 'Love Island' before competing on 'The Amazing Race 33'
Caro, 23, entered the villa on Day 1 of Love Island 1 and paired up with Cashel Barnett after first-looks. She then moved on to Cormac Murphy, who she remained coupled with for two ceremonies, before moving on to Ray, 25, when he arrived on Day 12.
After they paired up, the two hit it off and remained together for the rest of the competition, ultimately finishing third on Day 27 behind Alexandra Stewart and Dylan Curry and winners Elizabeth Weber and Zac Mirabelli.
Following filming, the couple continued dating and quickly joined the cast for The Amazing Race 33 as a dating team. The pair started rocky for the first three episodes as their miscommunication led to unnecessary bickering, resulting in middle-of-the-pack finishes.
When production stopped the race due to the global COVID-19 pandemic, Ray and Caro were among a few teams who didn't return when it resumed. While many viewers thought the couple broke up, which they did, the pair actually couldn't return in time due to travel restrictions preventing Caro from returning to the United States. 
Ray and Caro set to reunite on MTV's 'Ex on the Beach' Season 5
She revealed their breakup in July 2020 with a YouTube video in which she announced her single status. The 23-year-old claimed she "tried my hardest in this relationship" but didn't want to throw her ex "under the bus."
Realizing they had a public relationship that fans found themselves invested in, Caro gave a little more information, noting she broke up with the New Jersey native.
According to the German native, she felt more "committed" to making things work than him. She clarified their relationship status again before the start of The Amazing Race 33.
In an Instagram story, the Love Island star reminded her followers that the couple has since "gone our separate ways," pointing out they filmed the show "two years ago." Caro and Ray are set to reunite on Ex on the Beach Season 5 as she's washing up on the shore in an attempt to get back together.
RELATED: 'The Amazing Race' Season 33: Caro and Ray Reveal if They're Still Together