'Love Island' Season 3 Episode 27: The Islanders Dumped the 'Least Compatible' Couple
The five remaining pairs voted for who they considered the "least compatible" to leave the villa by the end of Love Island season 3 episode 27. Which couples are available for viewers to vote as the winning duo?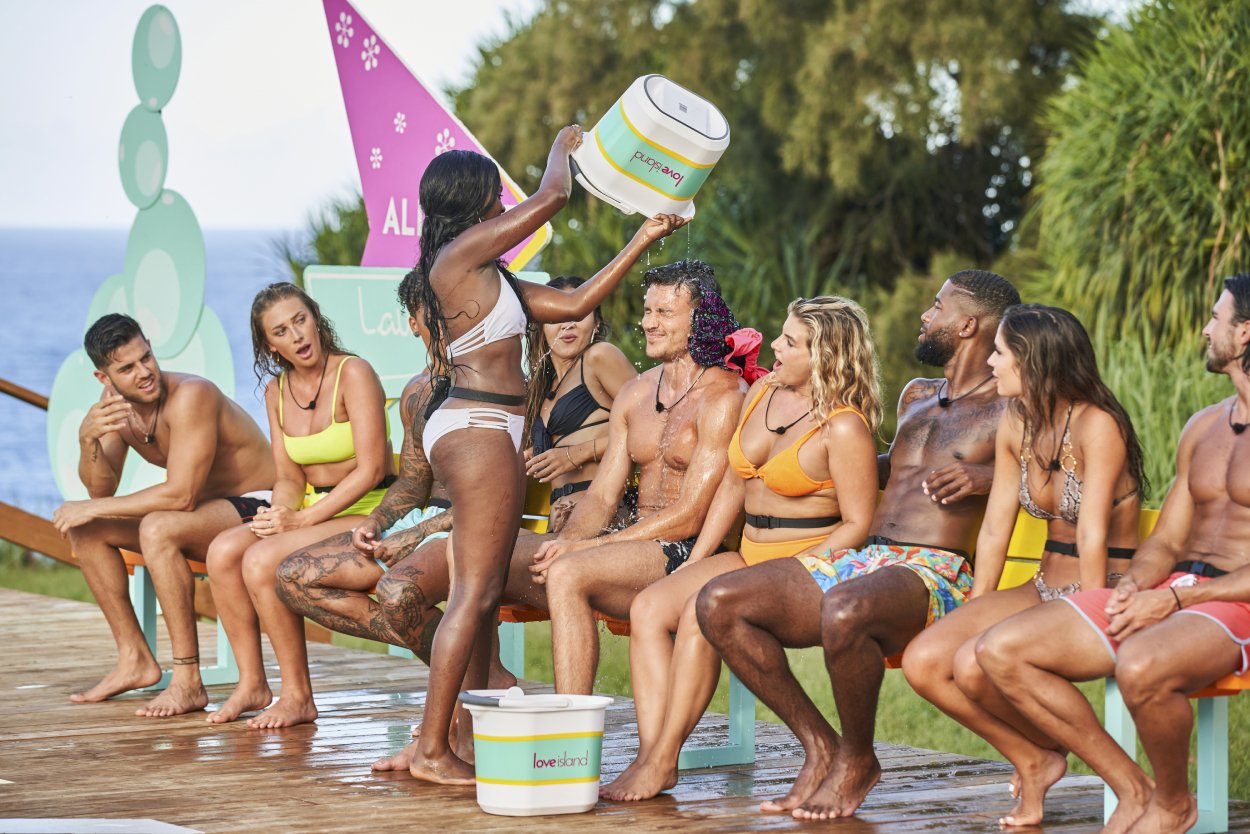 The Islanders dumped Trina Njoroge and Andre Brunelli from the villa
During Love Island season 3 episode 27, the couple tested the strength of their relationship. They began by smelling everyone's clothes and marking which pheromones attracted them the most.
Nearly all the pairs matched except for Charlie Lynch who picked Olivia Kaiser and Korey Gandy who chose Alana Paolucci. Additionally, the partners went through couple's therapy as they asked each other questions and the other Islanders voted if they thought the partners were telling the truth or not.
RELATED: 'Love Island' Season 3 Episode 23: A Surprising Recoupling Sends a Fan-Favorite Home
When Trina Njoroge asked Andre Brunelli if he wanted to explore anything more than a friendship with her, he claimed he would need more time outside of the villa.
However, a few Islanders, namely Bailey Mitchell, took it as a sign he wasn't into her at all. That night, they voted out a couple they believed had the least connection. All the others picked Trina and Andre as the least compatible, dumping them from the villa.
They weren't able to develop a romantic connection
When Trina arrived at the villa on Day 1, she initially partnered with Jeremy Hershberg for the first two recouplings until confessing her feelings for Cinco Holland Jr., who also noted he wanted to explore a connection with her.
Therefore, he chose to couple up with her over his current partner Cashay Proudfoot but admittedly had unresolved feelings for her. When Cash exposed how she felt, Cinco went back-and-forth between both girls before revealing to Trina he wanted to pursue things with his original partner.
Even so, she remained open to making new connections in the house, ultimately pairing up with Andre. While Trina admitted she had a crush on her new partner, he friendzoned her, seemingly only having eyes for the taken Olivia.
They also virtually met each other's families last episode who approved of their union. However, their relationship never made it to the next level, resulting in the other Islanders sending the pair home. 
Which couples are available for America to vote as the winners?
After attempting to make things work with Cash, who seemingly still had her heart set on Cinco, Charlie partnered up with Alana, sending the fan-favorite home.
His mom noted she thought he and Alana made up a good couple as they share the same temperament. Although Bailey initially had eyes on Korey, she partnered up with Jeremy and has found herself liking him more everyday.
RELATED: 'Love Island': Trina Has Had an Unconventional Time in the Villa, but Many Fans Want Her to Win
Korey and Olivia were great friends throughout their time in the villa and she realized she had deeper feelings following Casa Amor. The two have continued exploring their connection, and she noted he's everything she wants in a partner.
Finally, Will Moncada and Kyra Lizama immediately had eyes for each other, pairing up on Day 2. Despite his behavior at Casa Amor, she has forgiven him and the couple plan on continuing something outside of the villa. Who will win season 3? Love Island airs on CBS.