'Love Island': Shannon St. Clair Says She's 'in Love' With Josh Goldstein
'Love Island' season 3 star Shannon St. Clair says she's 'in love' with Josh Goldstein.
Josh Goldstein and Shannon St. Clair met during Love Island Season 3 and fell for each other, leaving as boyfriend and girlfriend. The couple walked away together prematurely following the death of his sister in July 2021 and are still dating. A few months later, Shannon confirmed she's currently "in love" with Josh.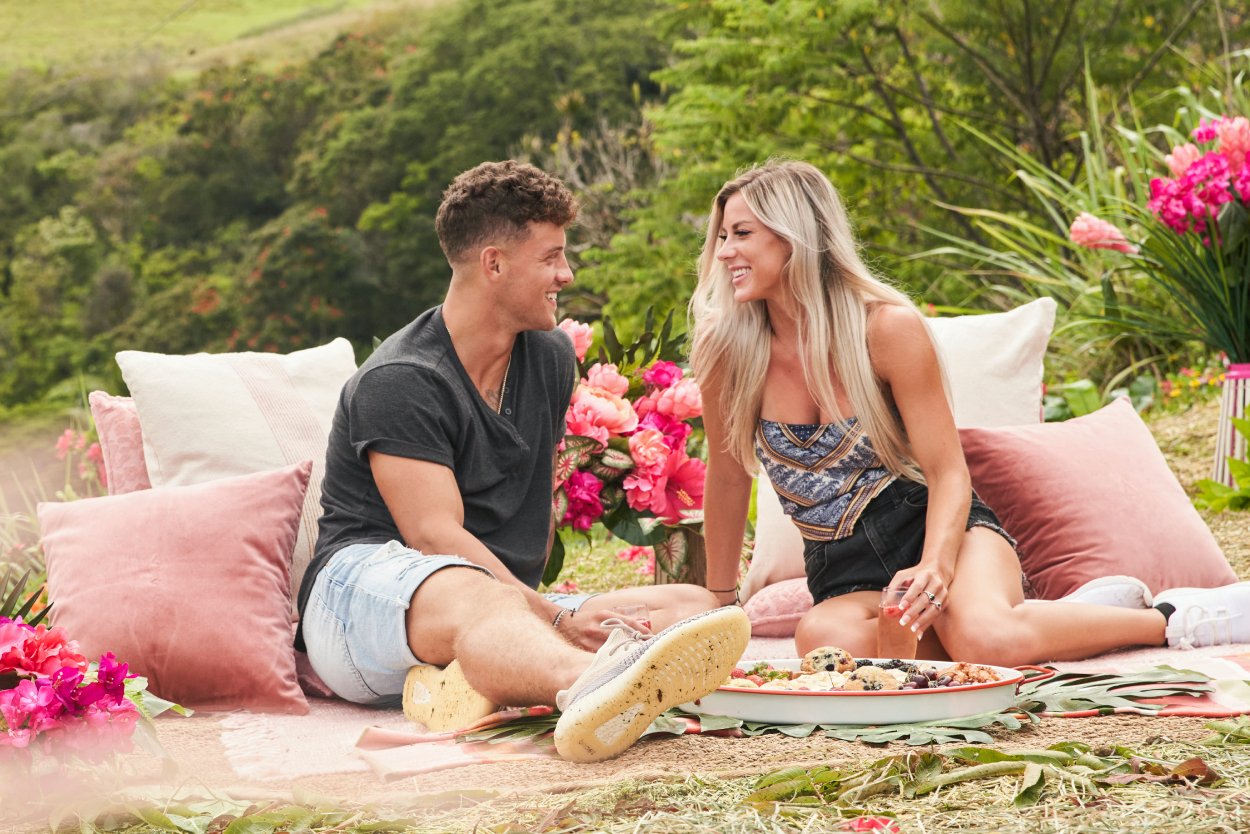 Shannon St. Clair said she's 'in love' with Josh Goldstein
24-year-old Massachusetts native Josh Goldstein and 25-year-old Shannon St. Clair from Pennsylvania entered the villa on Day 1.
Initially attracted to each other, they immediately coupled up and remained partnered until they left the show together in July 2021 following the unexpected news that his sister had died.
Officially dating, she stayed with him and his family for a while, and the two have frequently visited each other. Recently answering questions on her Instagram Story in Nov. 2021, the Pennsylvania native revealed she is "in love" with her boyfriend.
Many viewers are happy for the couple as they were the frontrunners to win the season before their premature departure. Additionally, some were surprised as they didn't know what to expect from Josh as a boyfriend after they exited the show.
They left 'Love Island' season 3 early due to the death of his sister
Coupled up since the first day, Josh tested the waters with a couple of newcomers, and Shannon seemed to get jealous. The two continued strengthening their relationship until Casa Amor seemingly solidified them for good.
During a date, the couple officially became boyfriend and girlfriend, the first season 3 pair to do so. However, shortly later, the two revealed they would walk away from the villa due to the unexpected death of his sister, Lindsey, who reportedly played a crucial role in him applying for the show.
After reuniting with his family in Massachusetts, the couple thanked their followers for their support in a video uploaded to Instagram Story.
Josh also reiterated the important part his sister played in him landing on the show and noted how thankful he is for the process leading him to Shannon.
Josh and Shannon were frontrunners to win the season
During the first weeks into Love Island Season 3, Josh made it clear he didn't like jealous girls, and some fans thought the couple wouldn't last long when she seemed to begin exhibiting those signs.
For example, she got upset that he kissed newcomer Aimee Flores and turned his head for other girls as it made her think she couldn't trust him. Regardless, she stayed committed to strengthening their bond, ultimately leading to a lone night in the Hideaway Suite, allowing them to connect on another level.
Their relationship continued to evolve, and viewers repeatedly voted to save the couple during recoupling ceremonies. Although Josh admitted he found some of the girls in Casa Amor attractive, he opted not to pursue anything with them to prove his commitment to Shannon.
After their reunion, the two took their relationship to the next level before leaving the villa together shortly later. If the couple had remained on the show, the fan-favorites likely would've walked away as the winners and $100,000 richer.