Love K-Pop? Check Out These 4 K-Dramas About Idols
K-pop has taken the world by storm these past several years, especially with the rise of groups like BTS and BLACKPINK. As such, perhaps it is not surprising there are K-dramas that use the K-pop industry as inspirations for their stories. Check out the following shows about fictional K-pop groups and idols.
'Top Management'
Behind every great K-pop group are hard-working managers who help keep everything together.
The 2018 drama Top Management gives viewers a close look at the relationship between managers and idols. In the show, a former trainee, Yoo Eun-Sung (Seo Eun-Soo), becomes the manager for a struggling boy group named S.O.U.L. Eun-Sung also has the ability to see the future, which she uses to help S.O.U.L. navigate the cutthroat K-pop industry.
K-pop fans might enjoy the acting of ASTRO's Cha Eunwoo, who plays one of the members of S.O.U.L.
'Imitation'
RELATED: 3 K-Dramas With the Longest-Running Episodic Season
Once in a while, the K-pop world is hit with news about idols dating each other. In the 2021 drama Imitation, viewers can enjoy the story of fictional idols who fall in love.
The show follows a struggling idol named Lee Ma-Ha (Jung Ji-So), who is a member of girl group Tea Party. As Ma-Ha and her group tries to get some success, our protagonist finds herself at odds with a famous idol named Kwon Ryeok (Lee Jun-Young), who is a member of the group Shax. Ma-Ha and Kwon Ryeok continue to cross paths despite their dislike for each other, and they eventually develop a relationship that could threaten both their careers.
K-pop fans might especially like Imitation for its star-studded cast. In addition to the main lead, Lee Jun-Young (also known as Jun), being from the group U-KISS, there are also appearances from members of groups such as ATEEZ and SF9.
'Idol: The Coup'
For every success story in K-pop, there are several stories about people with big dreams who either could not survive or are desperate to stay afloat.
In the 2021 drama Idol: The Coup, viewers get to follow a fictional girl group named Cotton Candy as they try to save their career. The group has been rather unpopular and will be forced to disband soon. However, if they could release one hit single, Cotton Candy will have a chance of surviving.
K-pop fans might enjoy seeing all the many different idols who appear. Some members of Cotton Candy are played by stars such as EXID's Hani, WJSN's Exy, Laboum's Solbin, and Redsquare's Green. There are also idols from disbanded groups who have smaller roles, such as RAINZ's Eunki and X1's Eunsang.
'Let Me Be Your Knight'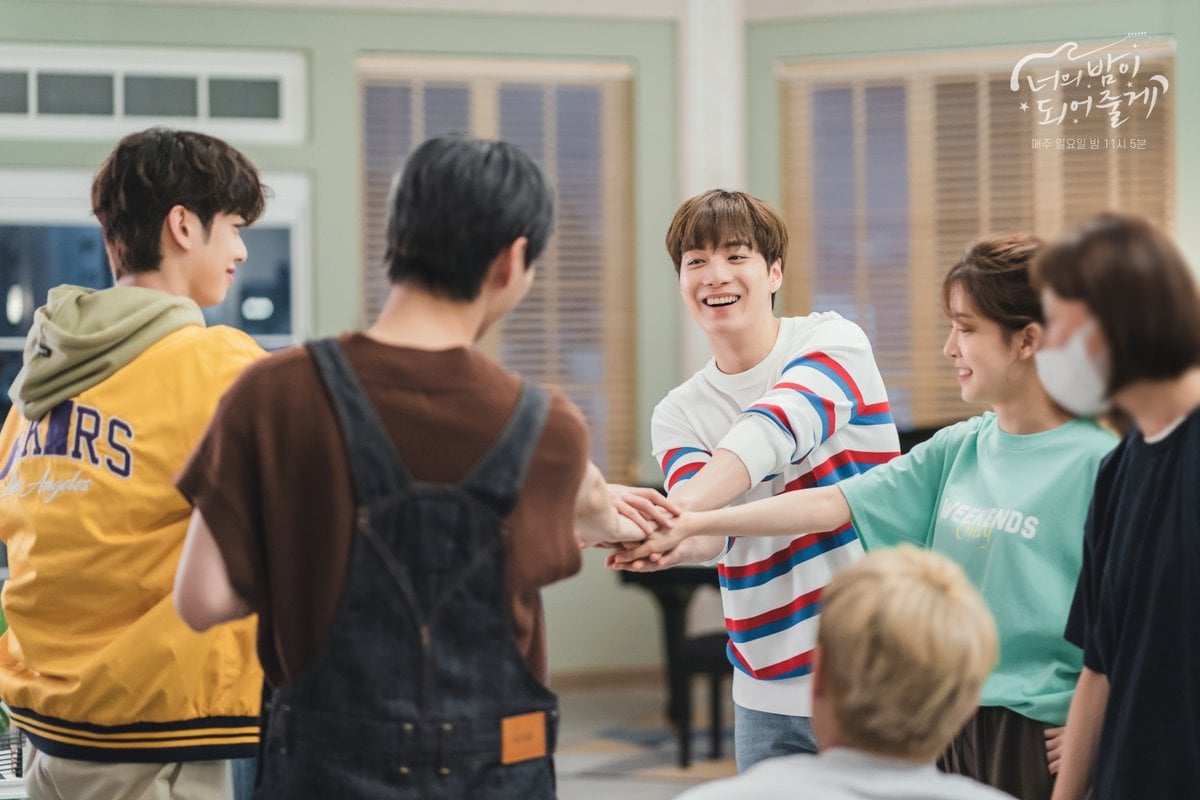 RELATED: How 'Squid Game' Is Breaking the 'One-Inch Barrier' With Golden Globes Nomination
K-pop idols often present their best selves to the world, but some also have struggles most people do not see.
In the ongoing drama Let Me Be Your Knight, a popular idol named Yoon Tae-In (Lee Jun-Young) develops a sleepwalking issue due to a stressful event in his career. He recruits the help of a live-in sleep disorder doctor named Kang Seon-Joo (Jang In-Sun). However, Seon-Joo is hiding a big secret: She is just a tour guide, but she is posing as her twin sister, who actually is a doctor.
Like some of the dramas above, K-pop fans are in for a treat with the appearances of various real-life idols in Let Me Be Your Knight. U-KISS's Jun plays Tae-In. Meanwhile, some of his on-screen group members are played by NU'EST's JR, AB6IX's Donghyun, and former Wanna One leader Yoon Ji-Sung.