'Love & Marriage: Huntsville' Star Martell Holt's Alleged Mistress Speaks!
'Love & Marriage: Huntsville' stars Melody Holt and Martell Holt dealt with indifelity. Martell's alleged mistress, Arionne Curry, finally speaks.
OWN's Love & Marriage: Huntsville has wrapped its first full season but the messy and complicated love triangle between Martell Holt, Melody Holt, and Martell's mistress is still making headlines.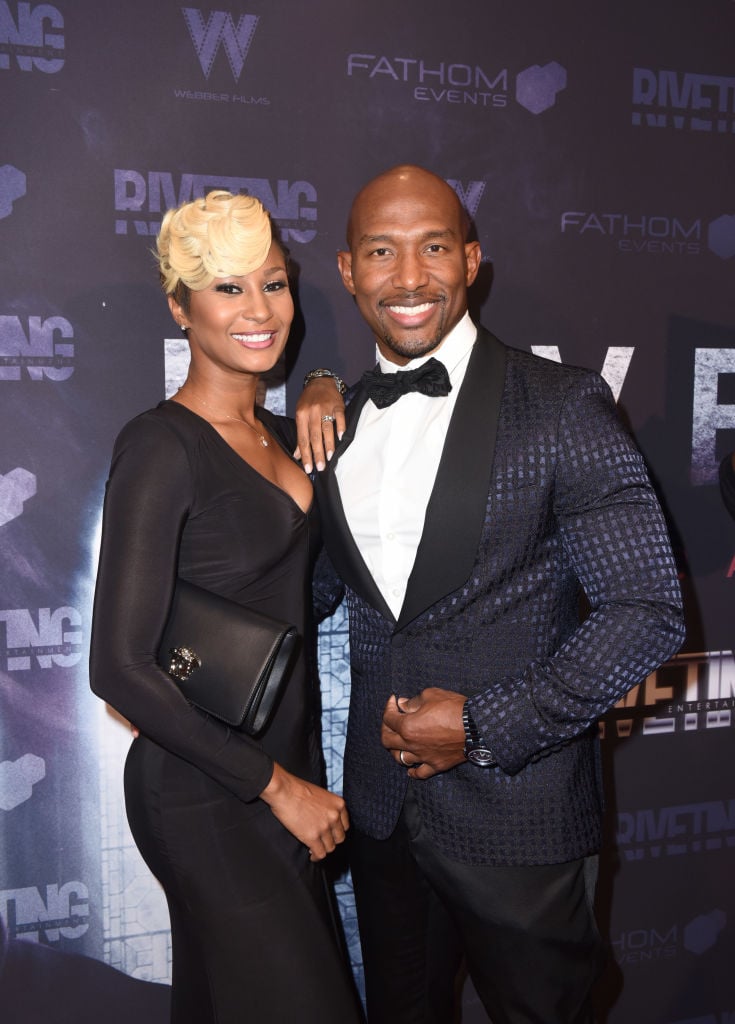 A popular YouTuber revealed months ago that Martell's alleged mistress is a woman named Arionne Curry. After being mum for so long, Curry is using her social media platform to tell her side of the story.
Martell Holt's alleged mistress is Arionne Curry
For the entire first season, the Holts battled over Martell's affair. It wasn't just a one night stand either, he admitted that he was in a four-year relationship with another woman, while juggling a 10-year marriage with Melody. Martell found it hard to let go of his mistress because he'd developed deep feelings for her. 
Melody nor Martell ever mentioned his mistress by name but according to YouTube vlogger Funky Dineva, he was dating a Huntsville nurse named Arionne Curry. They were said to have met on the Huntsville social scene when Melody and Martell were separated.
At some point, the Holts allegedly reconciled, but that didn't stop Martell from seeing Curry. Things became so serious between the two that Martell allegedly brought he and Curry matching luxury cars, funded tropical vacations they took together and even set her up in a downtown condo so that he'd have access to her. 
Martell Holt receives backlash after calling his alleged mistress a "peasant"
Even after Melody discovered Martell was unfaithful, he continued to have contact with his mistress. After so many chances, Melody threatened divorce. As a final attempt to save his marriage, Martell sought counseling. 
During one of his filmed therapy sessions, his therapist asked how he found himself in a four-year relationship with another woman. Aside from Martell admitting that his mistress was a good friend and confidant, he also claimed she was willing to do things sexually that his wife was not. Things took a turn when he referred to his mistress as a "peasant," leaving even the therapist puzzled.
Viewers were furious with Martell for disrespecting his other woman, especially because he continued to see her. Both Martell and Melody received backlash over Martell's statement. Martell stood by it when it was addressed at the reunion special, saying that his mistress deserved what he called her because she knew he was a married man. Melody defended her husband's position on social media and shook her head in solidarity at the reunion special. 
Arionne Curry finally speaks about Martell Holt
The "peasant" comment hit a nerve with Curry. After over a year of silence, she finally spoke out on social media and is now putting all of the alleged details of her affair with Martell on blast.
Her first Instagram post featured a photo of her with the caption, "The one you've been looking for," which many took as subtle shade. But in a series of Instagram stories, she shared that despite Martell insisting he hasn't had any contact with her at the reunion special, screenshots of Facetime calls and text messages she claims are from Martell prove otherwise.
YouTuber, The Empress Show, shared the messages Curry posted to her Instagram stories in a 4-minute video. Curry shared direct message communication she sent to Melody informing her that she was still seeing Martell. "I'm going to reach out to you every time your husband try's [sic] to contact me from here on," she began. "Yesterday your husband came to my house trying to f..k and get me to unblock him," she revealed. 
Curry also posted a photo of Martell lying next to her that she claims was recent, as well as screenshots of missed video chats from Martell. 
The direct messages were just the beginning. Curry posted a lengthy rant about Martell, calling him a narcissist, liar, and cheater amongst other things. She also revealed that she and Melody have had several arguments about Martell and his manipulative ways. She referenced the "peasant" comment and made sure to note that if Martell truly felt that way about her, there's no way he'd continue to try and be with her and falsely promise that he's going to divorce Melody. 
After Martell posted a photo of him with Melody getting cozy by the Christmas tree, Curry posted a response in her Instagram story, writing, "Men who cheat post the best family pics."
The Holts haven't responded to Curry's social media posts. They are preparing for the birth of their fourth child, who is due Christmas Day. Despite Melody's threats, it doesn't look like she's following through with a divorce. 
Curry's once public Instagram page is now private, due to backlash she's received. But, she did mention she'll continue to see Martell. The drama!