'Lovecraft Country': Here's What We Know About Those Creepy Demon Twins Topsy and Bopsy
In 'Lovecraft Country' Diana encounters some terrifying demon twins Topsy and Bopsy. Here is everything we know about the horrific characters.
There have been historical series and TV shows that focus on science fiction. However, there has been nothing quite like HBO's Lovecraft Country before. Created and written by Underground's Misha Green and produced by J.J. Abrams and Jordan Peele, Lovecraft Country is about family, legacy, monsters, and magic.
Set in Chicago in 1955, the series follows Atticus "Tic" Freeman (Jonathan Majors), who returns to Chicago after getting a strange letter from his father, Montrose (Michael K. Williams). Once home, Tic encounters his old high-school friend, Letitia "Leti" Lewis (Jurnee Smollett), and together they begin to unpack Tic's hidden family legacy.
However, Tic and Leti soon realize magic and monsters can't be contained. Soon it spreads to their loved ones affecting them in various ways. With her father George (Courtney B. Vance) dead, and her mama, Hippolyta (Aunjanue Ellis) gone, Tic's young cousin Diana (Jada Harris) encounters some terrifying monsters of her own.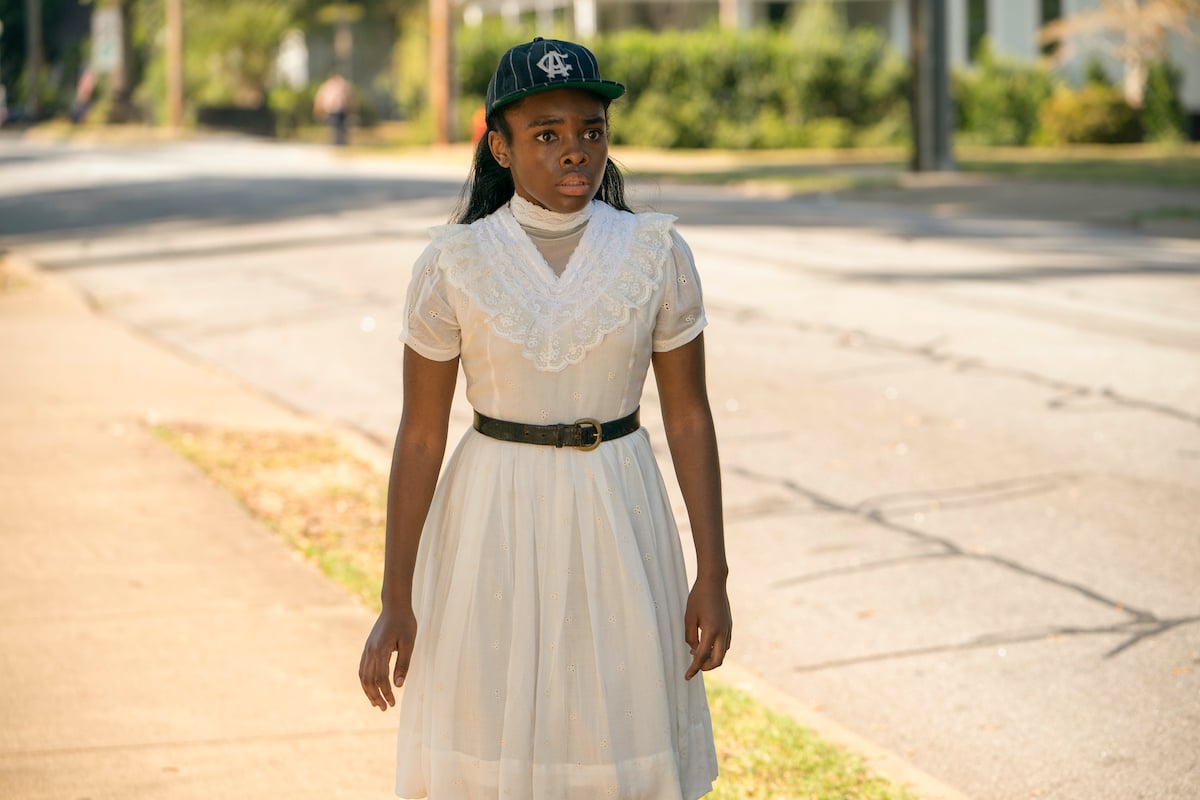 Inside 'Lovecraft Country'
So far on Lovecraft Country, Atticus realizes that he is the descendant of a 19th-century wizard, Titus Braithwaite. Titus burned to death when Atticus' ancestor Hannah, an enslaved woman who had been raped and impregnated by Titus, set fire to his manor and fled.
In the present day, Atticus learns that his birthright lies with the "Sons of Adam" a powerful magical organization. However, in order to cast spells, he will have to find and unlock some secret codes and pages.
Though the magic in Lovecraft has affected every adult on the series, in Episode 8, "Jig-A-Bobo" the horrors of the world and Atticus' legacy finally catch up with Diana.
In 'Jig-A-Bobo' Dee is haunted by the past and the present
When "Jig-A-Bobo" opens, Diana is mourning the horrific murder of her friend, Emmett Till, whom she fondly called, Bobo. No one has told Diana about magic or her missing mother, not even Ruby (Wunmi Mosaku) who has been staying with her.
As she's trying to deal with her emotions, Diana is accosted by Captain Lancaster (Mac Brandt), who begins asking her questions about a comic book she drew. Their confrontation ends with Lancaster spitting on Diana and summing some demons to come after her. Lancaster is a member of the Sons of Adam.
Terrified, Diana runs home where she is drawn to a copy of  Uncle Tom's Cabin that has a drawing of the enslaved character Topsy smiling. When Diana blinks, Topsey becomes a demonic monster forcing her to flee her home.
Unfortunately, the streets of Chicago in 1955 aren't safe either. Diana soon finds herself being hunted by the real-life demons, Topsy and Bopsy (Kaelynn Harris and Bianca Brewton) in a horrific Wizard of Oz-type sequence.
This is why Topsy and Bopsy are so terrying in 'Lovcraft Country'
In Uncle Tom's Cabin Topsey is depicted as a simple but sympathetic character. In Lovecraft, the character becomes something much more terrifying. As Diana heads to the subway, a minstrel show tune begins to play and she looks over to see Topsey and Bopsey devilishly approaching her with their long talons and bloodied faces.
Though Diana is a child, she is not haunted by normal monsters. Instead, she's haunted by racism, or in this case, a racist stereotype of a Black girl who has been dehumanized by the experience of slavery.