'Lovers of the Red Sky': 4 Scenes From the K-Drama That Captured Fans' Hearts
Korean dramas have a way of being remembered by fans long after they have finished their run on TV or streaming platforms. Lovers of the Red Sky is surely one of them as the romance-fantasy K-drama has many heart-stopping scenes. The Viki and SBS drama debuted its finale episode on Oct. 26 and added to the long list of scenes that fans will remember.
Lovers of the Red Sky promised an interesting story between two fated characters who fall in love and the answer to stopping a heinous demon. As Ha Ram (Ahn Hyo-seop) and Hong Chun-gi's (Kim Yoo-jung) story progressed, both characters captured the hearts of their audiences with their bravado and love for each other.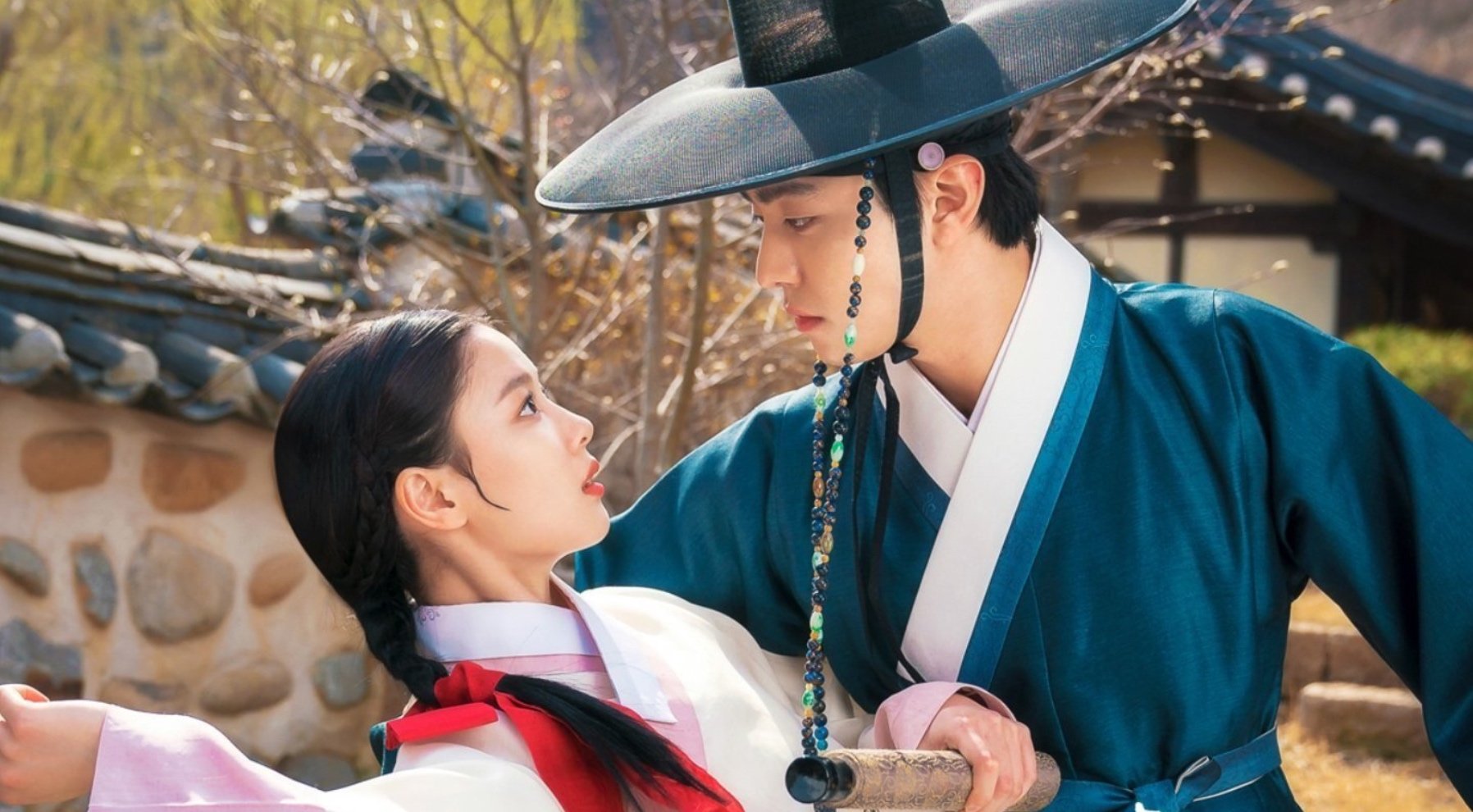 Chun-gi stands up to the crown prince in 'Lovers of the Red Sky' episode 5
Chun-gi's character was special from the start as she was introduced as the one who holds Ma-Wang's demon eyes after the binding ceremony when she was a child. Furthermore, she grows up to become the only female painter at the institute. Chung-gi's tenacity and moral character led her to do the unthinkable in episode 5 of Lovers of the Red Sky.
At the Maejukheon Painting contest, her work representing a peach tree under the moon in rejected by the prince. The prince harbors ill feelings toward her after learning she paints forgeries. When the court's members agree with the prince to appease him, Chun-gi defends herself. She speaks out against the prince for allowing his opinions to be the only determining factor.
Ha Ram and Chun-gi have their first kiss in episode 6
RELATED: 'The King's Affection': 3 Historical K-Dramas to Watch on Netflix Before Its Premiere
No K-drama fan can resist the heart-fluttering emotions when the lead characters share their first kiss. Ha Ram and Chun-gi separately start to realize they are each other's first love from childhood. Their first kiss scene occurs in episode 6 of the K-drama. After Ha Ram catches Chun-gi in the stables, distraught over the circumstances of her participating in the contest, Ha Ram reiterates comforting words Chun-gi has heard before.
Ha Ram's horse takes them to a spot by the river where they sat as children. Chun-gi realizes Ha Ram is the boy she never stopped loving. Both characters start to discuss the stars and say the same words from their past together. In a moment of realization, Chun-gi places Ha Ram's hand on her face to trace her features. As the moonlight reflects against the water, they share their first kiss.
Chun-gi helps Ha Ram draw his portrait by the river in 'Lovers of the Red Sky'
RELATED:
In episode 9 of the historical-fantasy K-drama, Ha Ram admits his love to Chun-gi and gifts her his mother's jade ring. One of the most precious scenes between the two happens in episode 10. Now assured by their feelings for each other, Ha Ram and Chun-gi have a date by the river. Set in a beautiful scenario, Chun-gi helps Ha Ram draw his portrait.
The scene is special as it flashes back to when they were children. Since Chun-gi was cursed to be blind, Ha Ram guides her hand to draw an image in the dirt. It mimics their current scene as adults as it flashes between their most romantic moments together thus far. Despite Ha Ram not seeing Chun-gi, he still has a loving and adoring gaze for her as they paint.
Their emotional kiss after the sealing ritual in episode 16 finale
RELATED: 'My Name': Episode 1 of the K-Drama Was the Perfect Intro to Yoon Ji-Woo
Fans of Lovers of the Red Sky will agree the scene after Ha Ram, and Chun-gi were successful at sealing away Ma Wang was emotional. In previous events in episode 16, Chun-gi is left blind due to Ma Wang taking back his demon eyes, and Ha Ram's original eyesight is restored. After the ritual, Chun-gi stumbles and cries to find Ha Ram.
In each other's arms, all Chun-gi cares about is if Ha Ram is okay. She is instead glad Ha Ram can finally see her. They are back to how they were when they first met, and Ha Ram promises to be responsible for her for the rest of his life. Fans will agree this kiss held much more emotion than previous ones. Their anguish, turmoil, and fear are finally gone. They can live out their lives in content. Ahn and Kim are to thank for the emotional scene delivery. "Thanks to their meticulousness, they successfully portray a special moment that melted the hearts of the viewers," said Soompi.