Lucas Sinclair's Best Moments in Each Season of 'Stranger Things'
Lucas Sinclair, played by Caleb McLaughlin, is a crucial member of The Party in all three seasons of Stranger Things. He may not have warmed up to Eleven (Millie Bobby Brown) right away, but he eventually came around to the girl they discovered in the forest on a rainy November night in 1983. Here are some of Lucas' best moments on the Netflix hit series.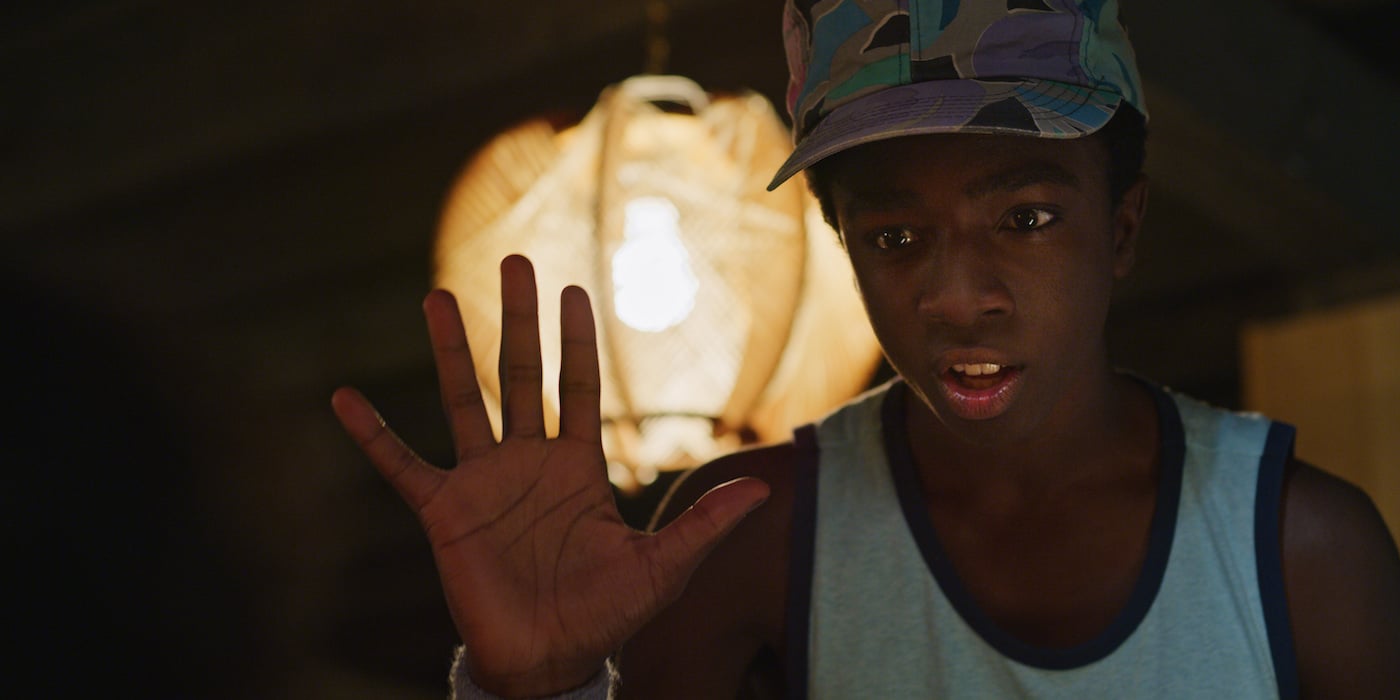 When he warned everyone that the 'bad men' were coming in 'Stranger Things' Season 1
Lucas wanted nothing to do with Eleven when he first met her. He was wary of her intentions and even suspected that she may have escaped from what he so lovingly referred to as "that nuthouse up in Kerley County." He felt like she was intruding on his friendship with Dustin (Gaten Matarazzo) and Mike (Finn Wolfhard) and even hindering their rescue efforts to locate their missing friend, Will (Noah Schnapp.)
After a blow-up with Mike, Lucas decides he'll find Will on his own, without the help of Dustin or Mike. Earlier, when Eleven was supposedly leading the boys to Will's location, she used her powers to mess with the compasses the group was carrying. She knew Hawkins Lab and the Upside Down were too dangerous, and she didn't want her new friends getting hurt. Of course, the boys didn't know this. 
When Lucas went off on his own, he was able to locate the lab. That's when he saw all of the lab agents leaving to capture Eleven. Lucas successfully warned his friends and Eleven, saving her from the likes of Dr. Brenner.
When he let Max let some steam off about her recent move to Hawkins in season 2
Both Lucas and Dustin have instant crushes on the new girl, Max Mayfield. She's cool, she's confident, and she knows how to get around on a skateboard. While Dustin is pouting to Steve Harrington (Joe Keery) about Max seeming to like Lucas more than him, Lucas is lending a listening ear to the girl he's got eyes for. 
Max keeps up a pretty touch facade most of the time, but in the moments before the Demodogs attack, she tells Lucas how hard the move has really been. He doesn't judge her or talk over her with his own story. He just listens, thus giving us one of his brightest moments in Stranger Things Season 2.
When he incorporates Satan's Baby into 'The Battle at Starcourt' in 'Stranger Things' Season 3
Like most teenage boys, Lucas knows his way around some fireworks. However, it's the elusive Satan's Baby he's mesmerized by in Stranger Things Season 3. When he first sees it, the audience is probably cursing him and how much time he wastes ogling over the massive fireworks package. He's supposed to be searching for a bowl for Eleven's wound. However, it comes in handy when the group needs to distract the Mind Flayer and essentially save the world. 
When he broaches the idea to Max, she scoffs, "You wanna kill that thing with fireworks?" Yes, Max, he does, and well, we have to give him props for it. The kids light the giant collection of fireworks and start tossing them at the Mind Flayer. No, it doesn't kill the monster, but it definitely gives Eleven a leg up.
We've only seen a few seconds of him in the teasers released for Stranger Things Season 4. The most recent one shows Lucas and an awesomely '80s haircut that we can't wait to hear the back story on. We're sure we'll have more to add to this list once we watch the upcoming season in 2022.