'Lucifer': Lesley-Ann Brandt Recreated a Scene From the Comics in Season 6
Netflix's Lucifer has come to an end with the premiere of Season 6. There is a lot to digest in the season, from who Rory (Brianna Hildebrand) really is to the emotional conclusion of the main characters' stories. One main character that fans came to love was the hell demon, Mazikeen, aka Maze, played by Lesley-Ann Brant. Brandt posted on Twitter that she finally recreated a scene from the original Vertigo comics that made her fall in love with her character. The comic book scene came to life on-screen but with a few plot tweaks.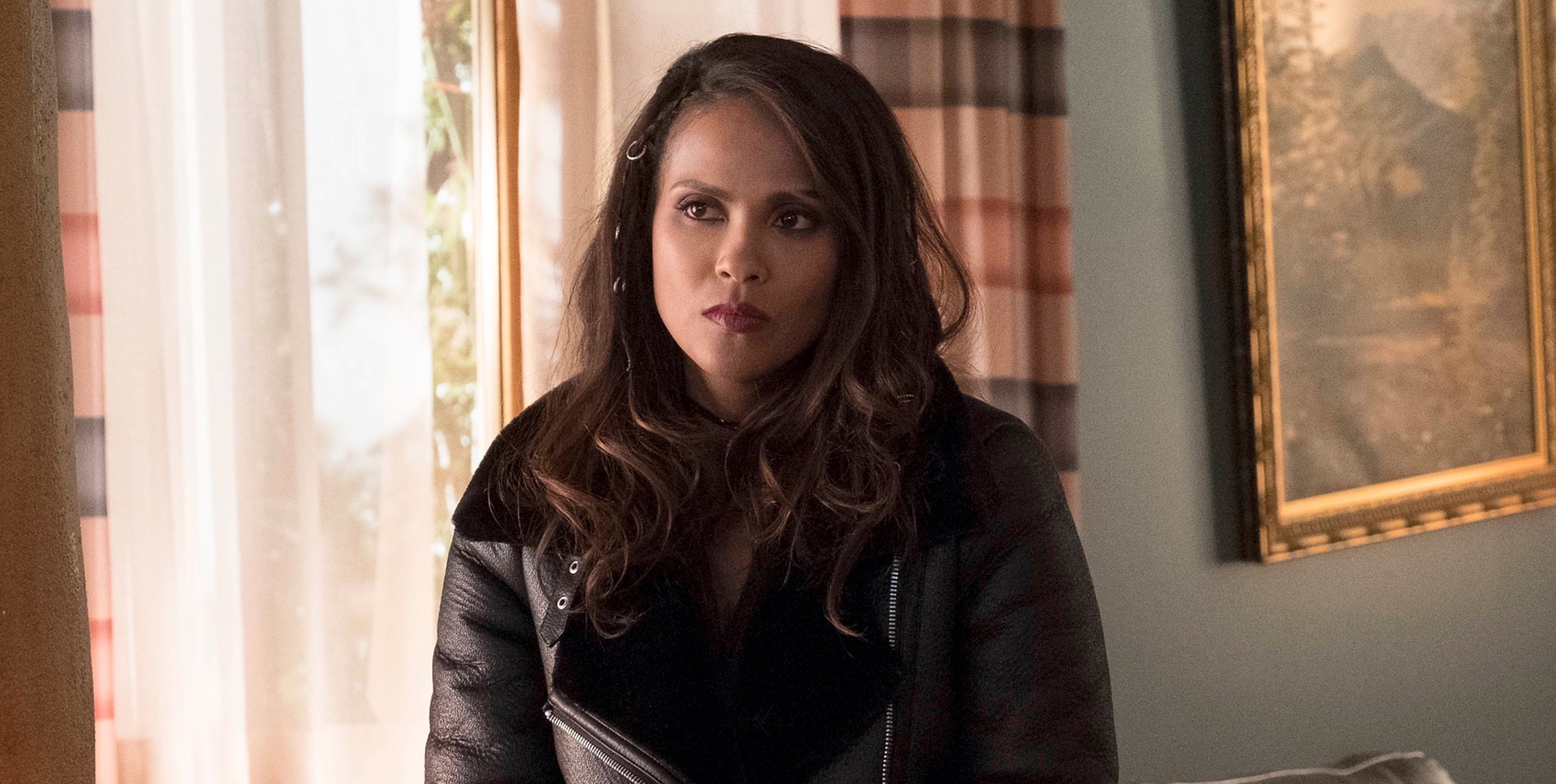 Maze gives the finger to Adam in Episode 7
Part of the storyline of season 6 of Lucifer is the ongoing relationship between Maze and Eve (Inbar Levi). They reconnected and got engaged in Season 5b. In the sixth season, they are deep into wedding preparations that send them into a bit of nerves, jitters, and self-doubts. Things do not get easier when in episode 6, "My Friend's Wedding," Eve's biblical ex appears. Netflix teased Adam (Scott MacArthur) in Linda's (Rachael Harris) trailer on the show's official Twitter.
Adam arrives at Lux to try and convince Eve to get back together with him. He ridicules Eve and says she went far enough to get his attention by dating and getting engaged to Maze. Adam tries to make Eve realize that they have been together since the dawn of time. Eve wants no part of it and explains she was created and delivered to Adam. She never got to choose.
Eve goes to Maze and says, "I'm gonna choose Maze." Maze needed to add in her two cents of authority by reeling in Eve for a steaming kiss. As she kisses Eve, Maze puts up the middle finger as close as possible to Adam's face to further annoy him.
The 'Lucifer' scene originally appeared in #44 by Mike Carey, Peter Gross and Ryan Kelly
RELATED: 'Lucifer': This Is How Dan Espinoza Returns From the Dead in Season 6
Before the official premiere of Season 6, Brandt shared a teaser of what was in store on Twitter. In her post, she said she finally got to recreate a scene from the original Lucifer Vertigo comics. The scene was what made Brandt fall in love with her hellish demon character. The scene from the comic stayed the same while the plot elements were changed in the Netflix series.
According to CBR, the scene is from Lucifer #44. The scene was originally published as part of DC Comics' Vertigo imprint on Nov. 19, 2003. Fans see the comic book version of Maze kissing another character and holding up the middle finger. In the comic, Maze is kissing a former employee and co-worker from Lux, Beatrice Wechsler. Instead of giving the finger to Adam like in the series, Maze is doing so in the presence of angels.
In the storyline, the angels do not need Maze and want her to leave. Before doing so, Maze has one final thing to say to them. She says the line, "Passion is blasphemy in this place. And I gave a great need to blaspheme," and kisses Beatrice. The Netflix version has Maze recreating the scene to show off her and Eve's love in front of Eve's toxic ex.
How much did 'Lucifer' change from the original comics?
RELATED: 'Lucifer': Series' Ending Has Some Fans Feeling Like Luci Acted Out of Character
The Lucifer character originally appeared in the comic book series, The Sandman created by Neil Gaiman, Sam Kieth, and Mike Dringenberg. The character later received its own spinoff comic book series published by DC Comics' Vertigo imprint. When comparing the original character and storyline to the Netflix version, there are some noticeable differences.
Fans of the comic character noticed the one major change made to Lucifer's appearance. The Netflix version has Lucifer (Tom Ellis) with dark brown hair, while the comic counterpart has yellow-gold hair. According to Screen Rant, there are also other changes worth mentioning.
Lucifer's main journey is strikingly different from the Netflix series. Lucifer embarks on a cosmic quest to save all creation in the comics and meets characters from different dimensions. Lucifer instead has the ruler of hell become a police consultant and helps Chloe Decker (Laura German) solve murder cases. The catalyst that changes Lucifer's life also differs. Lucifer has the character feel sympathy for the first time when his friend is murdered outside of Lux. God gives Lucifer a mission in the comics where Lucifer can name any price he wants if he succeeds. Lucifer in the comics is also more brazen, aloof, and self-centered, while the series has him become more human and understand love and emotions.