'Lucifer' Season 5 Episode 5 Recap: Lucifer Wants to Punch Amenadiel in His Mysterious Ways
Episode 4 of Lucifer left us with so many questions on Maze's behalf. In addition, Michael stirred up quite a bit of trouble for Lucifer and Chloe since he showed up in episode 1, and we wonder how all the repercussions will shake out.
Those concerns aside, the story moves forward with Amenadiel in a flattering new position in episode 5, and plenty of these characters have to work through some negative feelings and questions about faith. Here's a recap of what's up in Lucifer, Episode 5: "Detective Amenadiel."
[Spoiler alert: This article contains spoilers from Lucifer Season 5, Episode 5: Detective Amenadiel]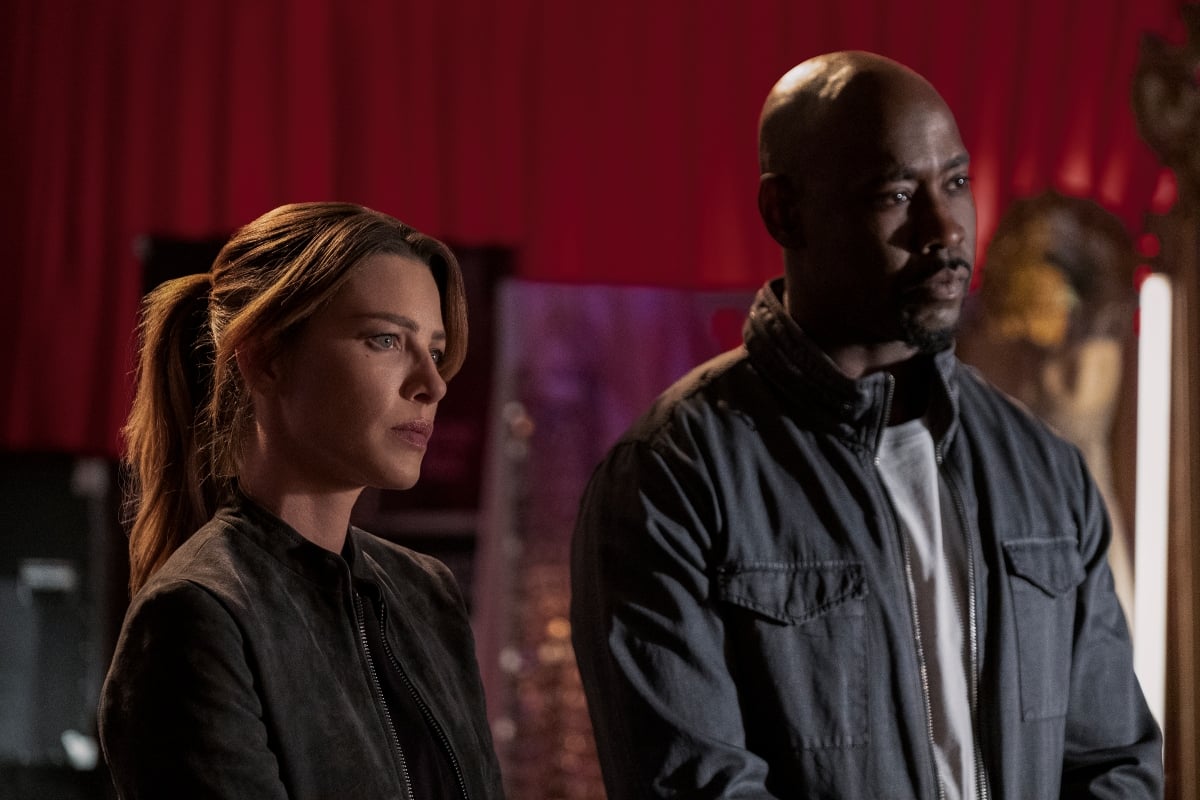 Amendiel abandons Hell, but why?
Lucifer is happy Chloe finally decided to speak to him again, and he leads her blindfolded to a beach. There's a gift box sitting in front of her, and she's not impressed. He agrees and pours gasoline on it.
He explains it's the spot where he burned his wings and wants to recreate the scene as a symbolic gesture. Lucifer hands Chloe a lighter to burn her "gift from God" too. She's not interested. All Chloe wants is time, but Lucifer doesn't have much to spare.  
He barges in on Linda at home, and while he's rambling about his issues with Chloe, she's trying to tell him something. Guess what? Amenadiel relieved himself from watching over Hell.
They speak privately and Amenadiel reveals he heard their dad's voice. God said Hell no longer requires a warden, so Amenadiel left.
While they catch up about Chloe and Michael, we learn Amenadiel is the one who gave Chloe the "gift."
Linda tries to comfort Maze about her mama, Amenadiel enchants the crowd
Maze bursts into Linda's office and is upset about her "b*tch" mother abandoning her. Linda tries to calm her down and make her empathetic toward Lily, but she doesn't want to hear it. Then Linda shares that understands why Lilith may have been scared or felt unequipped.
She tearfully explains that when she was young, she had a baby girl. "And you abandoned her?" Maze storms out before she finishes the story.
Amenadiel visits Chloe at the precinct to check on her. She doesn't want to talk about it and says she wants to avoid anything God-related. Her next call is a dead body at a church. How ironic.
A nun named Victoria was killed in the courtyard and while questioning the others, Chloe insults them about God. Ella is fangirling about the nuns but pulls her colleague aside to check her rude behavior. Chloe ends up calling Lucifer for help and while leaving a message, Amenadiel descends on the scene.
Back at the office, Lucifer wants to help her from behind the scenes, so he taps Dan. Dan directs him to help sift through paperwork for leads.
Chloe and Amenadiel chat at the convent and she wants to know if he has the same mojo as Lucifer. He denies it, but the nuns gather around him and they're mesmerized.
Linda invites Maze back to her office tells her the emotional story about her teenage pregnancy. Linda shares she wasn't ready to raise her baby or give her up after seeing her.
She sneaked out of the hospital when the nurses were away and tells Maze she thinks about her all the time. "She seems good," Maze says, jarring Linda.
Amenadiel goes into detective mode
Amenadiel questions the nuns and they are captivated by him. They're not as forthcoming with Chloe. The pair learn the nuns were hiding the truth about Mother Superior. She killed someone years ago, and Victoria just learned about it. The sister offers herself up for arrest.
Lucifer and Dan chat about work, and Luci begs for a chance to question the nuns. However, Amenadiel surprises his brother at the precinct and joins Chloe in the interrogation room.
The nun, Angelica, talks to Chloe about faith and control. She tells her she has faith Chloe will solve the case and absolve her of the crime.
Lucifer and Dan comb through phone records and find out Victoria stopped taking calls from pop star Destiny Page. The singer wanted to buy the convent.
Maze and Linda track down the child Linda gave up, and she's now an adult real estate agent named Adriana. They go to an open house event and Linda is floored by her resemblance. Maze wants to get to the truth but Linda pretends they are only interested in the house and raising a family.
Maze pulls her outside and attempts to goad her into telling the woman she's her mother. Linda disagrees and believes it should be up to Adriana. Maze calls her a coward, prompting Linda to remind her she's not Lilith. Upset, she tells Maze to go see her mother.
Chloe learns the truth about her 'gift' status, Maze is angry
Lucifer is jealous that Amenadiel is helping Chloe. They get into argument and Chloe overhears that Amenadiel is the one who gave her God's gift. They tell her the story about her parents being blessed, but she feels like a thing, not a person.
She and Amenadiel take off to question Destiny Page at a rehearsal. After finessing the bodyguard, they learn Victoria was her assistant and she sent her to the church to gather intel.
Victoria wound up loving the nun life and wanted to stay. The singer has an alibi that involves an Alcoholics Anonymous meeting and goat yoga. It's confirmed.
Maze goes back to Lilith's apartment but finds people cleaning it out. Lily Rose passed away. She has a moment alone in the place and her emotions range from sad to angry. She finds an old poster of Lily Rose from the '40s (she looks identical) and hurls it across the room.
Dan and Lucifer suspect Victoria had a fiancé, and one of the nuns volunteers to talk to Amenadiel. Everyone thinks it's about the case, but she kisses him. She feels ashamed, but he realizes his aura is reflecting his father's love back at her. Afterward, she mentions Victoria found a secret room in the church.
Lucifer and Chloe have a sidebar about her needing more time. Lucifer encourages her to take all the time she needs, but inside, he's concerned.
Amenadiel helps solve more than one case with Chloe
Amenadiel and Chloe investigate the church and locate a lever inside a false bookshelf. They look around the room and notice someone's been staying there. Then they hear a voice. It's Hank, Destiny's bodyguard.
He was engaged to Victoria and they were meeting about the church and Destiny's intentions. They fought about Victoria's desire to join the convent. He said he accidentally killed her.
Amenadiel thwarts his bullets and after it's over, he shares something with Chloe. Using the nuns as an example, he explains that his effect on them is similar to Lucifer's effect on mortals. It doesn't work on her because she's the only person who can see him for who he truly is. It's not a manipulation.
Maze and Linda share a tear-jerking moment. Maze tells Linda that her mother died and she didn't get to say anything to her. She urges Linda to open the path for her daughter to find her one day.
The episode closes out with Chloe visiting Lucifer at the penthouse. She tells him about Amenadiel's theory about them.
Lucifer has an epiphany and they both think he chooses to be vulnerable around Chloe. It's the Deckerstar moment all the fans have been waiting for, and they seal it with a tender kiss.